If you can embroider it in cotton, you can embroider it in silk.
That is, if you can embroider something in cotton and end up with good results, you can embroider it in silk, and end up with equal, and even quite possibly, better results.
I thought we should have a chat about silk embroidery thread, since I've received a few questions lately about using silk on Tulip Festival, this embroidered kaleidoscope series we've been working through together.
I've also received a few questions about silk in other embroidery applications, but that's an article for another day! I'll be addressing a particular argument that's been surfacing a bit in the needlework world, to see if we can overcome some hazy notions about silk in needle painting.
Today, though, we'll just talk in general about silk. Hopefully, if you're wavering between the cotton vs silk thread question, this will give you something to think about and perhaps, with some, it will overcome a fear of using silk.
Before delving too far into the recent questions I've received about using silk floss, specifically on Tulip Festival but generally in any project, a few caveats:
If you're a committed embroiderer who is keen to pursue hand embroidery as an art, to improve your skills, to explore mediums, to stick with your needle and thread for a good long time, then this article will probably resonate more with you.
If you're a hobby embroiderer who stitches for the quick creative fix, who is interested in dabbling a bit but not necessarily pursuing the art, who enjoys the craft of embroidery, or who is riding the current wave of embroidery trends, but realizes your interest will probably turn to other creative outlets pretty quickly, then this might not strike a chord with you. And that's ok! There's room for every kind of stitcher with every degree of interest in the whole Needlework Scheme of Things! The key to any hobby, craft, or art, is to do with it what makes you happy, what satisfies your creative bent.
If you are a beginner all around, then I'd definitely start with cotton embroidery floss and then, as your confidence increases and you grow hungry for experimentation and new horizons, then move on to silk.
If you have an interest in silk, but you haven't gone there yet, you might need a little background on the fiber. And, luckily, we've covered the subject of silk quite a bit here on Needle 'n Thread! At this end of this article, if you're keen to expand your knowledge, I'll include some links to information articles about silk embroidery threads, the types that are out there, what they are, how they work, and so forth.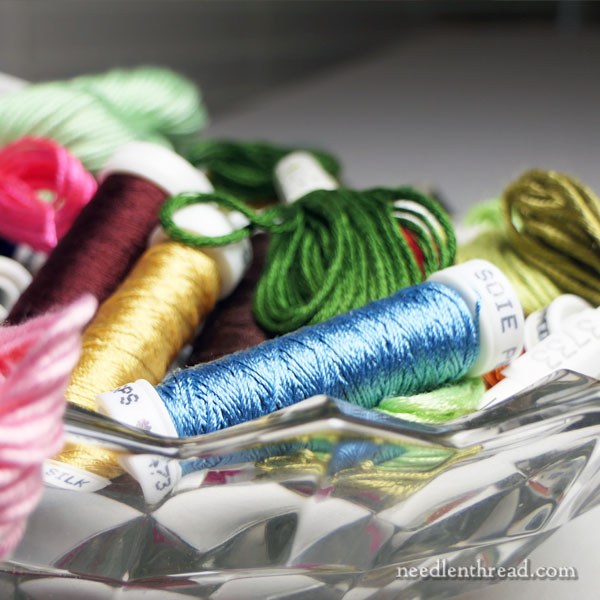 For starters here, let's address the questions that have come up recently about stitching Tulip Festival with silk. And these would apply to any project, really – not just Tulip Festival.
Why Silk & Not Cotton?
Here's the gist of the questions that have rolled in regarding silk threads on Tulip Festival:
Why are you using silk instead of cotton on Tulip Festival?
Wouldn't the project look the same in cotton as it does in silk?
Why spend the money on silk when you can do the same thing in cotton?
Is there an advantage to working Tulip Festival in silk over working it in cotton?
My Take:
1. I love the look and the feel of silk embroidery threads. I get pleasure out of stitching with them. And I get equal pleasure out of looking at them, stitched.
2. The finished result of any embroidery worked in silk will not look the same as the finished result of the same embroidery in cotton. Would a cotton wedding dress look the same as a silk wedding dress? Do cotton bed sheets look like silk bed sheets? Of course, we know the answer to both of those is no. It doesn't mean that a cotton wedding dress is ugly, nor does it mean that cotton bed sheets are inferior. But they do look different (and perform differently) from a silk wedding dress or silk sheets.
While stranded spun silk behaves similarly to stranded cotton, it does not behave exactly the same way.
Stranded spun silk is usually slightly softer in twist, compared to stranded cotton, so it has a softer, nicer "spread" to it when you stitch with it and a little more "loft" (or stand-up-ability). In short, it covers better.
Silk also reflects light differently from cotton. It imparts a glowy gleam that can't be matched by any other fiber.
3. Silk is more expensive than cotton, but there are advantages to using silk over cotton when you can afford to. I have a good stash of silk, so I like to use it now and then!
4. In my mind, there are a few advantages to using good silk threads: a. When I stitch with good silk, I tend to be very motivated to stitch, simply due to the pleasure of using the threads; b. the finished project is, to me, more pleasing to the eye, thanks to the play of light off the silk and the way the threads blend; c. There's more variety in silk threads, when it comes to weight, twist, type, and uses.
Even though, on Tulip Festival, I stuck with stranded spun silk (Soie d'Alger), if I had wanted to expand to different types, textures, and weights of silk, I could have done that easily, across the range of threads in the same color families from Au Ver a Soie. I could have used, for example, filament silks, very fine silks, very tightly twisted silks, flat silks, silk gimp, heavier silks with a nice twist to them. It wasn't my vision for Tulip Festival, but in the scheme of things, when it comes to embroidery, silk actually offers more variety in type, weight, and texture, than cotton does.
Further Reading on Silk Thread
If you'd like to read more about silk hand embroidery threads to get a feel for what's available, what it's like, where to find it, here are a few articles to get you going. They've all got links in them to further articles on subjects related to silk, so you can really go deep to learn more about this beautiful fiber!
Silk 101: Getting Started with Silk Embroidery Threads
Silk 101: Twisted Filament Silk
More Thread Talk!
Next time we chat about threads, I'll share with you some up close photos of embroidery done with silk and establish my "case" for why silk thread is perfectly appropriate for needle painting or silk shading – and perhaps even more effective than cotton.
We'll also talk about why cotton is a great thread! (Because, after all, they're not mutually exclusive!)
Coming Up!
If you haven't joined in on the current give-away for these embroidery project calendars for 2018, it ends tomorrow morning! If you'd like a chance to have access to 13 manageable projects for each month of 2018, this is a great way to do it!
I'll announce five winners tomorrow and share some great online inspiration and (free) resources for your weekend reading.
We'll move forward on Tulip Festival next week. Gosh, I love that project! I'd like to stitch it again!
There's a new book I've been dying to review for you (no pun intended) coming up, a few tutorials I've been working on (and my story of a Huge Fail in every respect of the word!).
And we'll also start looking forward to – yes – Christmas! While it's still a bit early to sling up the decorations, it's not too early – or too late – to whip up a little holiday project or two!
Enjoy your weekend!