Oh golly. I seem to have a problem!
I've started embroidering some little trees – using simple stitches worked in various combinations – and they have turned into a bit of an obsession.
I am, in short, addicted to them. Every hour I spend away from my needle and thread, I'm aching to get back to stitching. My mind whirs with new possibilities, and everything I have to do in Real Life – you know, the stuff you can't avoid day to day? – I do with haste, so I can return to my stitching post and test my newly-hatched ideas.
It's an obsession that creeped up on me, unawares. I had no intention of getting involved in a whole series of stitchy things right now.
It started one day as I was perusing a couple old embroidery books…
I came upon a page that featured some vintage stylized tree shapes. Very Arts-and-Crafts-Era. Simple in concept. Brief in line. Nothing elaborate.
I said to Myself, Self, you ought to clean up This One, and see how it stitches up.
Myself replied, You don't really have time to get involved in a new project right now.
To which Myself replied, If you keep it really simple, that thing will stitch up in an hour or two, and it just might be a perfect Evening Project. One sitting. Simple stitches. Relaxing. Fun. All stash oriented. Just to seeeeeee how it turns out…
And of course I capitulated and listened to the Voice of Reason.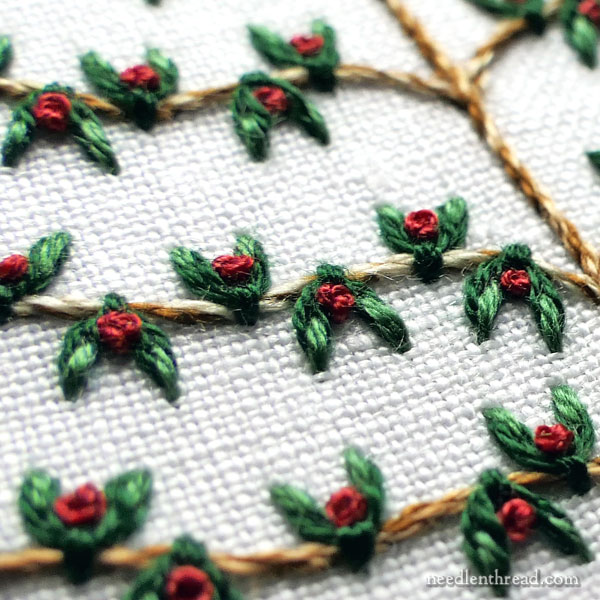 In a couple Very Satisfactory hours, I had a completed embroidery project that was rather pleasing. It was cute. It was, in fact, kind of pretty. It was uncomplicated. Fun to stitch. Perfect for a quick embroidery fix after a busy day.
And I liked it.
And that's actually when the problem started….
I headed back to my computer and started messing with trees. There were six at first.
And then I went out to my work room and checked out my fabric supply.
Lo! I found the stack of leftover little linen squares that I had prepared (whipped edges and all) several years ago for a local class. I even had backing fabric cut and ready, all neatly stacked in a box. And – my goodness! – upon counting them, there were some 29 little squares there!
I also found a 45″ long strip of linen, 6″ wide. And then the ideas really started boiling over. After all, what can one do with a six-inch wide strip of linen that's 45″ long?
And this is when I said to Myself, I'm in trouble.
Next thing I new, I was doodling everywhere.
And then I betook myself to my computer and changed my doodles into clean line drawings. I ended up with 18 doodles in that session. Some I liked more than others, but all were worth testing to some degree.
I tweaked them all to the same height (3″ tall), printed them, and ran back out to the workroom, where I transferred them to 18 little squares of linen.
Then I ransacked my thread drawers, pulling out cotton threads only, and focusing on Christmas colors. Not all my trees were typical Christmas trees – and they could definitely be stitched in any color scheme, any time of year – but the mood had struck. And I could see each of them sporting their holiday garb in one way or another. And so, Christmas it was!
With the excitement of a newly-launched project bubbling over within me, I ransacked my bead trays. After all, if you're going to deck the halls…or the trees… you might as well have a little bit of sparkle here and there!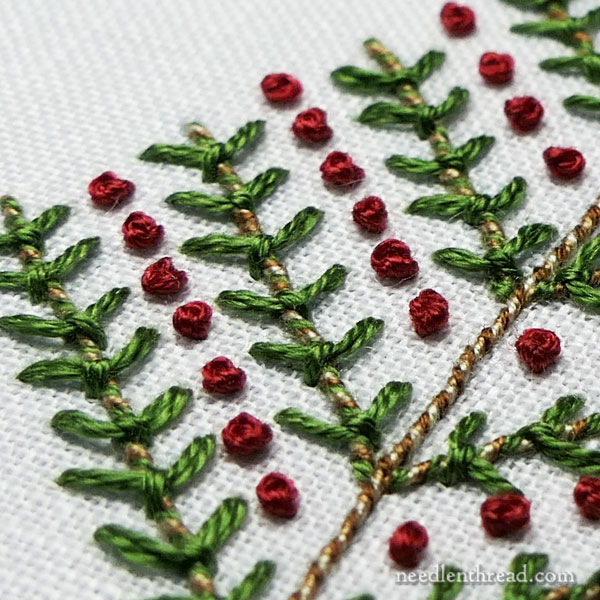 I dumped all the threads into a bag, everything else into a box, grabbed as many 4″ hoops that I had lying about, threw in a pair of scissors and a pincushion stuck full of common needle sizes, and I was good to go!
I figured any time the hankering arose for a quick embroidery fix, I could just grab a tree.
But then the hankering kept rising… and lately, it's become a permanent state of mind. All I want to do is Stitch Trees!!!
I've been photographing the trees along the way, and on December 1st – if nothing goes amuck between now and then – you can join me in my obsession! I'm putting together a group of my favorites for you.
If you want a perfect antidote to the over-hectic holiday season, something that allows you to slow down, relax, and pause for a while, join me on December 1st!
12 Trees for Christmas Available
You can find my e-book Twelve Trees for Christmas available now here, featuring the Christmas trees above, plus many more!
You'll find patterns and step-by-stem instructions for twelve small trees to stitch for Christmas – or you can mix up the colors and stitch them for any time of the year!