On Monday, we chatted about setting up this slate frame for a goldwork embroidery project that I'm starting.
The project is quite simple in concept, as you can see below. Once the frame was set up, I gathered supplies so I could jump to the fun part as quickly as possible!
These are the supplies I gathered, although I'm not sure I'll be using them all. Let's look at the supplies, chat about them a bit, and then discuss my quandary. I just can't seem to make a decision on part of the frame!
I'll also share resources with you, so you can find some of the supplies I'm using in your own country.
Well, it's goldwork, after all… so real metal goldwork threads definitely come into the picture!
It's been a few years since I've written about a goldwork project here on Needle 'n Thread. Since some of you are new to embroidery and to Needle 'n Thread, and perhaps you've not explored much goldwork, I'll be linking to different background articles that will help clarify the supplies and techniques that I'm talking about as this project progresses.
One thing I really want to clarify while we go through this project: goldwork embroidery is often seen as the "pinnacle" of advanced embroidery techniques and out of reach for beginning and intermediate embroiderers. This is not the case!
While goldwork does require some precision, it is not difficult to do. The difficulty of goldwork lies more in getting ahold of the supplies, setting up the project, and figuring out the differences between metal threads, more than in actually doing the stitching. Most goldwork techniques are as easy as couching down a thread (so, a straight stitch over the top of another thread) and sewing on a bead. If you can do those two things, you can do goldwork!
The Real Metal Threads
Goldwork supplies involve real metal threads as opposed to metallic threads. Real metal threads are generally made from gold alloy (and other metal) wire of various weights.
For this project, I've gathered several types of goldwork threads:
I'm debating about the purls and chip work, but we'll discuss that below!
Adding Color to the Goldwork
I want a line of color within the goldwork frame, and so I gathered some silk, too!
And not just any silk! The wonderful thing about Au Ver a Soie silks is that they have different types of beautiful silk threads that coordinate across all their collections. This means that you can use different types and weights of silk from Au Ver a Soie, all with the same color number, for a perfect match no matter what type of silk you want to use.
So, for this project, I wanted a blue that would coordinate with the figure embroidery going in the middle of the frame. I wanted a heavy line of blue.
And lo! That's where some fantastic specialty threads come into play!
Specialty Silk Threads
If you look at the photo above, you'll see a couple packages with squiggly threads in them.
These are "crinkled" silk-wrapped gimp threads, with a wire foundation but an external, rick covering of beautiful flat silk.
These fantastic threads (so many applications!) were initially produced for Thistle Threads, for their 17th century project courses. If you're interested in them, shop owners can inquire about them through Access Commodities, and the rest of us, through any shop that carries threads from Access Commodities.
Thistle Threads, incidentally, is a swell place for finding these types of specialty silk threads. Besides their use in the 17th century courses, many of them show up in their Frostings boxes, too. The current Frostings boxes are sold out right now, but I'm keeping my fingers crossed for a third installment. They're a terrific way to build a nice collection of usable, beautiful, high-quality specialty threads that have exciting modern applications.
So, as it works out, I had samples of the silk facette gimp (the darker blue on the left) and the serpentine gimp (the lighter blue squiggly package on the right).
Both would serve my purpose, but I like the more vivid blue (#277 in the Au Ver a Soie silk range) on the left. I decided I'd used the darker blue facette gimp.
Then, I selected an Au Ver a Soie silk thread that would work for couching the gimp invisibly (Soie Gobelin, on the larger spool) and a spool of Soie de Paris that I could use as a color accent in some stretched pearl purl (you can read about that technique here).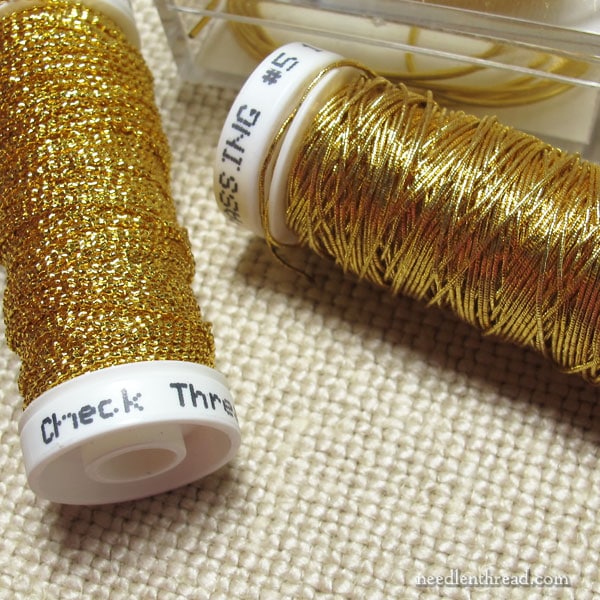 I'm definitely using the smooth passing thread in the photo above (that's the one on the right), but I'm in a real quandary about the check thread. I don't know if I'll use it or not. It's very sparkly – which I like – but it's very bright and sparkly, so it might overwhelm the vintage and faded embroidery that's going inside the frame.
Goldwork Quandary
That's one of my dilemmas in the planning part of this, and it ties into my overall quandary:
Above, you can see a representation of the frame. It's an 8″ round frame, 1″ wide. I'm planning to cut the goldwork with a blue line along the off-set line marked "color break" on the diagram above.
The inside of the frame will be couched smooth passing thread.
I'm not sure what to put in the outside section of the frame. The effect I want to achieve is to "lift" that outside section (not necessarily physically, but visually), so that the whole frame ends up having a kind of beveled effect, without being actually beveled.
The inside area of smooth passing will look somewhat flat and very smooth, the color line will create a break in the gold and raise that area where the color break is, somewhat, as the threads are significantly larger than the passing thread. And then the outside rim should look a little brighter, with a little more visual interest.
So I'm debating about chip work there, framed in with some pearl purl on the outer edge, or couching the check thread there.
There are pros and cons to both. But what it all boils down to is what's going to look best. And that's why I'm in a quandary!
On the bright side, though, I can start stitching on the parts that I'm sure about, and let my ideas for that outer rim fester a bit.
Any input? I'd love to hear your thoughts! Feel free to chime in below!
Suppliers
Au Ver a Soie Silks
If you're looking for Au Ver a Soie threads in the US, you can find them here through Needle in a Haystack, or any locally owned needlework shop that carries supplies from Access Commodities.
In Canada, check Traditional Stitches.
Worldwide, you can check the retailers listed on Au Ver a Soie's website, here.
Goldwork Threads
If you're looking for goldwork threads in the US, check any locally owned shop that carries supplies from Access Commodities. If they don't normally carry goldwork supplies, they should be able to special order for you.
In Canada – for a huge variety of goldwork threads and good information on them – check Berlin Embroidery.
In the UK, Golden-Hinde carries a vast supply of metal threads.
In the EU, Jessica Grimm carries a nice supply of goldwork threads in her online shop, here.
In Australia, Alison Cole, of course!