In case you hadn't heard yet, Access Commodities – the company that imports the linen I like to use for embroidery (their Legacy Linen line of needlework linens) – is expanding their line of fine needlework linen!
I'm very excited about this, because, you see, there's linen, and then there's Linen. Some linen is just better for needlework than other linen, and that's all there is to it.
I'm not trying to sound like a fabric snob. I just think you deserve to know that there is beautiful needlework linen out there, specially curated to provide you with the best stitching experience.
Imported from Europe, where flax thrives best, these linens are made from the ground up with skill, oversight, and great care, to ensure an excellent fabric.
Today, I'm going to show you a completely different sort of linen called Linen Crepe. It's imported from Sotema in Italy. We'll look at it up close, discuss some of the features, muse about its uses, and I'll tell you where you can get it at the end of the article.
It's hard to go fabric exploring through photos, isn't it? It would be so much more fun if you could touch the screen and experience the fabric!
In any case, linen crepe has a different texture to it, compared to most needlework linens that we're used to.
In the photo below, I've reduced the color saturation so that you can get a close look at texture and weave without any distraction with color:
It's kind of a twill weave, I think, with a twist to the threads. I'm not 100% sure about the weave, but there's some off-setting going on, anyway. It's not a plain weave fabric.
When you think of crepe, you probably think of a crinkled fabric (like cotton crepe). Cotton crepe is a very lightweight fabric that has a twisted thread woven through it that makes it crinkle.
This linen crepe is not a crinkled fabric. Even when you wet it diligently, it doesn't crinkle. It has a definitely different, textured, almost glinting look to it. But the "hand" (the feel of the fabric when you run your hand over it) is not extraordinarily bumpy or anything.
The fabric is what I'd call a medium weight linen. It's not very heavy, but it's not a lightweight linen, either.
When you first handle it, new, you'll find that it has a stiffness to it. This is due essentially to the sizing, as I found out when I washed it.
Things I Want to Know about a New Fabric before Using It
Whenever I'm dealing with a new-to-me fabric that I'm going to use for hand embroidery, there are certain things I want to know about the fabric before I use it.
I want to know what it feels like when it's been rinsed or washed. I want to know if it softens up. I want to know if it retains its body. I want to know how much it stretches on the bias. I want to know how much it doesn't stretch on the grain. I want to know if there's any chance of color run, if it's a colored fabric. I want to know if it's easy to transfer a design onto it.
And I definitely want to know its shrink factor.
I use linen a lot, and all linen has a shrink factor. Sometimes, especially if you're never planning to wash the thing you're stitching (say, it's goldwork), then you might not wash your fabric first and the shrink factor may not matter to you.
But I always pre-shrink my linen before I use it. I like to get the sizing out. And I like to have a general idea of how much shrink is in any particular fabric I use.
So, to discover answers to many of the questions above and to get an idea of the shrink factor on the crepe, I started out by cutting a measured piece of linen crepe (10″ x 10″). I stitched a small bit of running stitch along one side, so that I didn't lose track of which direction I measured in and which side of the fabric was which.
Pre-Shrinking Linen
Using a series of hot (really hot) and cold water soakings, I remove all the shrink from the linen.
First, put a kettle on to boil some water – or, if you don't have a kettle, boil some in a pot.
While the kettle comes to a boil, put your linen in a clean bowl or pot and start the process by covering it with the very hottest tap water your faucet will give you. Swish the fabric about a bit, to make sure that all the fibers get good and soaked.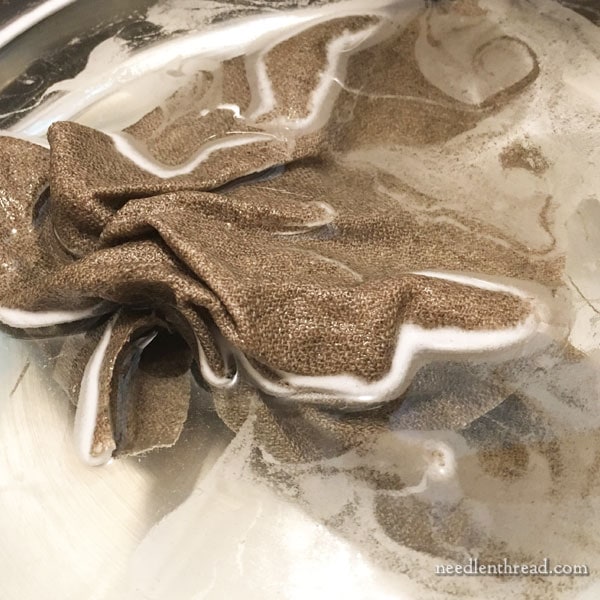 This is when the sizing will rinse off. You can see the results of this first soaking in the photo above. The sizing is causing the water to be cloudy and a little bit bubbly.
Then, pour this first soaking off, and immediately run the coldest water you can out of your tap and cover the linen. Give it a good swishing, so that the cold penetrates all the fibers. The linen will feel suddenly pretty stiff!
And the water will be much, much clearer.
After a good soak in the cold for a few minutes, pour the cold off, run your tap to get the hottest water you can get from it, and go back to hot. Swish the linen in the hot.
Let the linen sit in the hot water for a good few minutes (I usually leave it for five or so minutes while I do something else). Then, pour the water off, run your tap until its as cold as can be, and then cover the linen again with cold water. Give it a good swish, leave it for a few minutes, and then pour it off.
By now, your kettle should have well and truly boiled.
Now, the third hot water bath is going to be with boiling water. Pour your kettle of water over the linen. Don't stick your hand in it to swish it! Just leave the linen in the boiling water and walk away.
Come back in ten or twenty minutes, when the water has cooled to tepid. (This depends on the current temperature and the amount of water). Pour off the water, give the linen a quick rinse in running cold water, and, without wringing the linen, lay it flat on a bath towel.
Fold the towel over it and press the towel to remove excess water. Hang up the linen to dry to the point of being still-damp, but not wet.
With the linen barely damp, I go for the iron. Using the hottest setting (cotton / linen) on the iron, and never leaving the iron to sit on the linen for any time, I iron the linen horizontally and then vertically (never across the bias), until the piece is dry.
When you iron a piece of damp linen, you should not need to push on your iron or hold the iron in place on the fabric (which can lead to scorching). Just move the iron back and forth horizontally and vertically, without giving the iron any more pressure than its weight allows. Work the edges as they start to ripple. They ripple because the fabric is drying at different rates.
Ok! That's it! Your fabric is ready! It should be perfectly smooth and beautiful.
At this point, I normally leave the fabric for a while on a flat surface, because it gives it a chance to dry some more, in case the iron didn't get all the moisture out.
Now it's time to measure the linen. I started with a 10″ square, measured from the last whole linen thread that I removed around every side of the fabric.
Now, along the weft (perpendicular to the selvage), I have 9.5″.
Along the warp (parallel to the selvage), I have 9.75″.
So, the fabric shrank 1/2″ on the crosswise grain (the weft) and 1/4″ on the lengthwise grain.
Now, when I cut linen for a project before pre-washing it, I know to cut beyond my desired measurements, to ensure that, when I shrink it, the fabric is still within the measurements I need.
As a side note, the fabric has quite a stretch on the bias, but it's good and firm on the grain in both directions.
Transferring onto Linen Crepe
Linen Crepe comes in two colors – an off white and this darker natural or oatmeal color that I'm working with here.
Due to the heavier nature of the fabric, it would be a little difficult to trace a design onto it. If you're using a light pad, tracing will work with the cream, but not so much with the oatmeal.
The fabric, does, however, take an iron on transfer ok. So if you use pre-printed iron-on transfers or a pen like Sublime Stitching's fine tipped iron-on transfer pen, for example, you should be able to get a decent transfer.
You can also use prick and pounce or any variety of other transfer methods that you'd use with darker fabrics, including tissue paper and running stitches or dressmaker's carbon.
Stitching on Linen Crepe
I'm pretty sure the stitching experience is going to be slightly different on linen crepe, compared to stitching on regular plain or even weave linen. Think of it like stitching on linen twill – that's what it felt like when I tried a few stitches on it.
In fact, I think this linen crepe would make a terrific ground fabric for wool! It would be quite nice for modern interpretations of crewel work.
At the same time, I think this fabric would make exquisite monogrammed and embroidered hand towels. It is a very absorbent fabric, and it feels so good on the hands.
I haven't had a chance to dive deeply into embroidering on the crepe, though I've worked a few stitches and it feels good! I can't wait to go all-out hog wild on the stuff!
Where to Find It
If you want to give linen crepe a try, you can find it at Needle in a Haystack. Just search "crepe" on their fabric page, and the options will come up. Belleek is the off-white and Cobblestone is the oatmeal / natural.
I'll be working up a project on Linen Crepe pretty soon. I'll keep you posted on my musings as I stitch on it!