I tried to come up with something particularly Halloweeny to share with you today. But the fact is, aside from this tutorial on embroidering a wee pumpkin (which isn't necessarily "Halloweeny"), and this pillow case that sports (among other things) an embroidered jack-o-lantern, and this basket of pumpkins (again, fall-ish, but not particular to Halloween), I really don't have any creepy stitching for you.
But if you squizz about online searching for Halloween stitchery, I guarantee you, you'll find plenty out there!
What I do have for you today is a little treat in the form of some tips for handling your skeins of threads, whatever types they happen to be.
Thread skeins, as I'm sure you know, can be a source of aggravation, irritation, and downright consternation! They can be the beginning of the end of an embroidery project, if you let them get to you.
I've written a few articles over the years about handling different types of skeins of embroidery threads, and if consider them all generally (rather than specifically meant for This Particular Brand of Thread or That Particular Brand of Thread), you're bound to find a solution for practically any type of skein of embroidery thread.
I'm also going to debunk a popular tip that's spreading around on social media right now, just for the sake of preventing confusion.
So, here's my list of thread skein tips that should help you manage your skeins of embroidery thread before they decide to get unruly and drive you nuts:
1. Unraveling the Secrets of the Pull Skein – this tackles the tangling of the common pull skein (ie the skein configuration for DMC stranded cotton)
2. Coton a broder (the old loop put-ups) – this same method applies to tackling a twist of perle cotton and other loop put-ups.
3. How to Tame a Big Hank of Floche (another loop put-up)
4. Appleton wool – There's a pull-skein tip buried in this article, for when you're working with Appleton. It's a hit or miss thing. But it generally works!
Debunking a Currently Popular Tip
Out there in Social Media World, a tip is going around concerning the pull skein.
This is not in any way meant to be rude or argumentative – it's just to help keep people from being confused! I'm certain that whoever generated the tip meant well. After all, what stitcher wouldn't appreciate a tip that alleviates all the bother of a messy skein of floss?
But still, the tip, taken as it is (based on the photo circulating with it) is not quite correct, and it can lead to confusion if it is taken at face value.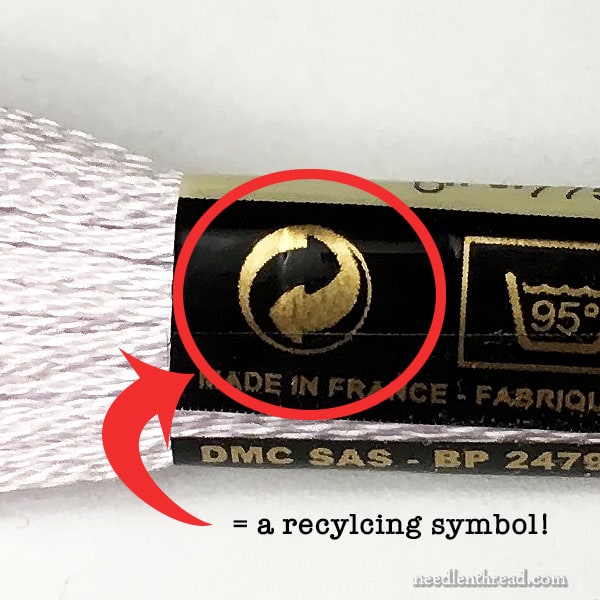 The photo above shows the symbol in question (circled in red) on a skein of DMC floss. This symbol is located on the long sleeve on every skein of DMC stranded cotton.
In the photo circulating on social media, the whole symbol is not necessarily as clear as it could be. When you look at the picture circulating on social media, you get the impression of an arrow pointing to the long-sleeve end of the floss. The tip being circulated is that the symbol is an arrow pointing to the end of the skein where you're supposed to pull the floss.
But if you look at the whole symbol above, in a close up photo of the symbol, which way does the arrow actually point? Well, it depends on which arrow you're looking at! There are two on the symbol, and they point in opposite directions.
The symbol shown is a recycling symbol. Sometimes, you see it in black and white, in this case black and gold to match the packaging, sometimes you see it in green and white or green and lighter green. It means that the paper used on the sleeves is either recycled or can be recycled.
It is not meant in any way to indicate the end from which to pull the floss.
It just so happens that the symbol is on the long sleeve on DMC skeins, because that's where it fits. And it just so happens that, on DMC skeins, normally you pull the thread from the long-sleeve end.
But, as you can see, the symbol above doesn't necessarily point to the long-sleeve end. It points to both ends, and different people will see it differently, depending on which arrow stands out to them when they look at it.
The other reason the tip can cause confusion is that this symbol could, in fact, show up on any kind of floss that has paper sleeves where recycling is involved or encouraged. So, if a manufacturer puts it on a sleeve on the wrong end for pulling, what happens? If people associate that symbol with floss pulling, they're going to end up with a mess.
My point is this: take that symbol for what it is. Don't try to assign another meaning to it. It has nothing to do with which end to pull on a skein of embroidery floss.
The End of October – Coming Up in November!
Well, it's been a very busy month at Needle 'n Thread! And there's a lot coming up in November, including (if all goes as planned) the release of a "limited edition" (testing the waters) materials kit for a new project that I'll be showing you soon. I'm stitching my last samples this week. I'm very excited about it!
With time slipping quickly away this year, I've also been trying desperately to finish up the Floral Corners collection, for those waiting the patterns & stitch guides. They're coming! And I'll also be releasing a short run of another little product to go with them that will make your stitching life much more convenient. I'm working my hardest to get this out for you some time in November, too.
Also on the Very Exciting End of Things, I have some new threads and fabrics that I'll be playing with during November. I can't wait to tell you all about them! I've been doodling about with a new project towards that end. So we'll have some thread talk and some fabric talk soon.
Beginning after Thanksgiving, I'll be running my pre-Christmas give-away series called A Stitcher's Christmas. This is a series of marvelous and beautiful items relating to embroidery that could end up under your Christmas tree. I love running the series every year. I think it's a lot of fun, and the businesses that provide the gifts are always very generous with their enticing wares!
Finally, today's the last day of October, so it's your last chance to pick up Twelve Trees for Christmas while it's on sale!
Tonight, I'll be stitching like a fiend, answering the occasional doorbell… and diligently avoiding the Halloween candy. If you're doing the Halloween Thing, have a wonderful time! And if you're not, have a wonderful time, too!