Hallelujah! I actually managed to finish embroidering another little project! It's one of those loose ends I wanted to tie up before moving on to something a little more challenging.
I've been aching to get on with an embroidery design I've been playing with! So with that as my motivation, I finished up the pillowcase edge that I showed you a few weeks ago. I think I might call this one "Spring Dreams." Of course, it doesn't have to be a pillow case edge – it can be an anything edge. Or just for fun.
Down the road a bit, I'm going to put this design together in one nice tidy package with a couple other linear floral designs of similar ilk.
But in the meantime, I wanted to share the finish just to spread a little color and sunshine!
And no, it's not quite entirely Spring here in the Midwest – hence, the fuzzy blanket in the background.
I should have put the pillow against crisp white sheets on a sun-drenched bed with a soft breeze blowing in a delicately curtained window, but… rain. Snow. Wind. Cold. You see the problem.
I made the pillowcase using a four inch strip of colored quilting cotton for the edge. Turned and sewn on, this ended up being a 1.5″ strip of color at the opening of the pillow case. For the body, I used white kona cotton.
All the stitching is done with regular stranded cotton in colors that (more or less) coordinate with the fabric edge.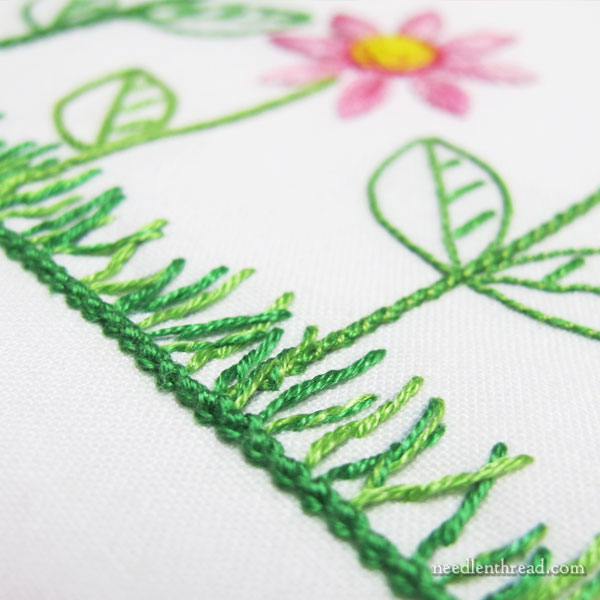 I'm still not quite convinced the grassy edge is essential – I debated this in a previous article about this project – but I do like the Palestrina stitch base to the design, even if the grass is a bit shaggy.
Overall, it grew on me as the project progressed. I don't mind it so much now.
My favorite flowers in the design are still these guys.
Padded buttonhole stitch alternating with straight stitches makes a nice, finished central ring.
For this one, it's raised stem stitch.
And I love the little satin stitch petals. I'm a huge fan of satin stitch in general, but little nuggets of satin stitch like these always make my heart sing!
With a design like this – that's really very basic – the fun part comes from mixing up textures and stitches.
Satin stitch showed up quite a bit, creating smooth surfaces to many petals.
The knotted centers and the different textured lines for stems and leaves bring additional interest to the finished design.
The variety in line stitches makes the design super fun to stitch!
Overall, Spring Dreams was a very relaxing project. It was straightforward, easy embroidery. And the icing on the cake? No finishing! I liked working on the already-made pillow case, knowing that, once the embroidery was done, the project was complete!
I hope you have a terrific weekend with plenty of time to bond with your needle and thread!