Do you ever second guess your embroidery finishes, after you finished them with (what you thought was) satisfaction?
This happens to me frequently, and I think it's mostly because I take photos of my embroidery projects to share with you. Sometimes, it's not until I start going through photos that I see things I don't like as well as I thought I did.
Be that as it may, I'm officially finished with the leafy tree, even though there is a little part of me that might go back and change one silly leaf.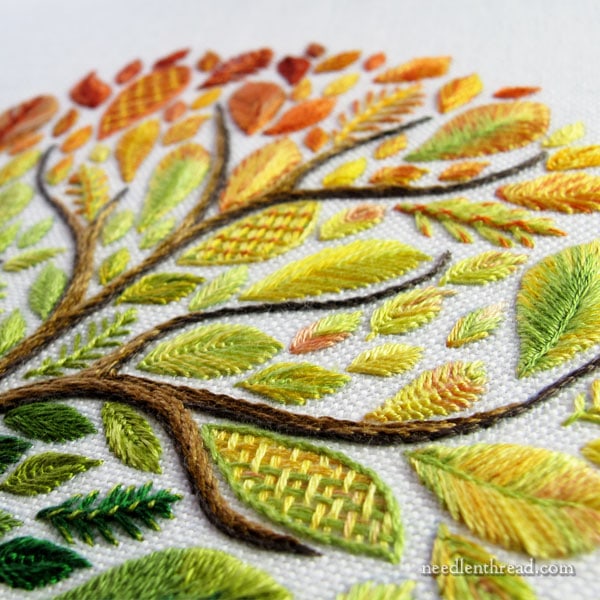 I loved stitching this project!
The color transitions that introduced the autumn shades were exciting. It was hard to put my needle down at the end of the each stitching session. I was eager to see what comes next – like a good novel, you know?
The individual leaves work up quickly, so progress was evident right away. There's nothing better than a project that unfolds in a quick, visible way every time you work on it. That kind of progress always keeps me motivated to get back to it as soon as possible.
Tipping the tree with the deeper rusty reds, browns, oranges and golds was a bit challenging.
At first, I tried to limit the color usage to only three shades in each category for the whole tree – three shades of green, three shades of yellow, three shades of orange, three shades of red.
This didn't work out! I used a few more shades of color than planned. I also pulled in two variegated colors, even though that wasn't in the original plan, either. Sometimes, variegated threads can help tie things together better than solid colors can.
Even though the reds and oranges really vivify this version of my leafy tree, it's the transition area between the lighter green, the yellows, and pale orange-corals that I like best.
I like those shades up against the dark branches of the tree. In my mind, these are the quintessential indication of fall – that green and yellow mix, up against dark silhouetted branches on a tree that's getting ready to burst into a dramatic change. It makes autumn trees look as if they are glowing from the inside.
You might remember that last year, I embroidered this tree in greens. In the photo above, the embroidery is wet, as I had just soaked it to remove design lines and then blocked it.
You can see different stages of the development of the green tree in these two articles:
Weekend Stitching: My Leafy Tree Sampler of Sorts
Embroidery Projects and the In-Between Stages
I like the green version, but the design needed some tweaking. And the colors – though fine for a green tree – didn't make the thing live the way I wanted it to. I had to at least try a version with an autumnal twist to it. And since I had to re-stitch the design with the improved pattern, I figured why not?
Maybe you'll find that one silly leaf that's bothering me – but I'm not going to ask for a whole influx of opinions or options on individual leaves! I wouldn't want to put you to work that way! And I don't really want to end up second-guessing every leaf. Overall, I'm satisfied with the tree.
Like It? Want to Stith It?
If you like the Leafy Tree and you want to stitch your own version, you can find my instructional & project e-book here. It takes you step-by-step through the project. You'll find materials lists, stitch instructions, and all the info you need to successfully embroider your own version!
Coming Up on Needle 'n Thread
Now I can move on to the next project – which I'm very excited about and can't wait to share with you! But I need to make some progress on it first, just to be sure I like it as much as I think I'll like it.
Next week, we'll have some thread talk with a few handy stitching tips. I'm playing around with several ways to work with variegated threads for different results, and I'll share those tips with you.
There's also a finishing job I'm working on right now! It involves this little deer on a tapestry small. I'll share that with you shortly.
I'm finishing up this quick flower line project, too, when I need something quick and easy to pick up and stitch on. So you'll see the finish on that soon, too.
We're expecting a nice little snowstorm this weekend (you've gotta be jokin'… it's March!), so it'll be a good weekend to cozy down with some needlework.
I hope you have a wonderful weekend, with plenty of quality time with your needle and thread!