Roses are a staple in the wider art world and in the more specific world of embroidered art, and for all kinds of good reasons. Among those reasons is the obvious fact that they are beautiful flowers. Another reason? Roses have been used symbolically throughout history – from heraldic symbolism to religious symbolism to personal and sentimental symbolism, roses have meaning.
When it comes to design, you can find all kinds of rose designs out there, from the very stylized to the very realistic.
The rose-related embroidery designs here on Needle 'n Thread are stylized rather than realistic. Most of them are inspired by the symbolic roses that show up in ecclesiastical or heraldic needlework and art from past centuries. Extracted into single design elements or distilled into smaller designs, they make lovely options for embroidered art.
Besides a plethora of rose-related embroidery designs, you'll find a few stitch tutorials available here, too, for embroidering roses.
So, today, a short tribute to the rose – a beautiful flower worthy of your embroidery efforts!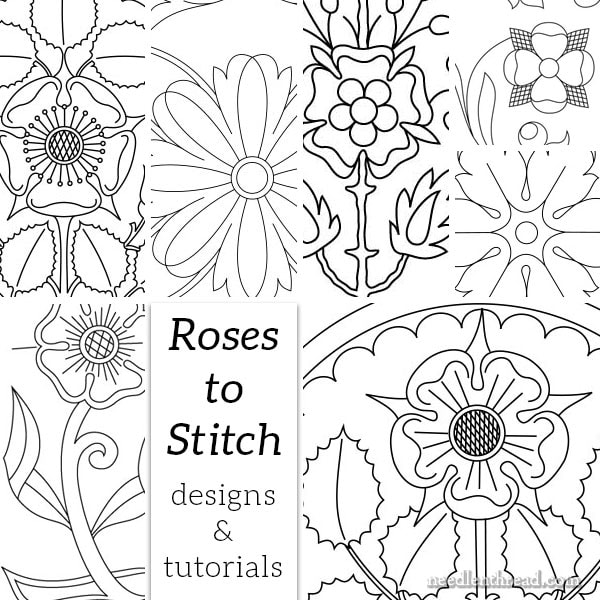 Free Rose Embroidery Designs
Perhaps you're just now trying to decide what your next Magnum Opus in embroidery will be? Perhaps you love roses? Or perhaps you see a symbolic connection between roses and you or someone in your life? Whatever the case, there are plenty of free embroidery designs here on Needle 'n Thread that feature roses. Take a browse – maybe one will beckon you!
This Tudor Style Rose is a small, single, stylized rose that I originally worked in silk and gold threads. You can find my step-by-step articles on embroidering this rose here.
Therese Dillmont included many stylized rose-themed designs in her books (which are now in the public domain). I've played around with some of her designs and cleaned them up for easy use as embroidery patterns. You might like this Dillmont Rose – kind of a swirly, open design that could go as a stylized rose or an elaborate daisy – or perhaps this Dillmont Rose, which is more Tudor-esque with a modern twist.
This small Rose Rondelle design would make a lovely small study in silk and gold.
Several years ago, I worked through this Mission Rose embroidery project in silk and goldwork with bead accents, using this design for the project. I blogged the project step-by-step, and you can pick up lots of stitching tips in those articles if you're undertaking anything similar!
I like this stylized rose on a stem design. It has potential – it could be interpreted in all kinds of embroidery techniques for a small project. I've got plans for this one!
This rose swirl design is simple, but open for a lot of interpretation. I had every intention of working this in goldwork, but the initial foray with the wrong fabric set me back and I haven't gotten back to it! Maybe you could do it justice!
A more elaborate rose design with the same flavor as the Rose Rondelle above, this Rose Window design could be a masterpiece in silk and gold, but it also lends itself to other techniques, too. Wool embroidery on a larger scale? Silk shading on a smaller scale? Whitework? Why not?
This Quatrefoiled Rose design was inspired by an ecclesiastical design from a very old folio of patterns. Whitework, silk shading, goldwork, even blackwork would work on this one.
This rose diamond tile with buds will look familiar, as it's in the same style as the rose rondelle and the rose window designs, but the layout is simpler.
And finally, this gorgeous rose design can be repeated as a border along the edge of fine textiles. It would work well for reenactment clothing and the like. It would also suit for large altar linens in whitework, or for very fine heirloom household linens.
Rosy Stitch Tutorials
You'll find several tutorials here on Needle 'n Thread that will help you stitch small rose motifs on your embroidery projects. Check them out!
The Rose Leaf Stitch can be used to embroider small rosebuds.
These stem stitch roses are quick to work up and rather sweet!
For striking, dimensional roses, try the cast-on stitch rose! Cast-on stitch is a fabulous stitch, and this step-by-step tutorial will show you how to turn it into a lovely rose.
Coming Up on Needle 'n Thread
We'll indulge in a little more thread talk later this week. I'll also share the leafy tree with you again, so you can see the finished foliage. Remember the floral corners embroidery designs from last summer? I've got something for you on that project soon!
A little more news:
Over on my Needle 'n Thread page on Facebook, I ventured into live video earlier this week and you can see the impromptu results here. It was an experiment, taken up as a kind of challenge. In the video, I talk about my current project. The quality of the video is not so great, as it didn't upload in HD.
I'm working out some kinks with live video to use in the near future. Live video is a fun way to connect with folks and to answer questions in "real time" while we're talking about embroidery. If you're interested in catching those, you might follow my Facebook page or subscribe to my YouTube channel. I'll be testing both platforms and I'll let you know how things go with that!
Hope your week is tumbling along merrily so far! See you Friday!