Recently, I showed you the finish on this embroidered model for a new collection of designs and instructions I'm putting together.
Lots of folks commented on the back of the finished needlebook.
Today, I'll show you the back of the cheerful heart I shared with you on Friday – just to illustrate that, when you're finishing small embroidery projects, you don't necessarily need to find a coordinating fabric to finish the back of an embroidered piece. You can make your own!
I'm finishing the cheerful heart design into a specific item that needs a back to it (more on that later), so instead of finding a coordinating fabric, I decided to embroider the back as well.
Instead of embroidering the same design on the front and the back, I decided to embroider sampler-like lines of stitches vertically to fill the heart shape.
Because the stitches are familiar and the color choices already decided on (I'm using the same colors as those used on the front), the embroidery is a breeze! Better yet, because the whole design isn't that large, you never get bored stitching the same thing over and over for too long.
You can use any type of line stitch – or even groups of small knot stitches and isolated stitches – to embroider the lines.
I like to use composite stitches, too. Composite stitches are stitches made up of more than one stitch, worked together to form a completely different look. A great resource for a wide variety of composite stitches for this type of line sampler is my e-book, Stitch Sampler Alphabet. I make use of the stitches and composites in that e-book quite frequently, and if you're familiar with it, you'll recognize most of the stitches on the back of the heart.
If you want to try your hand at creating this type of "sampler" for the back (or front!) of any embroidered item you might be constructing, here are a couple tips:
Trace the outline of your shape on the fabric you plan to use. A linen fabric works great for this, because the weave on linen (even very fine linen) is always easily defined.
Make sure that the design is aligned with the vertical grain of the fabric, and then use the grain of the fabric to guide your lines. Take a light pencil (I like using a mechanical pencil with a .05 lead) and draw vertical lines inside the shape, using the weave of the fabric to guide the pencil. This is easy to do if you hold your pencil at a low angle on your fabric and pull it straight down the grain line of the linen.
Alter the spacing between the lines. Try to shoot for covering the shape with a balance of white space and lines in a way that makes sense. You don't want one half of the shape to look heavily weighted, while the other half is sparse.
And then, when you stitch the lines, consider their weight. Choose a variety of "weights" of stitched lines – from heavy lines to fine lines – and space them so that the design is balanced nicely across the shape.
Remember This Needlebook?
Last summer, I showed you this cute little stitch sampler needlebook that I made as a model for a kids' class I taught last year.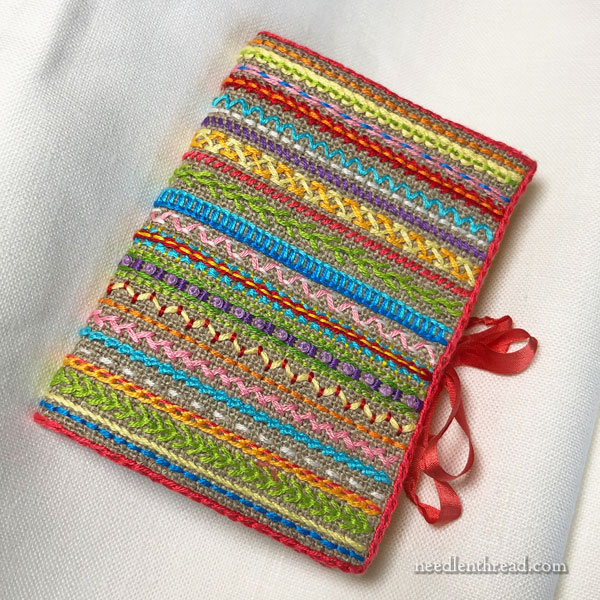 The concept is pretty much the same thing. On the needlebook from last year, I used a lower count linen that really helped guide the line placement and that made spacing and judging the width of composite stitches much easier.
On the back of the heart, I used some composite stitches that are a little more decorative, and I kept a lot of white space by working the lines farther apart.
But whatever way you do it, creating your own "fabric" out of a sampler is a great way to finish the back of a small piece of decorative needlework!
Further Resources
Stitch Sampler Alphabet features instructions for over 65 stitches and composites that can be used for this type of embroidery.
The Stitch Fun! series here on Needle 'n Thread includes many photo tutorials for line stitches and composites that would work well, too.
And of course, my collection of video tutorials for embroidery stitches will introduce you to stitches both simple and complex that you can incorporate into your own "sampler fabric."
Needle 'n Thread News
On Friday morning, I'll be adding a limited number of ready-to-stitch towel sets in the Floral Corners design to my shop. If you're looking for a relaxing, fun, and stress-free embroidery project, you might give them a try.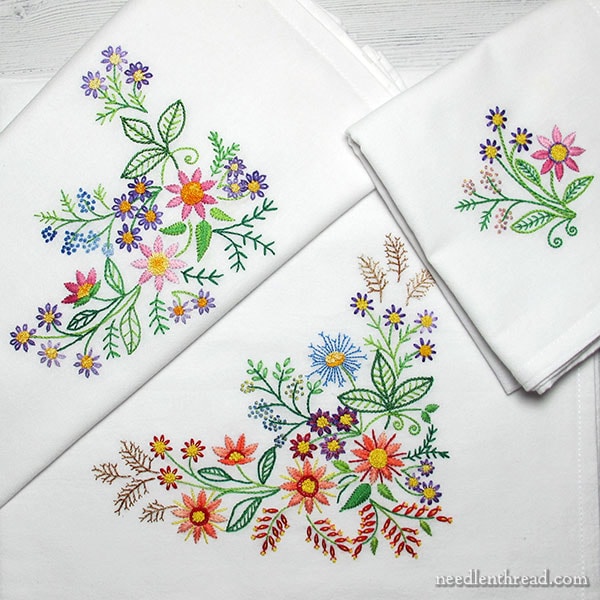 You can find the Floral Corners e-book for these designs here, with instructions, tips for stitching, and color guides, but you can also embroider the ready-to-stitch towels with your own colors and your own stitch choices, without the e-book, if you want.
Next week, I'll be adding some Festive Fall towel sets, too, for those who want to get ahead of the season! And, if time allows, I'll restock some of the Christmas sets (these Folky Flakes and these Holly & Evergreen towels).
Unfortunately, I can't take pre-orders (I only sell what I have in stock, once it is ready to ship) and I can't reserve orders. So look for the listing on Friday morning for the Floral Corner towels, and I'll keep you up to date on the others as I prepare them.
You can shop Needle 'n Thread here, and the listings move back to the top of the inventory list once they are in stock.
Many of you have been asking and waiting for these, and lately, I've had an increased number of requests due to social distancing and quarantines. So I will do my best to prepare as many as I can. I just got new equipment in and set up, and I'm really pleased with the way the designs are transferring! But I don't know how long my supply chain will last. All I can promise is to do my best!
I hope you are all well and hanging in there!