Well, well – a Glorious Wednesday to you! Things have been hopping here in the studio this week. I keep thinking the pace is bound to slow down, but it doesn't.
Among various other tasks, I've been pulling out my ordering lists to re-run kits that I've already produced, that you might be interested in.
I've had a couple requests for the Leafy Tree kit and the Mini Sampler Stockings kits. I'd like to get the opinion of a wider audience, so I thought I'd ask you!
Is the Leafy Tree a kit you would like to have available again? Is it a kit you would be interested in purchasing?
There would be a few alterations in the kit: the ground fabric originally used is no longer available, so I would substitute a new linen. In fact, one of the beautiful white linens from my white linen sampler pack is perfect for this design!
I'd also be kitting different embroidery threads.
And finally, the transfer method for the design would also be slightly different, as I've changed to a different process in that regard since the last time I ran the kit.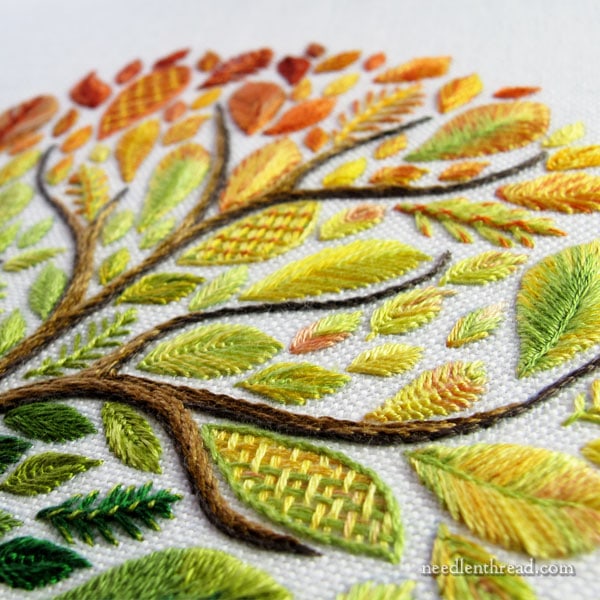 If you want to weigh in on this question, please do comment below!
In the meantime, if you're not interested in the kit itself or if you are an international reader, but you are interested in the project, it's available as an e-book here.
The second kit I'm thinking about as a re-run is the Mini Sampler Christmas Stockings kit from last year.
What think you?
I have to admit, these are possibly my favorite kits so far! They're a little time consuming to put together, but wow. They're so fun!
The projects themselves don't take too long to make, because they're small, and they have the lovely advantage of being sampler-esque, so you get to try all kinds of different stitches and combinations. And then, of course, there's the Bling. Beads! Charms! Metallics!
If you have thoughts on this one, chime in below, too.
I'm debating about both, and if I'm going to do them, I've got to get on it now. It takes a while to order and get supplies in, and then to prepare the supplies and whatnot.
I need the collective brain of all of you to help me make a decision.
Help!
And Other News
Yesterday, I contacted all the advanced notice lists for a couple products that have been restocked and that are in the shop right now, so today, it's open season on those!
Home Sweet Home is back in stock – and likely to be the last stock I can carry. There's apparently no more stock for wholesale purchase in the US. Popular book, this!
The white linen sampler pack is also available, for those who want the opportunity to try out four exquisite white hand embroidery linens.
You can read about both of these – the book and the white linen sampler pack – here, if you want to see what they're all about.
And you'll find them both available right now in my shop. They ship today, if purchased before noon central time.
The natural linen sampler pack was in stock until just a few minutes ago this morning – the last one just sold. I will restock the natural, so if you want a heads-up, contact me via email or this contact form. I'm more likely to restock a larger quantity, if I know people are waiting for it.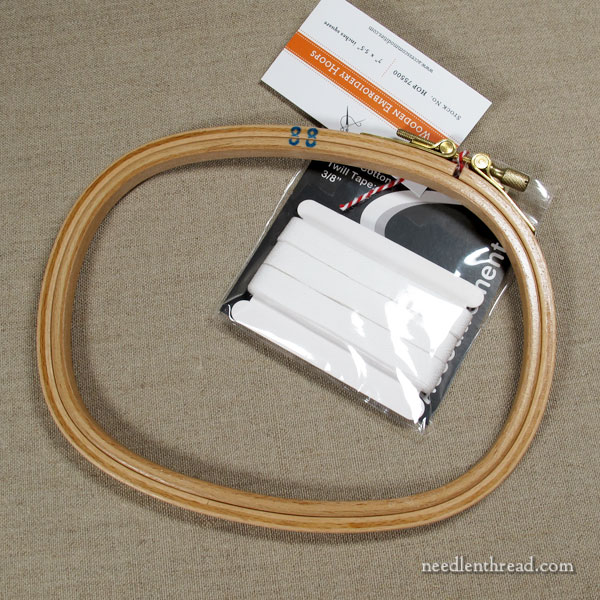 For those who are on the advanced notice list for this "sqround" hoop that I love the guts out of, do not despair! They are coming! I have a good sized order in, and I'm hoping they will be here in the beginning of June. As soon as I know a more precise date, you'll get an email!
A Note on Stocking Supplies & Kits
Oh golly, how I wish I could stock infinite quantities at my fingertips to send to you as soon as you want something.
Alas, it can't work that way for my itsy-bitsy-teeny-tiny business. I don't have space and I don't have the financial wherewithal to stock large-large quantities of things.
I try to gauge how popular a possible kit or embroidery item will be, and then I order what I can, within my budget, with storage space in mind. Even if most of it sells out quickly, it has to go somewhere when it arrives! I'd like to expand to a larger space, but I'm limited to what's available in my small town.
So, while I know it is frustrating to find things sold out, please know that I will do my best to restock the things you want!
I keep email lists so that I can contact you when items are back in stock, so if something you want is out of stock, just drop me a line and I'll put you on the advanced notice list for that thing.
For example, if you want a Leafy Tree kit or you want a Mini Sampler Stockings kit, drop me a line now! That way, I can contact you once they're available later this year (if I do them). You can do that with any tangible product in my shop.
Shipping Internationally
My dear international friends, I am ever-so-sorry that I don't generally ship internationally. I'm not able to sell tangible goods to the UK or EU at this moment. There are new tax laws already in effect for the UK and soon to be for the EU, and I don't have the wherewithal to contend with those at the moment.
Perhaps in the future – but with the cost of international shipping climbing ever higher, and my international customer base subsequently very low, it is a dilemma. Financially, it doesn't make sense to invest in all the requirements for selling internationally, as well as the accounting involved when it comes to filing taxes with the different countries.
I'm pretty sure I'm not the only small business in this situation. If I find a solution, you'll be the first to know! And if you know of a solution that is legal and above-board, feel free to let me know!
And that is it. I needed to get these thoughts out to you, and hopefully get your feedback on what you would like. If you have some feedback you want to share, join the conversation by leaving a comment here on the website or drop me a line!
As always, thank you! Your insight is so appreciated!