At long last, here's the finished embroidery on my Sea to Stitch monogram designed by Elisabetta Sforza and available in her book by the same name – which, if you're interested in procuring a copy, is out of stock at the moment but you can drop me a line to be put on the advanced notice list when new stock arrives.
My blog publishing schedule and correspondence will return to normal by Monday. I've been on hiatus for a week, and without regular internet, but I'm back, catching up, and things should settle into the summer routine of moderately smooth sailing now, with only a few small schedule blips for a couple upcoming events. Thanks for your patience!
I really enjoyed finishing the stitching on this! There are a few things I changed along the way – you might remember, for example, my experiment with one of the seashells.
While I'm still not perfectly satisfied with that shell, I am leaving it as it is. There's a lot that I like about it, and they outweigh the couple things that I'd change if I had time to experiment further.
Perhaps my two favorite aspects of this design: the Palestrina knot ropey swirls, and the birds!
Originally, I planned the work the ropes with Soie Perlee – a silk perle thread from Au Ver a Soie that is really beautiful. But the knots looked too tight and the ropes to sparse and skimpy. So instead, I switched to three strands of Soie d'Alger and worked the Palestrina knots.
The three strands of Soie d'Alger gave me nice, full knots and a much smoother rope, I think.
The seagulls – so simple to stitch (I just used random split stitches in different lengths to sketch them in) – are essential to the design, in my mind. They make the seashore aspect real by adding movement and life. They were the last elements I stitched (besides adding some scattered beads), and once they were added, I was thoroughly happy with the piece.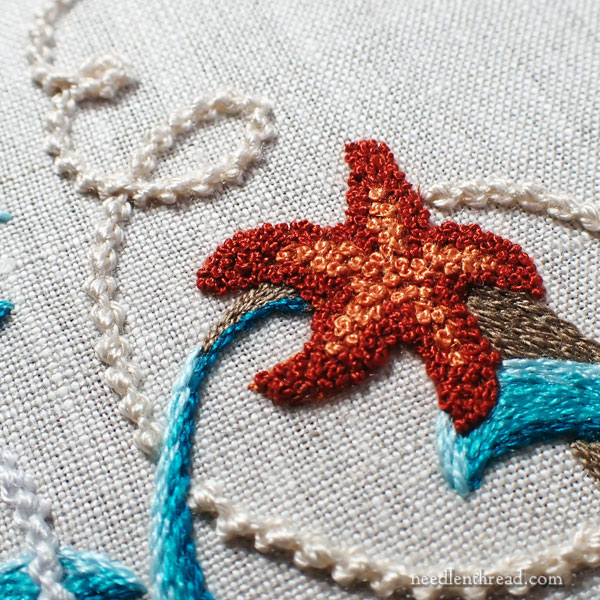 We talked about the starfish here when it was in the works.
I really love the texture on this accent. I'm glad I went to the extreme of full coverage with the French knots! At first, I wasn't really sure it was a great approach, but now that the piece is finished, I like it a lot.
When the monogram was completely finished, I pinned it up to damp stretch it.
You can see here, before it was misted with water, the hoop rings and wrinkles in the fabric. They magically disappear with damp stretching! You can read about damp stretching in the following two articles. The second article covers my favorite supplies for the process and a few tips that make it easier:
Damp Stretching & Blocking Embroidery
Damp Stretching Embroidery – Easier on the Hands
After misting it, I had some fun with the macro setting on a new little point-and-shoot. It's great for macros and close-ups!
There was something rather enchanting about seeing the whole piece misted with water – like an early morning by the seaside, as the sun bursts up to burn off the morning fog.
I use the misting spray bottle I talked about in this article when I damp stretch. It is fabulous for putting down the lightest layers of misted water, so that I'm not soaking any one particular place on the cloth. I love it! And I love the way the water sits so lightly on the stitching. Eventually, it soaks in, of course – but in the meantime, I like the way it looks!
In the original design, French knots are scattered around the sandy areas of the design. I decided to use beads. As it worked out, the only beads I had on hand in appropriate colors were Miyuki #11 delicas.
I had a mix that I had picked up from a bead shop and they were the perfect colors. I just wish they were #15 seed beads rather than the larger delicas. Still, I like them!
I'm a sucker for the bit of sparkle that beads can add to embroidery!
Now that it's damp stretched, I'll work on the plan that's swirling around in my head for finishing and framing. We'll see! It's an experiment!
Looking for More?
If you would like to read about the development of this project, from the book review through the choice of materials and troubleshooting along the way, you'll find all the articles about this project listed here in the project index for A Sea to Stitch.
You'll find the book available here when in stock. If it's not in stock, I'll have more in stock soon. You can drop me a line for advanced notice if you like.
If you're looking for the cork tiles, the misting bottle, and many other stitch-related accessories that I like to use, you'll find those on my Amazon Recommendation Page here, under Tools & Accessories.
The link to my Amazon Recommendations Page is an affiliate link which means that any purchased you might make through that link result in a small commission for Needle 'n Thread at no extra expense to you. Thanks!