The detached chain stitch, also known as the "lazy daisy" or just "daisy" stitch, is an isolated stitch – that is, it stands on its own as a stitch, without being connected to another stitch. The detached chain stitch is a very popular embroidery stitch, because it's an easy and pretty stitch. It's perfect for flowers, petals, and leaves, but can be used in lots of different ways.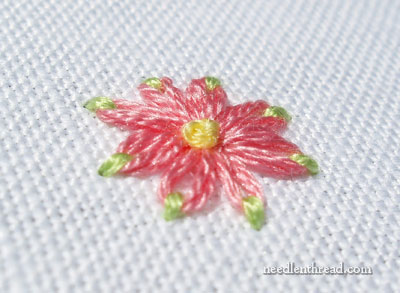 Besides working daisy-type flowers with the detached chain stitch, you can also work the stitch as a ground stitch, to fill in parts of embroidery designs where you want a speckled effect, heavier, for example, than seeding. You can create background patterns with detached chain stitches, and play with the stitch in ways to create texture by overlapping stitches, or by "stippling" with them. It would be interesting to hear from readers about how they have used this stitch in other ways, besides as flowers!
In the meantime, though, you can check out some embroidered flowers that use the detached chain. These embroidered daisies and the pansies on the buttonhole flowers page both make use of this stitch.
I like this example of lazy daisy stitch in action:
As you can see, these aren't daisies, but they come across pretty well with this stitch, I thought! They're worked in two strands of cotton overdyed floss.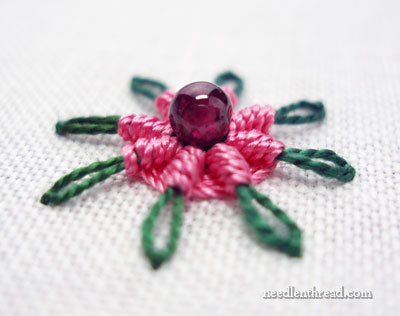 In the example above, I created a Chain Stitch Spider Daisy, combining the detached chain stitch and the ribbed spider web stitch, and added a bead in the center.
So there are heaps of things you can do with the detached chain stitch!
Here's the video for the detached chain stitch:
Other tutorials that involve daisy or detached chain stitch can be found at the following links:
Daisy Stitch in Two Colors
Daisy Stitch & Ribbed Spider Web Stitch, combined
For more video tutorials for hand embroidery, please check out the Hand Embroidery How-To Videos here on Needle 'n Thread.
Looking for inspiration & information on hand embroidery?
There are all kinds of reasons to sign up for the Needle 'n Thread daily newsletter! Check them out and sign up today!
If you like what you see on Needle 'n Thread, if you want to be a part of keeping the website thriving (and free of annoying network advertising), why not become a patron on Patreon? Check out my Patreon page here, where I'll occasionally add special needlework bonuses for patrons.
If you shop on Amazon, you can support Needle 'n Thread without any extra expense to you by visiting my Amazon Recommendations page here, where you'll find books and sundries for the needleworker available on Amazon.