Lately, I've been needled a lot about hand embroidery needles – lots of questions from beginners and beyond about this mysterious tool that we certainly can't live without.
Today, I want to share a few points about hand embroidery needles, so that you can make a good choice when you select the needle you'll use on your next embroidered masterpiece.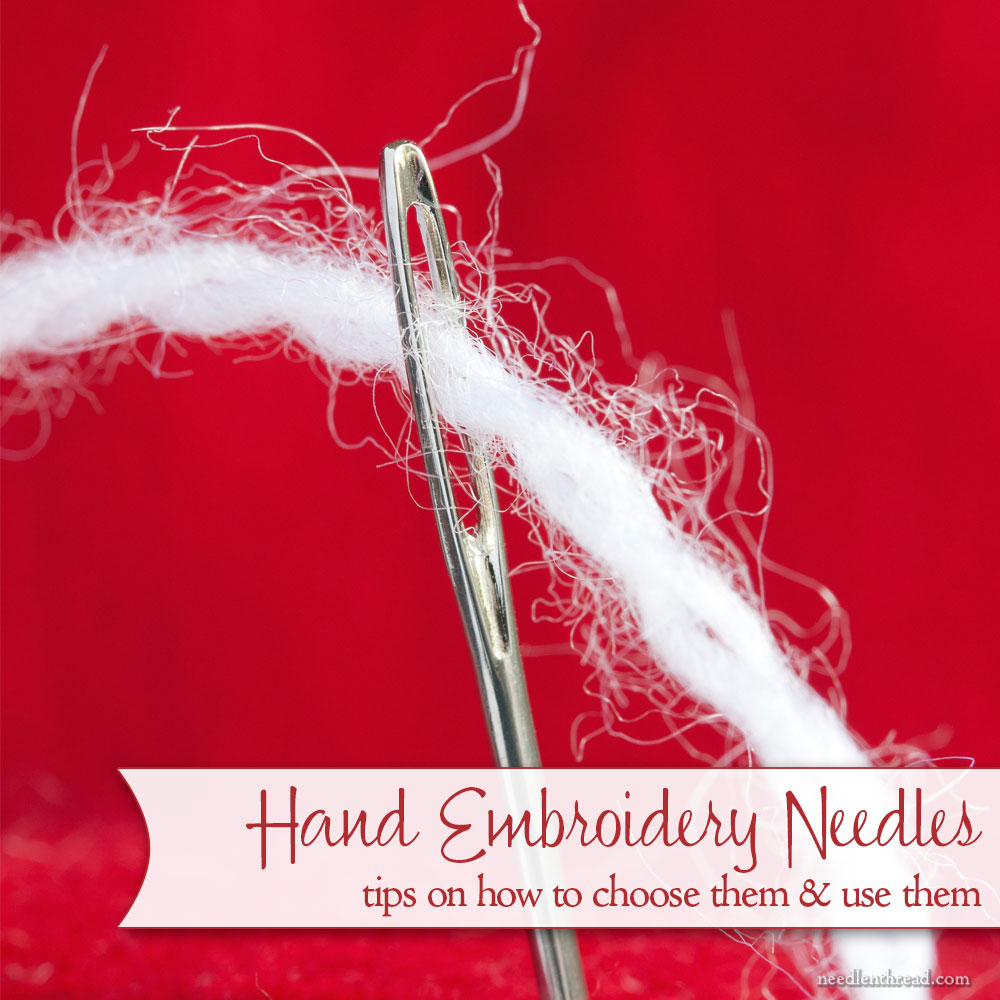 While we all have our favorite specialty tools, our most basic and most important stitching tool – the one we can't do without – is the needle.
And choosing the right needle can make the difference between a frustrating or a pleasurable stitching experience.
Types of Needles Used in Hand Embroidery
The type of needle you choose for your embroidery project depends on what type of embroidery you're doing, but for those who embroider a lot, there are five categories of needles that you should have on hand.
Here's my list of five necessary types of hand embroidery needles and what they're used for.
1. Crewel Needles
Crewel needles are also called "embroidery" needles.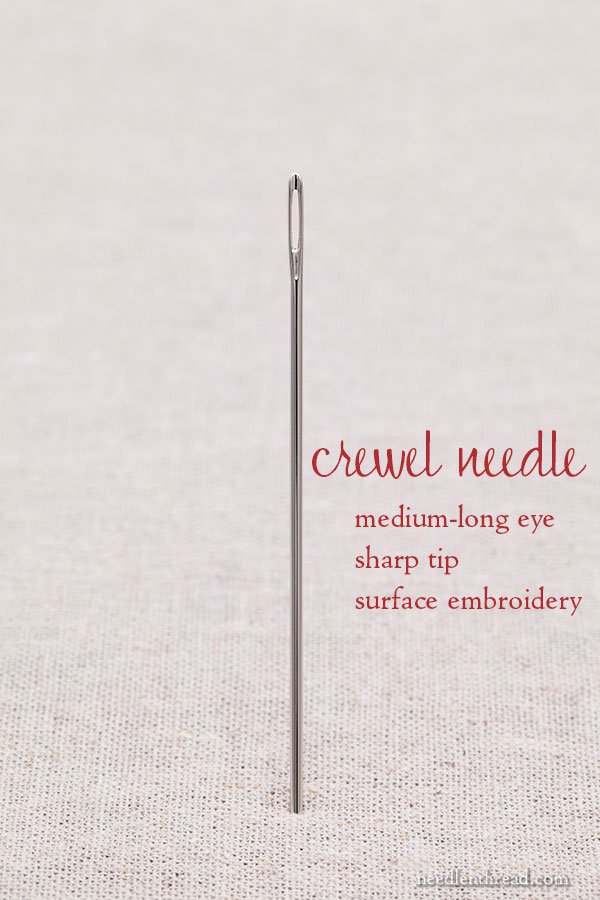 Crewel needles have a medium-long eye, a shaft slightly thinner than the eye (the eye bulges slightly at the top of the shaft), and a sharp tip.
They're used for general surface embroidery, crewel work, goldwork, whitework, and practically any embroidery technique that requires a sharp needle.
Their sharp tip makes them perfect for piercing tightly woven ground fabric and their slightly longer eye accommodates embroidery threads of various weights.
Crewel needles come in sizes 1-12, with 1 being the largest and 12 being the finest.
For beginners who aren't used to selecting needles to fit their thread, purchasing a variety pack is a good idea. Variety packs commonly include sizes 3-9 or 1-5. Both packs are good to have on hand.
2. Tapestry Needles
Tapestry needles have a long eye, a shaft slightly thinner than the eye (the eye bulges slightly at the top of the needle), and a blunt tip.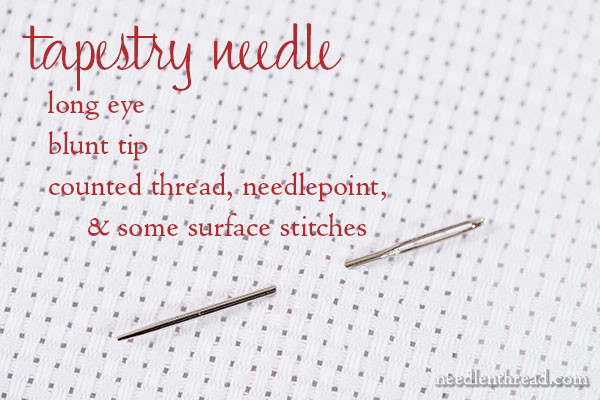 Tapestry needles come in sizes 13-28, with 13 being the largest and 28 being the finest.
They are used primarily for counted thread work (cross stitch, blackwork) and needlepoint, or any needlework on fabric or canvas that has open holes that determine where each stitch is placed.
The blunt tip of the tapestry needle helps us avoid piercing the fabric threads while we stitch.
Tapestry needles are also used for whipping or lacing embroidery stitches. Whipping or lacing stitches involves passing under and around stitches that are already worked on the ground fabric, but does not involve passing in and out of the fabric often. The blunt tip of the needle helps us avoid snagging the foundation stitches.
Whipped and laced stitches can be worked without a tapestry needle, too. If the needle has a sharp tip, just pass it eye-first under the foundation stitches.
3. Chenille Needles
Chenille needles have a long eye, a shaft slightly thinner than the eye (the eye bulges slightly at the top of the needle), and a sharp tip.
Chenille needles come in sizes 13 – 28, just like tapestry needles. Size 28 chenille needles are relatively new on the market, and they accommodate very fine threads.
In large sizes (lower numbers), the chenille needle has a thick shaft. Size 13-18 chenille needles will seem positively huge to a stitcher who's used to working with finer needles.
Chenille needles are used in surface embroidery, crewel embroidery, chenille embroidery, and any time you want a large, long eye to accommodate your thread, and a sharp tip to pierce your fabric. In fact, many crewel embroiderers prefer chenille needles for crewel work because the eye is easier on the wool thread and the sharp tip and large shaft make a good hole in the fabric so that the wool thread can pass through relatively unscathed.
The long eye of the chenille needle also makes it ideal for stitching with specialty threads (braids, metallics, chenille thread, and other fibers) that have a tendency to shred.
4. Milliner Needles
Milliner needles – also called "straw" needles – have a smaller, roundish eye, a shaft that is the same thickness as the eye (the eye does not bulge at the top of the needle) and a sharp tip. Milliner needles are quite long compared to the other needles listed above.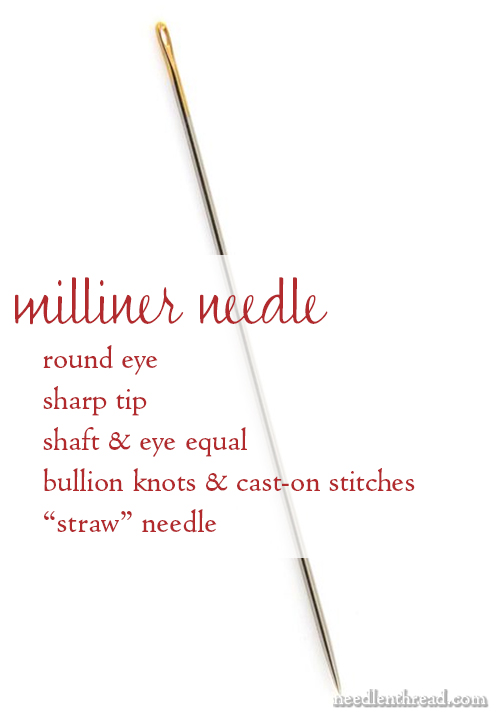 Milliners come in sizes 1-10, with 1 being larger and 10 being finer. They can also be found in sizes 15 and 18, with 15 being larger than size 18, and 18 larger than size 1. Confusing? Yes. I have no idea why they are sized that way.
Milliner needles are ideal for any type of stitch where the thread is wrapped around the needle several times and the whole needle has to pass through the wraps. Bullion knots, cast-on stitch, drizzle stitch, and even French knots are easier when worked with a milliner needle.
The longer shaft of the milliner needle makes it easier to wrap the thread around the needle many times.
5. Specialty Needles
By specialty needles, I mean especially curved needles, and,for those who do a lot of beading on their embroidery, beading needles.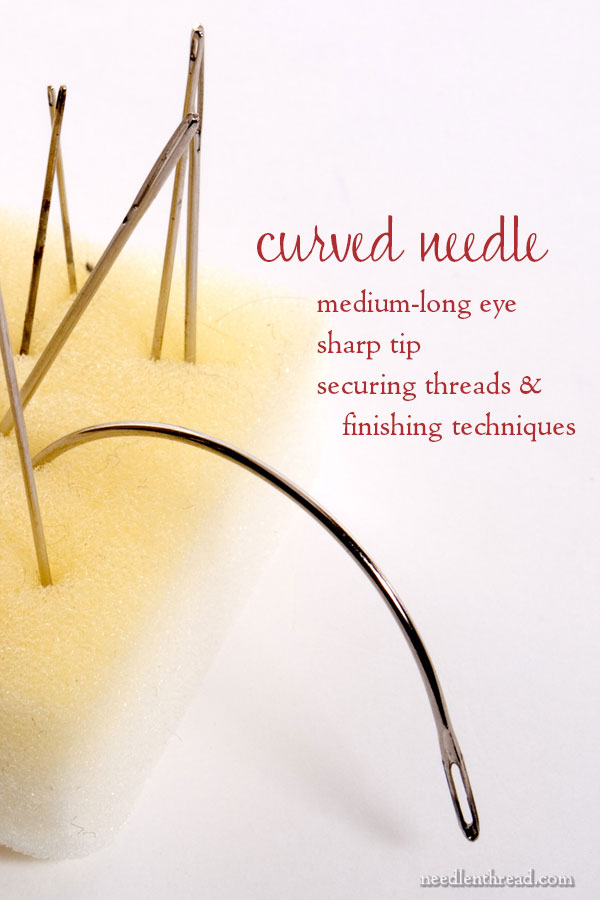 Curved embroidery needles usually have a medium-long eye, like the eye of a crewel needle.
Curved needles come in a few different sizes. Some are very large (used for upholstery), while some are much finer. The size used for most fine embroidery threads is a size 10 curved beading needle.
Curved needles are used to secure threads on the back of embroidery, especially in situations where the fabric is very taut and the backs of the stitches are small and tight. A curved needle is easier to use than a straight needle, when trying to run threads under the backs of stitches in these situations.
Curved needles are also very handy for finishing techniques, because they can pass in and out of areas where a straight needle won't work.
Beading needles are very fine needles with long, narrow eyes, long shafts, and sharp tips. For most embroiderers who add accent beads to their embroidery, a regular crewel needle in a size 10, 11, or 12 will usually suffice in place of a dedicated beading needle. But for stitchers who pick up a lot of beads on the needle, and who use very tiny beads, a beading needle will come in handy.
Needle Size & Thread Weight
Experienced embroiderers generally acquire a feel for what size needle will work best in specific stitching situations.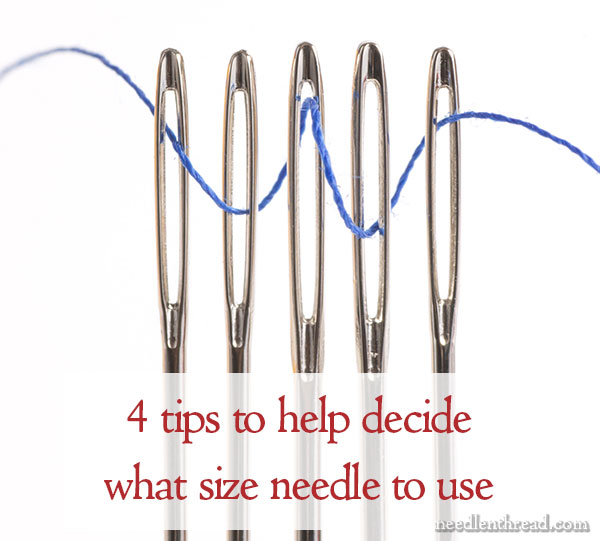 Here are four tips to help you decide what size needle to use:
1. The needle should be able to pull the thread (including the doubled thread near the eye) through the fabric fairly easily, without allowing too much abrasion on the thread as it passes through the fabric.
The rule of thumb that I always heard growing up is that the shaft of the needle should be about as thick as the embroidery thread. But the only situations where this really works are in counted techniques, needlepoint, stitching on open weaves, and any other time there's already enough space between the fabric threads for the needle to pass through easily. For surface embroidery, you have to consider not only the thickness of the thread, but also the thickness of the thread at the eye where the thread is doubled, and the weave of the fabric. A tighter, close weave is going to require a needle that can make the right-sized hole for the thread and the needle to pass through.
2. Although you may hear a pop as the needle passes through the fabric (the pop is usually most evident on very taut fabrics), there should be no real resistance in the fabric when pulling the eye of the needle through. If there's resistance – if the fabric is pulling and denting, and you really have to fight to get the needle through – that's a sign you should be using a larger needle.
3. Although there might be a soft noise as the rest of the thread passes through the fabric, there should not be a loud zipper noise. If the thread makes a loud zipper noise and you can feel resistance as you pull the thread all the way through to the end of the stitch, chances are, your needle isn't big enough.
4. The hole the needle makes should be large enough for the thread to pass through, but not any larger. The needle should not leave a visible hole around the thread.
Keep in mind that there is no absolute formula or rule for what size needle to use for specific threads. While general suggestions might be made, the selection of the needle is often based on personal preference – what needle are you comfortable with in this stitching situation? Over time, it becomes second nature to know what size needle will work best.
Over to you…
Do you have any tips you'd like to share on needle types, uses, and sizes? Feel free to join in the discussion below! Many heads are better than one, so do weigh in with your own bits of stitching wisdom!