When you work with stranded embroidery floss (like DMC or Anchor cotton floss, stranded silks, and the like), it's pretty standard procedure to separate the number of strands of floss, one at a time, from the whole thread of six, and then put the number you're going to use back together again to stitch with them.
This is called stripping your embroidery floss, and I show you how to do that in this tutorial here.
Stripping your floss serves a purpose: it keeps the strands (if you're using two or more) from twisting around each other, so that you get good and smooth coverage with every stitch.
Whether you're doing counted work or surface embroidery – whether it's cross stitch or stem stitch – stripping the floss makes a huge difference in the way your stitches look. It's a good practice.
When I wrote about this thread organization system the other day, I made the comment that I like using precut threads hitched through a hole, because they allow me to pull out individual strands of floss without having to strip them from the rest of the threads (well, the comment was something to that effect, anyway). I don't have to replace the unused portion of the strand. I can just pull out one tiny little thread at a time.
This garnered a bit of comment and a whole flood of questions via email, so I promised I would clarify.
And here's the clarification of how this whole one-strand-at-a-time floss pulling trick works.
Separating embroidery floss in this manner assumes that you're using precut floss arranged somehow all together.
The arrangement of the precut strands might vary. For example, you could cut your floss, pass the cut threads back through the color number tag, and then braid the precut strands together to make a tidy bunch. You can hitch your floss through a hole in card stock or on a thread card – which is pretty much the same principle as above – or you might loop your floss on a ring or something like that.
In this particular case, I'm using the acrylic keepers from Annie's Keepers thread organizing system, and I've hitched the precut strands through the hole on the acrylic keeper.
Sliding the eye of the needle under one single strand of floss on the front of the hitch – the part that crosses over the rest of the strands – you can then pull that one strand out slowly, by itself.
As you pull, the precut floss may indeed bunch up a little bit, but…
…once the single strand is completely drawn out, the rest of the bunch will fall again.
You can see the thread that the single strand was pulled from. It's a little discombobulated, but you can smooth it gently with your hands and keep going.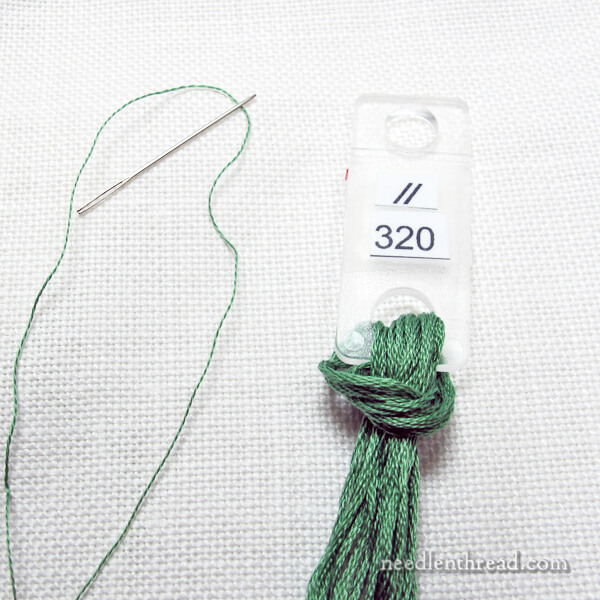 I like "floss pulling" this way for a few reasons:
1. My threads are precut – I don't have to cut new lengths from the skein, or even deal with the pull skein again.
2. It doesn't require me to remove the whole thread and strip off the strand or two that I need, and then replace the rest of the thread.
3. I can strip any number of strands that I need this way, pulling each one individually, and it only takes a second to do it.
Of course, in this case, since I wasn't using the strand I pulled (it was only for demonstration), I had to put it back. I just hitched it into the hole, and when I need this color, I'll unhitch it the same way and use it.
So, you can always add strands back by hitching them in the hole with the correct color.
There are disadvantages of using precut threads, though:
1. If you have cats or curious little hands about, you might not want precut threads about, because they are more prone to getting snaggled if you're not vigilant.
2. It requires extra time at the front end of the project to set the threads up.
3. If you don't use all the thread, what do you do with it? (I put it in a tiny ziplock and put the color number on it and stick it in my thread drawer.)
Overall, though, I find that a system that allows floss pulling like this (which I've used on many a project – including this one) provides a much more efficient approach to accessing individual threads for stitching, which keeps the stitching part of the project moving along at a better pace.
So, that's how I remove one individual strand at at time from the bunch.
If you don't have a favorite method of setting up your threads, you might consider trying this approach.
But if you do have a favorite method already that works for you, keep it! If it isn't broke, don't fix it.
If you have any questions, comments or suggestions, feel free to join the conversation below!