After finishing the whitework on the linen pouch, and doing whitework monograms on the embroidered guest towels this summer, I decided it was time to dig out something colorful to embroider! Better yet, something colorful that was already set up…
So, I took out "Breath of Spring," a project from Country Bumpkin's Inspirations Magazine, issue #56. I mentioned this particular project previously, when I was planning to finish it as a gift.
But, you know, time just got away from me! So I've picked it up now, to (hopefully) finish relatively soon (boy, doesn't that sound non-commital!!??)
There are lots of things I like about this project!! For one thing, it's Colorful. Some of threads, when seen in isolation, might not strike you as Super Colorful, but when taken as a whole project, the colors are pretty varied, and very pretty!
Another thing I like is that the project employs a variety of stitches, so you never really get bored doing the same old stitch over and over again.
Finally, each separate element in the design is small enough to handle in one sitting, more or less. And once I near the completion of one little element, the excitement builds to move on to the next!
Overall, the piece is easy enough – I'd think any moderately advanced beginner could work it, as long as you had a good stitch dictionary (although I think the stitches are covered in the issue of the magazine…) But there are no really "advanced" techniques – the hardest stitch in it is the bullion knot. But this isn't to say I'm not learning anything as I work the project, because I am! Let me show you some close ups here, and tell you a couple things I've learned along the way.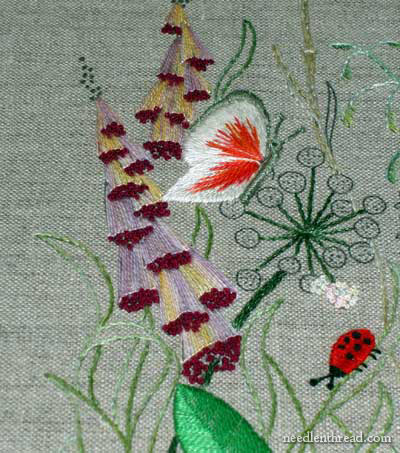 This is the left side of the piece – the bell-shaped flowers are supposed to be foxglove. The butterfly is a duplicate of one on the right side of the piece. I like the one on the right side Much Better. Now, you might wonder how that could be, if they are duplicates…
This is the one on the left side (seen in the photo above). It's the second of these twin butterflies that I worked. I followed the directions on this one to the "T" – and I used 4 strands of floss on the bullion body and French knot head. For the most part, the whole design is worked in one strand of cotton. But this butterfly's bullion body called for 4 strands.
On the first one I worked, I didn't think 4 strands was quite the thing, so I worked the bullion in one strand – and I tapered the end, down to a longer straight stitch. As far as butterflies go, I think this one looks quite a bit more delicate and butterfly-ish. The one above (on the left side of the design) looks chunky and bulky and thick. I may go back and alter that, but I'm not sure if I dislike it that much!
The parts of the piece that catch the eye first, I think, are the buttercups. They're two shades of yellow.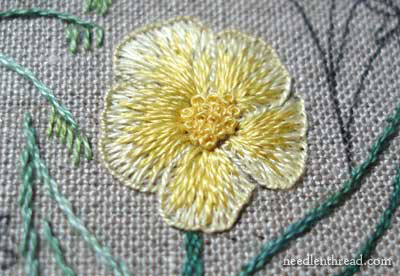 They're worked in a closed buttonhole on the outside of the petal, and then long-and-short-stitch filling, to add the darker shading in the middle.
I like the side-view buttercups, too. There's just something about bright yellow flowers that's so cheeeeeery.
Ok, I love the lady bugs. But I really flubbed this one up! I'm definitely going to take out the French knots and re-work them. I have no excuse – just sloppy stitching at that point. Three of them look all cock-eyed and silly. I'll take those out and re-work them.
The ladybug bodies are stitched in closely worked fly stitch, which forms a seam down the body between the wings. I like that! Clever thinking on the designers part, methinks. The little head is just a few satin stitches.
I'm a little confused about these fellows.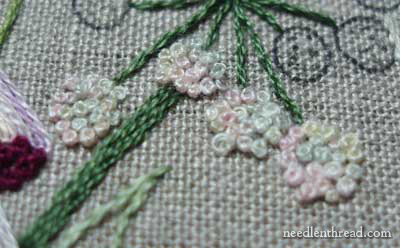 And the more I work of them, the more confused I get. I like them…. but on the instructions, they are listed as "white flowers," and I checked and double-checked my labeling on my threads to see if I made a mistake. They aren't really what I'd call "white flowers"! I think the colors are pretty. But they sure aren't white. They remind me of baby shower butter mints.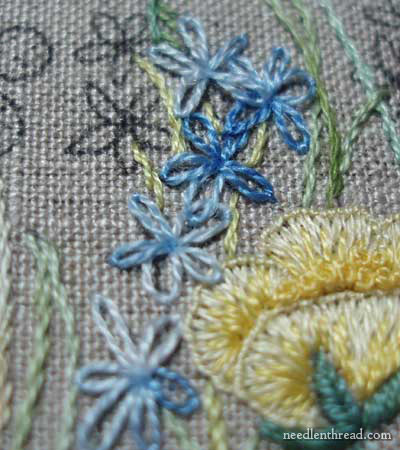 And finally, worked here and there among the flowers are these clusters of forget-me-knots. I jumped in to work a few, so I could see how the blue sets things off. I like them! They'll have a little French knot in the middle of them when they're finished.
I'm really enjoying working this piece!
So that's my colorful project right now. I've got it set up on a stretcher bar frame, and I'm using my Needlework System4 floor stand.
When I have time after work, it's all there, just waiting… a perfect palette of colored embroidery bliss! Ahhhhh……
I have two more projects I'm dying to set up before Labor Day weekend, so that I have projects to work on during the first semester of the school year without having to set aside large chunks of time for design and set-up work. So … here's hoping! I'll keep you posted!
Enjoy the rest of the weekend!
Tags