Before the school year gets underway in a mere week and a half (where DOES the summer go?!), I wanted to get several embroidery projects set up. I'm teaching five courses this semester, so I know my needlework time will be limited once school starts, especially during the first month while getting the routine underway. I'm planning to go back to the 15 Minutes Plan, but I can only do that if I have projects ready to stitch.
With that in mind, then, I set about setting up a project! This is the Schwalm Whitework teacloth that is featured in Luzine's book, Basic Principles of Schwalm Whitework.
I began by measuring out the linen to the prescribed 80 x 80 cm. Instead of working in centimeters, I converted everything to inches – which was probably silly. Anyway, I cut the linen to 31.5″ square, pulling out threads to make sure the linen was cut on the weave. Then, I zig-zagged the edges on the sewing machine, so that I wouldn't have stray threads falling off the edge of the linen.
The linen I'm using is from Germany (thank you, Joey!) and is the preferred linen for Schwalm whitework. It's called Weddigen Linen, and it's available through Das Handarbeitshaus. (If you don't read German, you can drop that in Google's translator, and get a very good translation.) It comes in two thread counts: approx. 35 threads per inch, and approximately 50 threads per inch. I'm using the 35.
Once all the linen preparation was done, I divided the linen in half with basting lines, vertically and horizontally, then marked off the square for the pattern with basting stitches, too. The book calls for 20 cm in each direction, to form approximately a 40cm square for the design. I converted that to inches, and blocked off a 15.5″ square, and then also basted in the diagonals on the square. How to do all of this – and why – is explained in the book.
Anyway, I found that the pattern was a bit small for a 15.5″ square, so I took the square in an inch all around, and was a bit more satisfied with the layout. Then….
I started tracing. The book suggests an iron-on pencil or pen for transferring the pattern, and I have to admit, that would be about ten million times easier. But I have an aversion to iron-on transfer pencils and pens, because I know they don't come out all the way, despite the method of removal. I decided instead to use a watercolor pencil, and I traced the design.
To trace the design, I lined it up with all the correct lines on the fabric, then I pinned it on and placed it over a light box. It was "easy enough" in concept, but it took a long time! But, once it was finished – it was finished!
Once the design was transferred, my next step was to assemble all my threads. I took out my box of whitework threads, to find this general mess:
I've been telling myself for a while that I need to inventory my threads. These threads get used all the time, and they're not easy to come by. You generally can't find whitework threads (coton a broder) at your local needlework / sewing / craft or hobby store – or at least, I can't! So whenever I need a particular thread, I have to order it online. Still, it looked as if I might have enough!
I sorted them all out, and grouped them according to size. I had sizes 12 through 40, in the following quantities:
#12 – 3 skeins
#16 – 14 skeins + 1 partial
#20 – 4 skeins
#25 – 11 skeins + 2 partial
#30 – 7 skeins + 3 partial
#40 – 3 skeins + 1 partial
I put them all in individual bags, according to size. I'll probably order a few skeins of #20 this week, since I'm relatively low on it, and it's a popular size for many of the stitches in this project.
In the book, it's very nice to have a thread chart that indicates the particular stitches for which each weight of thread is used. Size #50 coton a broder is mentioned (you can use #50 or #40), but I can't find #50 available at any shops here in the States, so I'll stick with #40, which is also becoming increasingly hard to find.
I also had a pile of loose threads that didn't have tags on them, so I have no idea what size they are. Let this be a lesson! Always make sure you have a way to identify your thread sizes. These won't go to waste, of course. I will use them randomly here and there on little projects, like my fish.
Then, I dug through my needle box, and found I had the right sized needles. The book calls for chenille needles and tapestry needles in specific sizes. I had plenty of tapestry, but no chenille, so I'm substituting crewel needles in corresponding sizes.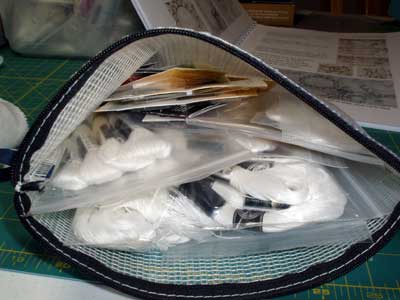 With everything gathered for the project, I packed the threads and needles away in a mesh zipper bag.
Everything's together and ready to go – ain't that grand??!
But the best thing was that I still had some time (it was only 9:30 pm – I had to stop at 9:45, for company coming) so I decided to actually start on the stitching!
Before working with coton a broder, it's a good idea to prepare your thread. I've got a little tutorial here on Needle 'n Thread about preparing coton a broder for stitching – how to handle these types of "hanks" of embroidery cotton. Incidentally, this is the same method that Luzine suggests in her book. So I prepared a skein of #16 for stitching by braiding it with the paper tags left on, so that I can identify the size.
Then….
I threaded my needle…
It was time to start stitching!
… and that's when the timer went off. Time was up! But it was a good evening's work, and I'm ready to go at my next stitching opportunity!
*******************************************
Other News:
If you haven't signed up yet for my Historic Needlework give-away, there's still time! Visit the original post and read the information on how
to sign up!
Today, I'm moving. Not moving, moving. Just sort of moving. My habitat (cave, hovel, whatever you want to call it) is getting a little facelift, so all my computer stuff is being shifted to the studio. The Internet People (Wamego Telecommunications) are coming today to put in a new internet line out the studio, so I'll still be able to work online while the remodeling is being done. The point of all this unwanted personal information is simply to let you know that, if you don't hear from me tomorrow (?!), it's because something went wrong!
Now, I'm off to make room for Technology, so that I don't have to rest my PC on beds of embroidery thread….