While Méri (of agulhas da méri) was vacationing in America, she mailed to me a gorgeous book on hand embroidery traditions in Portugal. The book is titled Bordado de Guimarães, and the text is in Portugues with an English translation. I haven't finished reading the book yet, but I'm enjoying it so much and am completely enchanted with the needlework therein, that I had to show you some bits of the book! If you like reading about and trying regional embroidery techniques, this book may very well be worth trying to track down!
The first thing that struck me about Guimarães Embroidery from Portugal is the dimensional quality of the work.
In much of it, you will see a consistent use of the bullion knot. And many of the bullions are really long! Méri mentioned this in the letter that accompanied her gift, but I didn't understand how extensively the bullion knot is used until I started reading the book.

Clusters of bullion knots, combined with drawn thread work in some cases and simple surface embroidery in others, populate the surface of clothing, household linens, and other items of needlework in this style of embroidery.
The rich dimension created by the use of this stitch contrasts sharply with another form of embroidery from a different region in Portugal, Castelo Branco. The embroidery of Castelo Branco, Portugal, is worked with a variety of rich colors, in flat silks, and with little dimension to the stitches themselves. I wrote about this type of embroidery a while ago, when Méri sent me a magazine on the subject. So, within about 215 miles of each other in Portugal, we can find two traditions of embroidery that are almost complete opposites! This fascinates me! In many areas of the world, this is the case, that within a relatively short distance we find a variety of different traditions in needlework. Here in America, we do not really have this rich and diverse history in the needle arts, so it is quite a pleasure to be able read and learn about the topic in the books Méri has sent! (Thank you, Méri!)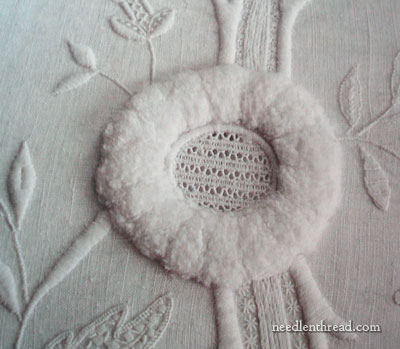 The embroidery of the Guimarães region employs other stitches besides the bullion knot, but it seems that, overall, the trademark of this region's embroidery is dimension. This is a flower in the center of a monogram – the embroidery is very fine, and it is set off in contrast to this dimensional element in the center of the monogram.
Even the very fine embroidery used on altar linens displays the dimensional touch! I love the grapes in this piece.
The overall look of the colored embroidery from this region is somewhat "folk" or "rustic." Elaborate designs of bold flowers and vines all worked in red are common.
Household linens are decorated with folk motifs – the simple heart, tulip, flower, vines and dots – sometimes in elaborate and beautiful combinations.
Sometimes, the stitching is done in blue.
And sometimes, in both red and blue.
Needless to say, I'm enjoying the exploration of this book! Thank you, Méri!
It's always fun to learn new techniques, but it's equally as nice to know something about the traditions behind the techniques, don't you think? Do you have any particular regional embroidery traditions that are listed among your favorite needlework topics? Would you happen to know of any good resources for information on various regional embroidery techniques throughout the world? If this is a topic that interests you and you have some resources to share, please feel free to leave a comment!