How do you solve the Dot Dilemma?
Not sure what the Dot Dilemma is? Well, then! Please allow me to show you:
That is the Dot Dilemma. There you see them – three French knots, situated a distance from each other. As French knots go, these little mites look fairly happy, don't they?
But they're knot. And the reason: because they're uncomfortably connected to each other. They want to be independent, to stand on their own little knotty feet, but no – they are tied to each other. And not only are they tied to each other, but the Whole World knows it, because their obtrusive ties scream through the fabric. Poor, poor little things! My heart bleeds for them.
Besides conquering the French knot itself (it's not as difficult as it seems – I have a how-to video on the French knot if you need a little help), the second greatest problem that French knotters face is the question of space: how do we conquer space when working French knots?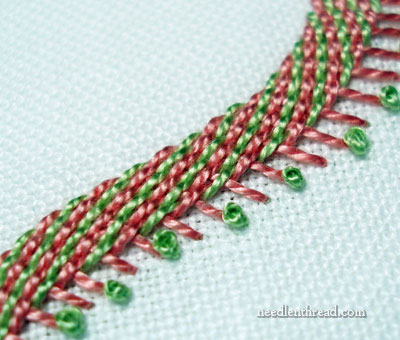 It's easy enough to conquer the space question when your French knots are situated against another bit of embroidery, as in the photo above. There's so much going on in that little element and the knots themselves, while slightly spaced, are not too spaced apart, that it doesn't matter if the thread carries from knot to knot. You can't see it (or at least, not enough to really notice it).
But if the knots are really supposed to be independent and spaced much farther apart, how do we avoid carrying threads across the back of the fabric from one knot to the next?
Spacing French Knots: Two Problems
You see, carrying the thread from knot to knot actually poses two problems that stitchers should try to avoid:
Problem #1: The carrying thread is often visible from the front of the fabric, so you end up with faint lines connecting each dot. This is not usually very attractive. You might be tempted to use thicker fabric, or to line your ground fabric with another fabric, so that those connecting lines can't be seen, but that brings us to problem #2.
Problem #2: The long lines of thread on the back of the fabric can get caught on things and pulled, resulting in devastation for those little knots on the front of the fabric. It's generally better not to carry threads any great distance on the back of your fabric. If you can slide the working thread under other stitches on the back of the fabric, then that's great. But to carry across empty spaces can pose problems for the finished embroidery.
How do YOU space French knots?
Back to my question: How do you solve the dot dilemma?
I have two methods that I'll show you next week. I think I stitched ten million French knots yesterday, just to work up decent photos (that's how much I love you!).
But as I was working on all those knots, I got to thinking: Rarely in embroidery is there only "One Way" (or in this case, two) to accomplish a thing. Usually, there are several variations of doing embroidery-related tasks that lead to exactly the same result. So I'd be interested to know how you solve the dot dilemma and conquer the space between distant French knots.
If you've conquered space and solved the dot dilemma, how about sharing your technique with the rest of us? Or if you have any question or suggestion about the whole subject of spaced out French knots, do leave a comment below, and let's conquer this problem together!
Today's the last day to sign up for the Beginner's Guide to Goldwork book give-away, don't forget! If you want a chance to win this book for your library, don't forget to swing by the give-away article today and leave a comment!