Today, I'm going to take some time out from regular blog articles, tutorials, and stitchy talk to introduce you to a very special crew of needlework-related businesses – the advertisers here on Needle 'n Thread.
The businesses that you see speckling my website are truly "hand picked," specially selected because they fit. So while the advertisers on Needle 'n Thread do me a service by off-setting some of the cost of running Needle 'n Thread, they are also here to serve you – to give you top-notch resources for your hand embroidery and needlework needs.
I'd like to tell you a little bit about their businesses, and what they offer for the needleworker.
The Crewelwork Company
The most recent advertising spot on Needle 'n Thread is held by Phillipa Turnbull's Crewelwork Company. The Crewelwork Company, located in England, offers traditional, historical crewel work and needlepoint kits for the discerning needleworker.
Phillipa's crewel work projects are gorgeous and they are based on her research and explorations of old homes and castles throughout Britain.
If you want to experience real crewel work, this is the place to go! She offers three levels of kits, from Beginner to Advanced. Her instructions are clear and concise, and easy to follow.
Phillipa stocks linen twill as well, which is the traditional fabric for crewel work – and which is hard to come by!
And finally, The Crewelwork Company also offers workshops and retreats. Lady Anne's Needlework English Retreat and Scottish Tour last year was, by all accounts, highly successful and a dream vacation for those who attended!
Country Bumpkin
Country Bumpkin is now Inspirations Magazine. They produce and distribute exceptional embroidery and needlework books, among them their famous A-Z series, a collection of books that cover specific techniques with clear step-by-step instructions and all the information you need to know to take up the technique for the first time, or to perfect your skills.
Country Bumpkin also publishes Inspirations Magazine. Inspirations has been around since the early 1990's, and receiving each issue is like receiving a whole book full of beautiful embroidery projects. It's a lovely magazine!
Recently, CB has gone digital with Inspirations. If you're an iPad, Android, or tablet user, check out their digital subscription! It's an affordable way to receive each issue of the magazine. You'll find my review of the digital version of Inspirations here.
Country Bumpkin is more than a publisher, though. They're a needlework shop in South Australia, too, and they offer kits and supplies on their website. They also host needlework workshops and stitch-related gatherings in the Adelaide area on a regular basis and they branch out and go abroad now and then. Every other year, they host Beating Around the Bush, a week-long needlework gathering that features instructors from all over the world, and draws stitchers from all over the world. The next one is in 2014.
Wooly Thread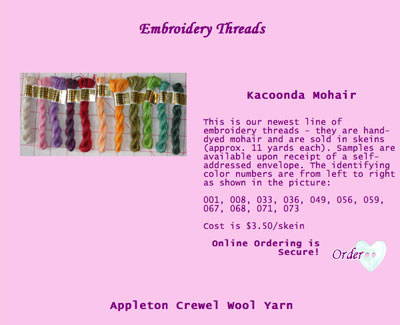 Tucked right up there in the left corner of the website, you'll see a darling little ad for Wooly Thread. Wooly Thread is a shop devoted primarily to … wool (if you didn't guess)! They offer much for the hand embroiderer!
Speaking of the A-Z books by Country Bumpkin, Wooly Thread carries one of the most complete selection of Country Bumpkin's books in the US, including my favorite, A-Z of Goldwork. The A-Z books can be somewhat difficult to come by in the States, so it's great to have a source for them!
In addition to good books, Wooly Thread also carries wool embroidery threads, including Appleton and Kacoonda Mohair.
Finally, Wooly Thread is my go-to source for wool felt for hand embroidery. They carry a nice selection of high quality wool felt that can be purchased by the piece or by the yard. It's wonderful stuff!
The French Needle
The French Needle is a needlework shop that specializes in all things French for needlework.
From hand embroidery kits featuring sections of the Bayeux Tapestry, to counted cross stitch designs by popular French design houses, to French needlework books, to unbelievably gorgeous hand-crafted French scissors – you'll find them all here!
The French Needle also carries threads for embroidery, including Laine St. Pierre wool blend threads and (newly added) Japanese Sashiko threads.
There are heaps of little treasures at The French Needle – it's a fun just to browse through the site!
Hedgehog Handworks
Hedgehog Handworks was a needlework shop located in southern California. In 2017, Joady, the proprietress, retired.
Advertising with Needle 'n Thread
If you're a needlework shop owner, needlework books publisher or author, or you offer services in hand embroidery, needlework, or related textiles, and you're interested in advertising on Needle 'n Thread, drop me a line. While I don't have any space available right now on Needle 'n Thread, I do keep a waiting list. If you want to be on it, let me know! Be sure to include a thorough description of your business and a link to your work or website.
On Stitchin' Fingers, there are a couple sponsor spaces available for needlework and textile-related businesses. Stitchin' Fingers offers a very affordable advertising platform for reaching an audience of over 6,000 needlework and textile enthusiasts. It's an ideal spot especially for Etsy shops, newly-started businesses, and the like. If you're interested in space there, drop me a line.
To one and all, thank you for supporting small needlework businesses!