I'm still fiddling with embroidery stitches on the hummingbird.
Last time, we chatted about the neck band and some textured stitching there, but I was still hemming and hawing about the embroidery on the bird's chest, where the emerald green fly stitch outlines were bugging me.
As usual, you've come through with lots of constructive criticism and suggestions!
Today, I'll show you where I've arrived and clear up a couple issues that keep coming up.
First off, the emerald green fly stitch had to go away. A few key but careful snips, front and back, and a little tweezer work took care of removing those stitches.
Notice that I didn't take the dark purple off.
Once the emerald green was removed, I went through with progressive shades of the blue-green and replaced the outlines. This tempered the outlining quite a bit, and I liked it better.
Then, just to test a theory I was discussing with someone, I went through with a very pale silvery-white, and tipped each "feather" with a straight stitch.
I didn't think I liked it, but I wasn't really sure…
…so I did the same thing on the purple…
…and said Meh.
I didn't like it.
A little more un-stitching, and out they came.
Sometimes, you only know for sure if you try!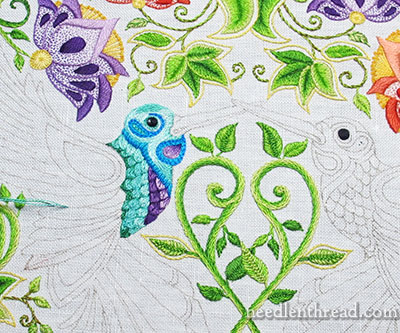 Here we go. The straight stitches removed, the paler outlines in place.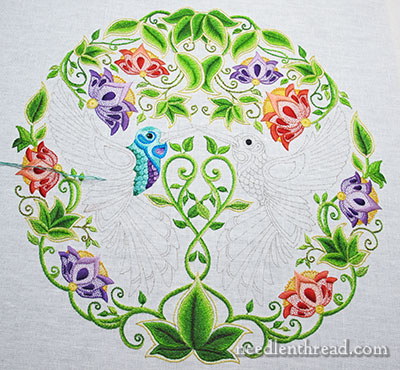 And there we are, in context with the whole piece. Notice that the feather "separation" is visible even from afar, but the contrast is not as stark.
I will probably replace the dark line around the purple in the nearish future, but overall, I like this pretty well and will keep it for now.
Using Metallics for Iridescence
Many of you have suggested the use of metallics or blending filaments to add a touch of iridescence. This is a good idea, and for those who are adventurously working on their own versions, I'd suggest a thread like Bijoux or even Accentuate, both of which are fine enough for elements this tiny.
I'm foregoing that option, because I set out on this project to work strictly with DMC floss, since most people can get ahold of it easily.
The Gorget under the Beak
The swashy thing under the beak on the hummingbird's neck is most likely meant to be a very stylized gorget. On some hummingbirds, the feathers on the gorget look downright bumpy – almost like a small cluster of berries. On others, the feathers here are smooth and sleek and brightly colored. On some, the gorget is very noticeable; on others, it is more subtle or not there at all. There's one variety of hummingbird that has a prickly gorget, with feathers that stand out almost like a porcupine's quills.
Whatever the case, the point is – and continues to be – that this is a stylized design. It isn't meant to look like an accurate, real hummingbird. It's also a design drawn by someone else, and already transferred onto the fabric. The swash remains, and for me, the colors work ok right now.
If you don't like it right now, your perspective may change once the beak is stitched and the rest of the bird is embroidered.
Or you may never like it. And that's ok, too!
So there we are. Lots of stitching and unstitching, and very slow progress for this small of a space. But at least now we can move on to the tail! Can't wait to see if my ideas there work out. Fingers crossed…
If you'd like to follow along with the Secret Garden Hummingbirds project, you can find all the articles relating to this project arranged in chronological order in the Secret Garden Project Index.