I think we've all experienced it: that overwhelming frustration when, in the middle of an embroidery project, nothing is going right with the thread.
It's tangling. It's fraying at the eye. It's fuzzing up. It's shredding as you stitch. SHREDDING!!
Aaaaaaaaaaaack! You've had it up your eyeballs with the fibery little beast.
You might be tempted to say, "I can't do this. I'm not good enough. It must be me."
No no no. Pause a moment, and I'll tell you something you might not know:
Generally speaking, with embroidery thread that's causing Severe Frustration, the problem is not you or your stitching. The problem is the thread. Some threads are simply not made for hand embroidery. They might be made for needlepoint. They might be made for cross stitch. They might be made for knitting and repurposed (by resizing and repackaging) into an embroidery thread.
But they weren't made with the intention of passing them repeatedly through a piece of closely woven ground fabric.
*Sigh* What to do?… What to do?
Well, you could ditch the thread and look for a substitute that will hold up to the rigors of hand embroidery. Or you could lessen the problems by changing something else in your approach.
Enter, the Chenille Needle.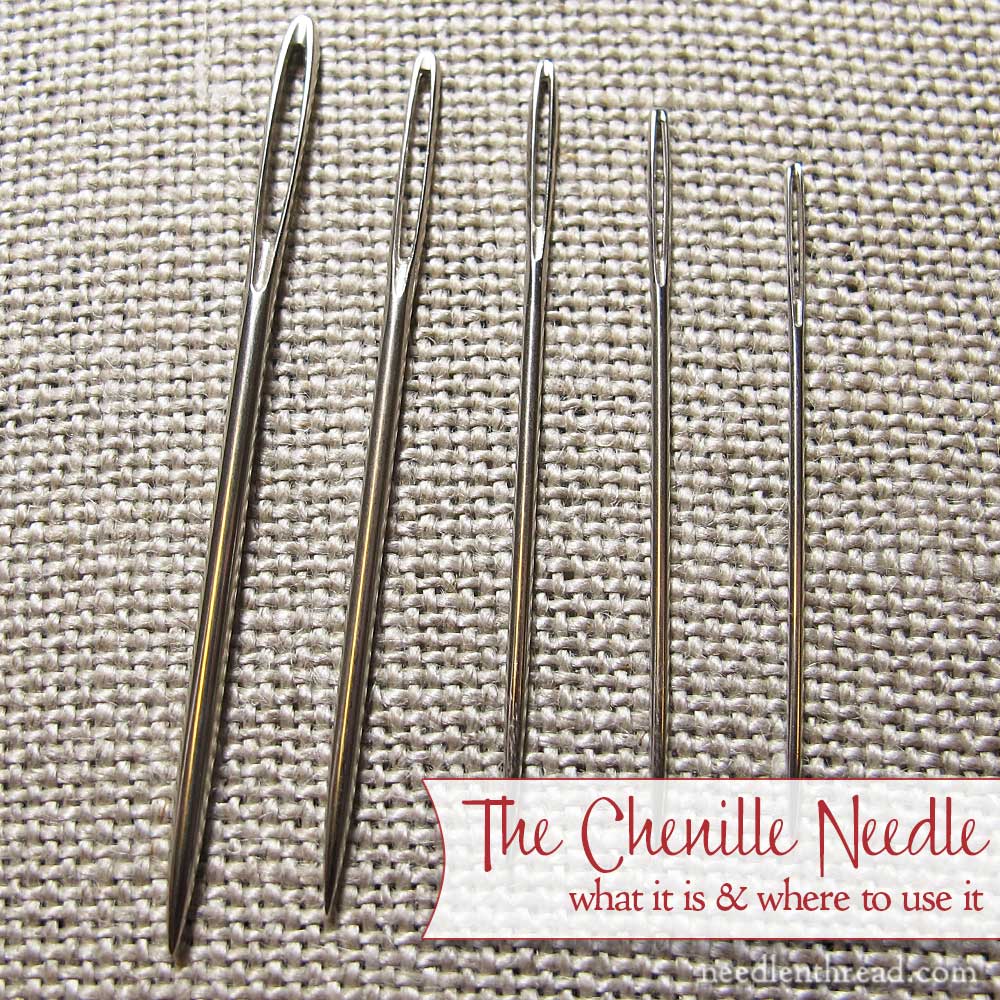 The chenille needle – which I mentioned the other day when chatting about chenille embroidery thread – is a Wonderful Thing.
If you do not have a few sizes in your hand embroidery tool arsenal, you should invest in some so that you have them on hand.
What is a Chenille Needle?
A chenille needle is a needle with a long eye and a sharp tip.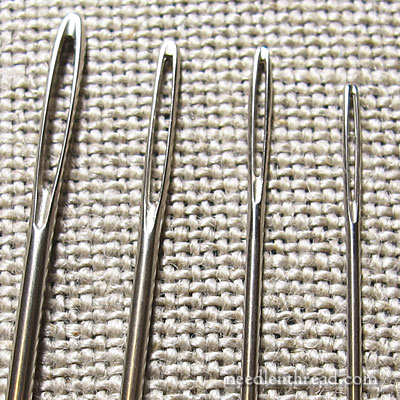 You can think of it as a combination of a tapestry needle (which has a long eye and a blunt tip) and a crewel or embroidery needle (which has a shorter eye and a sharp tip).
Chenille needles are sized like tapestry needles, starting at size 14 (which is gargantuan) and progressing up to a size 28, which is extremely fine.
So, like any needle, the lower the number, the larger the needle. The higher the number, the finer the needle.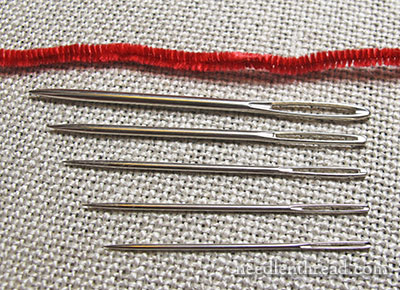 In the photo above, under the red chenille thread, are the following sizes of chenille needles, from the top down: 14, 16, 18, 20, and 22. (Sizes 24, 26 and 28 are not shown.)
The size of the needle you choose depends on what you're doing with it, but the most common sizes that are good to have on hand are 18-24. They can handle almost any normal hand embroidery circumstance.
What do you Do with a Chenille Needle?
Why, you embroider with it!
Obviously, a chenille needle can be used for chenille embroidery. The larger sizes (14, 16) are good for working with chenille thread.
But there are much more common uses for the chenille needle, too!
Chenille needles are absolutely terrific for crewel embroidery or any kind of wool embroidery. Wool just works better with them. Try it!! You'll be surprised how much easier it is to control wool thread, to keep it intact and less fuzzy, and to stitch with it in general.
Whenever you have a tricky thread to use – a misbehaving metallic, for example – switch to a chenille needle and you'll find that your frustration level decreases considerably.
The long eye is easier on thread – there's more room for the thread to move around in there without getting mauled – and the sharp tip and larger shaft will make a hole in the fabric that is easier for the thread to pass through.
In goldwork, it's good to have chenille needles on hand for plunging metal threads to the back of the work. The long eyes are easier to thread the metal threads into, and the sharp tip and thick shaft make it easy to pull the metal thread to the pack of the work.
You can also use chenille needles for regular, plain old surface embroidery with cottons and silks. With its sharp tip, the chenille needle is suited to surface stitches. And with its long eye, it's very easy to thread.
What you Can't Do with a Chenille Needle
I don't normally say, "You can't do this…" in hand embroidery. There aren't too many cannots when it comes to the art and craft of embroidery.
But this is a can't. You can't really make decent bullion knots – or any type of cast-on or wrapped-on stitches – with a chenille needle.
You'll only increase your frustration level if you try to work bullion knots, cast-on or double cast-on stitches, or drizzle stitch and the like with a chenille needle. And we don't want that, now, do we?
Where to Find Chenille Needles
If you have a local needlework shop (there aren't too many of us who do!), try there first.
I'm a huge fan of Bohin needles – you can read about their company and my take on their needles here – and you can find Bohin chenille needles in sizes 18-24 through Anita's Little Stitches.
You can also find a whole assortment of practically any kind of embroidery needle you'd ever need at Colonial Needle. Type "chenille" into the search bar, and you'll see all the choices. They have size 28 in John James and in the Colonial Needle packaging. They also have the larger sizes (14, 16) in S. Thomas & Sons, which are nice.
And You?
What about you? Do you use chenille needles for any particular embroidery task? Have you ever tried a chenille needle and liked it, but didn't know what else to use it for? Any thoughts on chenille needles in general, or tips about using them to pass along? Feel free to chat about chenille needles below!