Just a quick little snippet today, to share a sneak peek of one embroidery project I've been working on lately – this Party in Provence kaleidoscope mentioned earlier last week.
I wouldn't want you to think I wasn't getting any stitching done, after all!
This is the design so far. I've tested a variety of options on the embroidery, to achieve the look I have in mind. I'm pretty settled now, so the stitching should go much faster, since I don't have to stitch, unstitch, think, stitch, unstitch, think, repeat…
I'm having a lot of fun with this project, despite a few snaggles here and there.
On Designs with Repeats
I've had a couple questions about working designs with repeats, and whether or not it gets boring.
Hand embroidery is rarely boring to me, but I could see how a design with repeats could become boring, if the design is particularly huge and the outcome is not all that exciting.
On this project, repeated motifs don't bore me at all! On the contrary! The motifs on all the kaleidoscopes I've designed so far are small, so even if there's repetition, it's "small" repetition. Each repeated element works up quickly.
Each section is a collection of elements, too, so if you take the repeat on the whole section, there's plenty of variety to keep things exciting.
At the same time, as the piece grows and develops, it becomes more and more exciting to see the whole design blossom.
Finally, there's something very soothing about repeats. You get into a definite rhythm with them, that makes the embroidery relaxing. I suppose part of the relaxation is that you know what you're doing – there's no stress of getting the next thing wrong and messing it all up. Still, there's enough challenge in keeping it accurate, so that the blossoming growth looks pleasing.
So, no. I don't get bored with repeats on this type of work! In fact, I love it. And it seems to be good for the brain, somehow, with its ability to be relaxing, but at the same time, to be exciting because of the growth in the design.
Choices, Choices
My biggest problem with this design has been with bead choice. Since I'm not a die-hard bead embroiderer, I don't have a huge selection of beads on hand. Deciding on beads that will work takes some trial and error, some research, and even…yes…some purchasing.
For better of for worse, my bead collection has grown slightly over the last two weeks.
Coming Up!
I'll be chatting with you about a particular Bead Pet Peeve next week – with a solution, of course!
I'll also address a question that comes up all the time: how do you decide what stitch to use where?
I've taken out this Mellerstain Firescreen project (from Crewel Work Company), for two reasons: 1. I don't want it to languish too long – I'm sure it's missing me! and 2. I've been thinking about crewel work lately and I feel I must bare my deep, innermost thoughts to you on the subject! So we'll talk about that next week, too.
Favorite Kaleidoscopes Pattern Collection
If you'd like to stitch up your own version of Party in Provence, you'll find the pattern available in my Favorite Kaleidoscopes collection – over 30 kaleidoscope designs for hand embroidery and other crafts.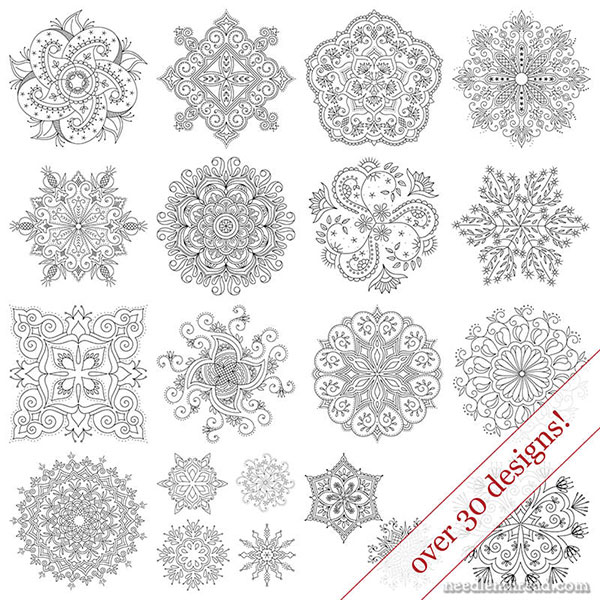 You'll also find the pattern for Birthday Bash and Tulip Festival in the same collection!
The kaleidoscope designs range from small 4″ designs to large 8″ designs, from simple to complex. You can read about the collection in detail here, or jump straight over to my shop to grab your own copy!