With the summer trickling by here in Kansas – actually, I should say streaming by, as it's moving at a rather rapid clip – I've given some thought to my current embroidery project rotation and have made some adjustments.
Now that Will Ewe Bee Mine? is officially out and available, I can concentrate on other projects. Thanks heaps to all those who have purchased my latest ebook – your support goes a long way towards keeping Needle 'n Thread going! So I really appreciate it! (In fact, I downright love you for it!)
So, today, an update on what I'm working on now, my reasons for switching things in and out, my future project aspirations and plans, and a bit of a chat on my multi-project approach, what works about it and what doesn't.
This is my next finish! I've sneak-peeked this design a few times already and told you a bit about it. You can read about it here, here, and here!
Along with the "official" interpretation of Party in Provence, I'm working on this interpretation of a quarter of the same design, too, which is meant to be finished into the outside pocket of a tote bag.
My plan is to finish the embroidery on both of those before August 10th. So they're my first priority – #1 in my Project Rotation scheme.
This miniature tapestry tree of life design worked on 56-count silk gauze has been in my Project Rotation Box for a while now. I've written about it on several occasions. In the last update on this project, I included a list of links to the other articles I've written about it.
This particular project is currently out of my Project Rotation. It was originally intended as a 15 Minute Project – something I could keep out and going, for those moments when I had 15 minutes or so to spare, and wanted to stitch on something that didn't require a whole lot of thinking or planning.
Lately, I haven't had those kinds of 15 Minutes available! When I do have time like that, I pick up the tote bag pocket and add a few stitches!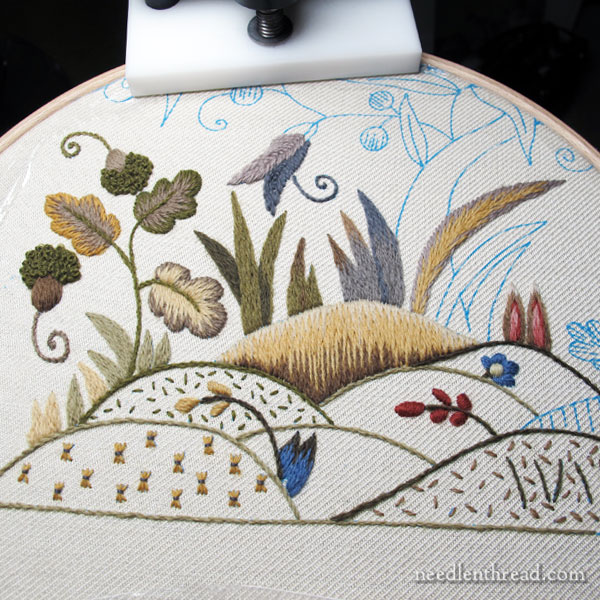 The Mellerstain Firescreen Project is back in my Project Rotation Box, for evening stitching on the couch! I updated you last on this project here.
Although I pretty much associate crewel embroidery with winter stitching, I'm picking it up now and then in the evenings. Crewel work is relatively quick embroidery, with slightly heavier wool threads that are easy to see, on twill that's got very clear design lines on it, so it works well for evening stitching when the lighting is adequate but not necessarily stellar!
Last year, I reviewed this rose chatelaine embroidery kit from Inspirations.
I'm itching to stitch this project and do the finish work on it, so, while it's not in my Project Rotation Box at the moment, it is on my radar and my List! My plan is to have that set up by the end of August and in the box, ready to work on.
Two Other Projects
This summer, I've designed two other projects and worked on a whole series of designs. As soon as Party in Provence and the corresponding tote pocket are finished, I'm going to be All Over those two new designs. I can't wait!
I like having designs drawn up well in advance of being able to stitch them, because while I'm finishing up one project, I can think about what's coming up in the next. Planning ahead in my head motivates me to keep going on the current project, because it builds excitement for the next!
Outside the Box
Outside of the Project Rotation Box, I'm working on this piece of "embroidery archeology" that I've written about here and here.
I've gotten to the back of the vestment now, and we will be exploring that together quite soon.
Other work Outside the Box includes website work, plans for future articles and tutorials, photography, and, lately, some video work…which, incidentally, has not worked out so well so far, but I'll keep trying!
The Project Rotation Box – What Works & What Doesn't
So, I wrote a while ago about my project rotation box, and how I organize multiple embroidery projects that are going at the same time.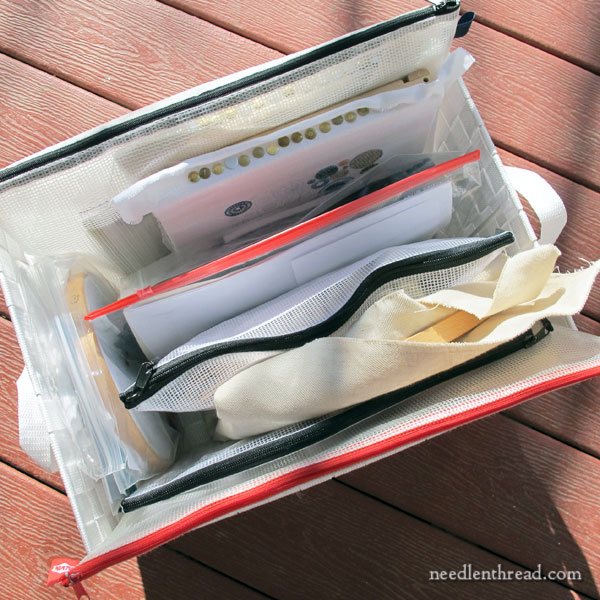 This method of a project box works well for me, but lately, I've been rotating things in and out of it pretty frequently, rather than finishing everything in the box.
And this approach also works pretty well for me, because it keeps my embroidery work interesting.
There are some drawbacks, though. The main one is that it seems to give me an excuse to stretch out any specific embroidery project into some Distant Future Neverland, where it may never be finished! That's the thought that occurred to me when I rotated out the Tree of Life miniature project.
Still, right now, I have every intention of finishing that project. I love it and I want to finish it! I just don't have time for all the projects right now, and, in the interest of keeping things interesting for you and me, I think I'm justified in mixing things up a bit.
In any case, my own designs – Party in Provence and the tote pocket, and the two new designs that will follow those – will be taking the front spots in the Project Rotation Box, because I plan to release them here on the website so that you can enjoy them, too. In order to do that, I have to stitch them!
The moral of the story: even with a Project Rotation Box, you still have to prioritize the projects. You can't just randomly grab one that you're in the mood to do, when you're in the mood to stitch, if you have deadlines to meet.
The nice thing is: I enjoy everything I stitch on, so in the long run, it all works out well!
That's It!
So that's what's happening on my side of the computer screen. What about you? What are you stitching on lately? I'd love to hear – feel free to chat about it below!
If you haven't had a chance to check out Will Ewe Bee Mine – my latest collection of monograms with detailed instructions for stitching them – please do take a look! Maybe there's something there that will tickle your fancy? The letters make perfect weekend projects!
There's nothing quite like a little embroidery to make the world a brighter place, is there?
Enjoy your weekend!