It's inevitable. Un-stitching, or picking out stitches, happens to all of us!
And while it can be, initially, a disheartening proposition to have to rip out embroidery stitches, it really is not such a bad thing. I always look at a mistake or a change of mind as a learning experience. And I always go into any embroidery project knowing that I'll probably have to pick at least some stitches out. Once you realize this, mistakes or mind-changes don't loom like dark mountains – they just become part of the whole process.
One thing that can drastically effect my attitude towards having to pick out stitches is the fabric I'm stitching on. This topic fits into the whole discussion we've been having about linen for hand embroidery lately.
Today, in an effort to justify my obsession with good linen, I'd like to show you one significant difference in types of fabric that you might choose for hand embroidery. It becomes very noticeable when you have to pick out stitches!
I've started stitching up the design that I was using in this article about stitching on yucky linen, only now I'm stitching on nice linen.
I've lined the white linen with white cotton muslin. You can read about backing your ground fabric (and why) here, if you'd like to know why the cotton behind the linen.
About This Embroidery Project
This particular design is a new one that I'll share with you eventually. I have a specific look I want to develop for this particular kaleidoscope. The title might give you a clue – I'm calling it Party in Provence, and it's meant to fit with some of the fabrics that I have that are made in Provence, France.
I wanted to get across the notion of bright sunshine in this particular background "burst" element. To that end, I wanted a nice deep yellow, and I wanted the element filled, not just outlined.
At the same time, I wasn't sure I wanted a solid fill, so I thought I'd test some seed stitching next to a solid fill using stem stitch.
It came about that I preferred the solid fill as opposed to the textured fill of the seed stitching. So I had to pick out the seed stitch test. No biggie! I knew I'd have to pick out one or the other!
To pick out this type of stitching, I always find it easier to do the "ripping out" part on the back of the fabric. That's where I cut through the stitches, and then, using tweezers, I pick away the stitching.
The Forgiveness Factor
Since I've backed my linen ground fabric with cotton, that's what you're seeing in the photo above (the cotton on the back of the linen). This is right after I've picked out all the stitches, and I haven't done anything else to it.
You can see how the stitches make very distinct, rather messy holes in the cotton.
Want to see the linen difference?
When I flipped my frame, this is what my fabric looked like:
You can certainly tell that there was some stitching there, compared to the rest of the linen around the area. But it's not as drastically evident on the linen as it is on the cotton.
Good linen is a Much More Forgiving fabric than even the best cotton.
Aside from the fact that I just love linen, this Forgiveness Factor is the main reason I prefer good linen when I'm designing a project. I know I will make mistakes. I know I will change my mind. And good linen accommodates my mistakes and my whims superbly!
Here's a little peek at some of the other elements I was playing with.
I'm rather stuck into this piece in an addicted kind of way. I'll tell you more about it down the road!
Looking for More?
If you want to read more about linen for hand embroidery, here's a list of articles that touch on embroidery linen.
If you're looking for more information about embroidered kaleidoscopes, you'll find my previous articles about them here.
You can find a free kaleidoscope design here, along with information on how I stitched it.
Favorite Kaleidoscopes Pattern Collection
If you'd like to stitch up your own version of Party in Provence, you'll find the pattern available in my Favorite Kaleidoscopes collection – over 30 kaleidoscope designs for hand embroidery and other crafts.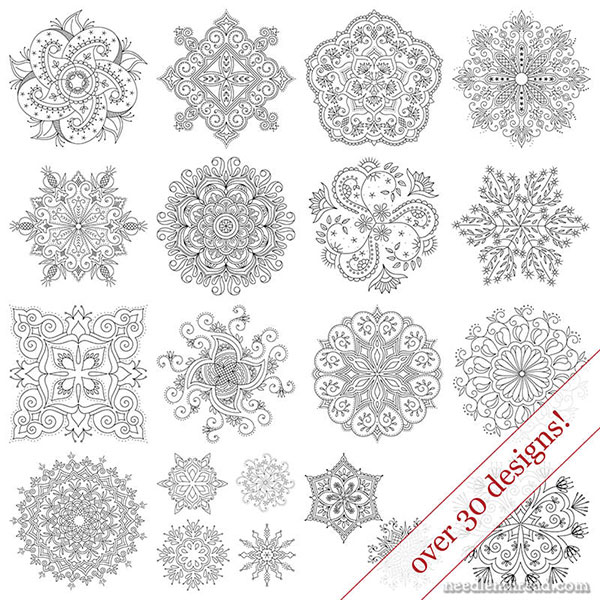 You'll also find the pattern for Birthday Bash and Tulip Festival in the same collection!
The kaleidoscope designs range from small 4″ designs to large 8″ designs, from simple to complex. You can read about the collection in detail here, or jump straight over to my shop to grab your own copy!