How about some splashy colors in hand embroidery to start your week off?
Fact is, I'm still not sure about the floss colors I picked for this embroidery project!
And come to think of it, I'm not sure about the embroidery stitches I've chosen so far, either.
In fact, I'm not 100% sold on the project in general – the design, the colors, the stitches – but…. I'm still having fun stitching it and testing out ideas!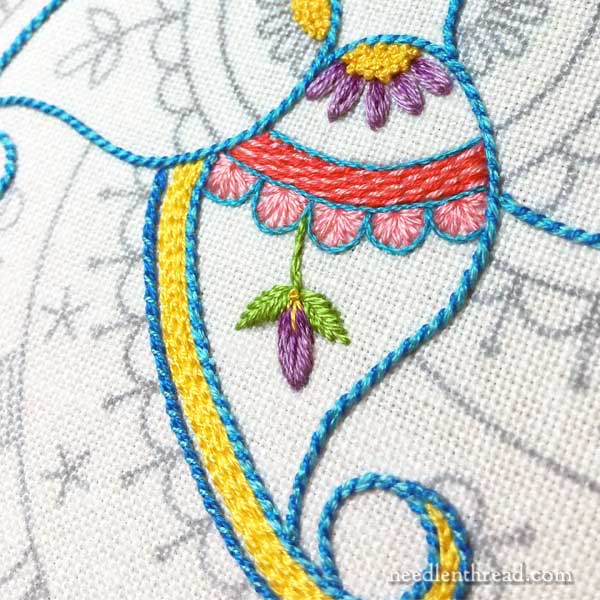 Selecting colors to use on hand embroidery projects is not always my forte.
There are some projects I've done, where the colors automatically fell into place and worked out just right.
But there are other projects where the color selection process was a slow slog resulting in dissatisfaction followed by new beginnings.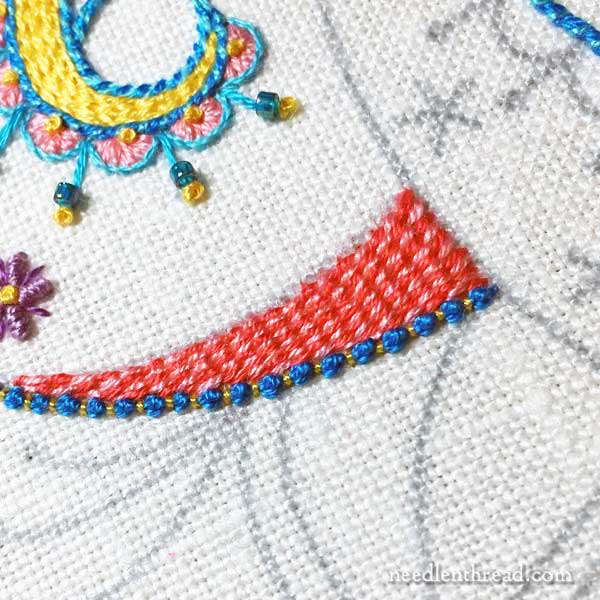 On this particular project (which doesn't have a name yet – any ideas?), I wanted to use a small variety of stitches in bright and cheery colors.
And the colors are bright and cheery.
But perhaps they're too bright and cheery?
There were two ideas that floated around in my head when I was selecting colors: birthday party and candy shop.
And (in my mind, anyway) I think the colors reflect those ideas.
But I'm also thinking something else comes across here. Something like Sugar Shock!
The alarm in my head is probably similar to the one that goes off in a mom's head when her five-year-old becomes fixated on possessing one of those swirly lollipops bigger than a kid's face!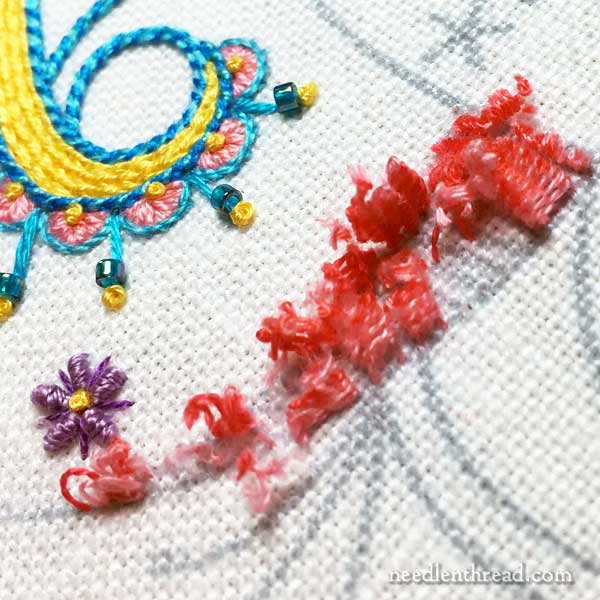 In any case, the stitching is fun! I've gone through a few trial-and-error bouts, but that's all part of the process.
And I like the colors. I just don't know if I love the colors!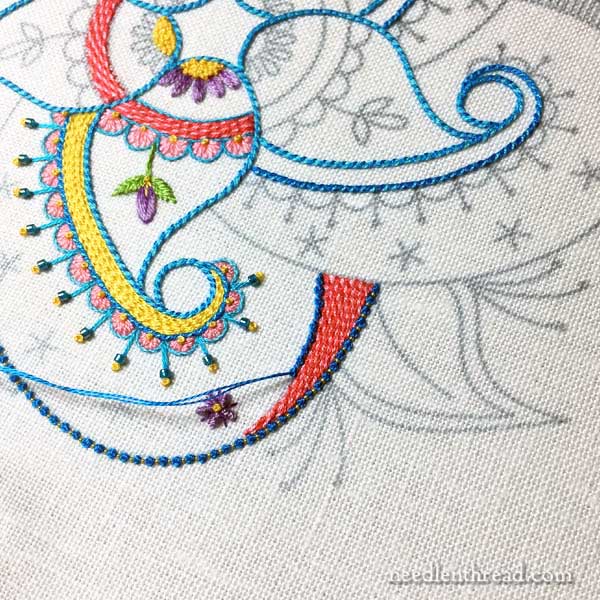 This particular pattern might work on a natural linen – like a dark oat color – in all white threads, too. There are some open spaces and backgrounds that would work well for pulled thread or drawn thread elements as fillings.
So many ideas, so little time!
I started this project up last week, while exploring ideas for a series of articles. I really didn't intend to start a whole new project – just to stitch a few bits to demonstrate some ideas – but alas, I was sucked in!
I still have some adjusting to do on the design interpretation. I plan to enhance some background areas with a little stitching. Nothing too fancy or busy – just a touch of color to lift parts of the design.
So, what do you reckon about the colors? Do you like them or do you find them garish? Any comments, thoughts, suggestions? I'm all ears! Feel free to join in the conversation below!
Favorite Kaleidoscopes Pattern Collection
If you'd like to stitch up your own version of Birthday Bash, you'll find the pattern available in my Favorite Kaleidoscopes collection – over 30 kaleidoscope designs for hand embroidery and other crafts.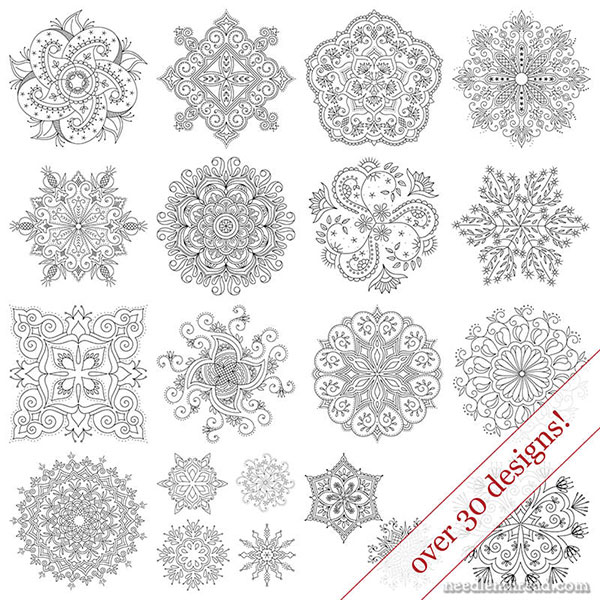 You'll also find the patterns for Party in Provence and Tulip Festival) in the same collection!
The kaleidoscope designs range from small 4″ designs to large 8″ designs, from simple to complex. You can read about the collection in detail here, or jump straight over to my shop to grab your own copy!