Today, just a quick update to show you a finish – specifically, the bird variation of my Jacobean-inspired design explorations.
The non-bird version is still floating in limbo. I'm suffering the Starts and Stops on one area, but I hope to address it this weekend.
In the meantime, we can celebrate The Bird!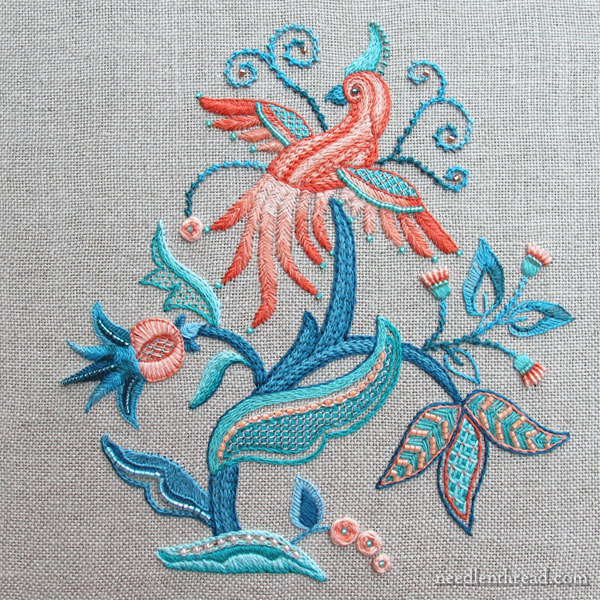 There she is, in all her glory!
One thing I've noticed about the bird version is that it seems to be more "alive" than the non-bird version. When pondering why this might be, a few considerations come to mind:
1. The bird version has a recognizable living thing in it. The bird may be stylized, but we can recognize it as a living creature.
2. Associated with the fact that it's the image of a living creature, it has an eye. If that eye (a little bead) weren't there, the liveliness would probably be drained immediately from the piece.
3. The main feature of the bird design – the bird – is presented in the warmer corals, rather than the cooler greens & blues of the central element in the non-bird design. This gives it more life, definitely.
Just to give you an idea of the size of these embroidery projects, here's a photo with my hand in it.
This version of the design is exactly 6″ tall, which is a good size for this type of hand embroidery project worked with regular cotton or silk threads.
If it were much larger – say, the size of a traditional crewel (with wool) embroidery design – and we were using cotton floss or regular silks, it would take much, much longer to stitch it, and a heap more thread!
The stitches that make up Gertrude (the bird) include stem stitch, chain stitch, fishbone stitch, battlement couching, and buttonhole. Additionally, there are some bead lines marking out the wings, some bead accents up the comb on her head, and beads at the tips of each feather.
Nothing too complicated!
Congrats to Anna on a fabulous and quick finish. I'm slogging along behind her, but hope to show you a finish on the other version next week!
Looking for More?
You can find the whole development of these Jacobean-inspired embroidery projects through the following articles, which are arranged chronologically:
Trying Different Threads and Fabric
Changing the color palette, ground fabric, and threads
Progress: Stem Complete & Battlement Couching
Introducing Anna's Version, with cotton threads on natural linen
Jacobean Progress: Embroidery, Beads, and Mistakes
Rippit, Rippit – a Weekend of Stitching Progress
Gertrude is Back, Better than Ever!