After many requests for an update on my hexie project, I figured it's about time to 'fess up on where things stand with those thousands of little fabric hexagons just begging to be stitched up!
For those who are just making your acquaintance with this particular project, I'll give you a brief background. Last year, I began a hand-pieced hexagon quilt made up of 3/4″ hexies. The quilt requires some 5,200-ish hexies for a full-sized quilt (sans border).
My purpose in undertaking this particular adventure was to have something ongoing that I can turn to whenever I want to do something with my hands that isn't embroidery, and that's portable, so that I can take it anywhere and have something to work on.
At the end of today's update, I'll link to previous articles on the project.
Let's look at where things stand and chat about another organizational discovery that I've implemented.
There is no way on God's Good Earth that this thing will be finished this year… or probably next! It is a Big Project made up of many Small Pieces, and it is a Slow Project.
And that's exactly what I wanted.
I have to admit, though, I feel a little pressure to get it done within a three year time frame, because I suspect that's about the longevity of a color scheme these days. I don't really want the colors to look dated before I've even finished the thing.
On the other hand, if I like the colors, does it matter if the colors are seemingly dated by the time it's finished?
I think about color trends a lot.
I've been sewing many strips of hexies together. All of them are completely and utterly random. I don't plan the color placement on this thing at all. I prepare my hexies, line them up in boxes in no particular order, and when I'm ready to piece some together, I just pick them out of the box as I piece them.
Occasionally, if I notice that I've reached for a particular color family repeatedly, I will purposely make sure I pick up a different color family hexagon, but that's as far as it goes in planning.
I don't know if that photo helps to put things in perspective, but that's the size of the hexagons. They are 3/4″ long on each edge. In the scheme of hexagons, they aren't the tiniest they could be (I've seen 1/2″ ones), but they are pretty small.
I think they're the perfect size, though. And I'll show you why…
It's these boxes!
Now, when I started this quilt, I had no idea these boxes existed. So really, they had nothing to do with my choice of size for the hexagons.
But when I was visiting my sister in Pennsylvania earlier this year, I came across two of these boxes in a craft store. I bought them, thinking they might be a good way to organize my hexies. It looked like they'd fit well in these boxes.
When I took the boxes home and introduced the hexies to the boxes, it was love at first sight. It was an organizational score! And from there, I became obsessed with finding more of the same boxes.
You see, exactly 250 hexies – basted and ready to piece together – fit in each box. The box is the perfect height to accommodate them, and 5 rows of hexies fit the width of the box perfectly.
The boxes are relatively small, as you can see. They would make very nice pencil boxes, in fact, and I'm pretty sure that's what they're sold for.
The lids clip on using the side handles, which fold up over the edge of the lid, so they are nice and secure if you happen to drop a box or knock it off the table. They don't pop open and spew their contents.
Serendipitously, if you turn the box over, the base is a pattern of hexagons!
I think this was just meant to be. Oh me. Be still, my ever-loving, organizing heart!
Look! Is that not glorious?!
That's 1,000 hexies, basted and ready to piece together. All neatly nestled into perfectly-fitting boxes!
For some reason, that picture makes me happy.
What I love most about these boxes – aside from the fact that 250 hexies fit perfectly in them and that the lids lock – is that they are small enough to tote easily, too. I can take one of these boxes with 250 hexies in it and my pouch (mentioned below), and have enough handwork for hours. And the pouch and the hexie box can fit in my purse.
So, as far as progress goes, I've prepared lots of hexies by basting them around their little papers, and I've got them neatly counted and stored in these boxes, ready to piece.
Pretty much, I go on a basting kick and fill as many boxes as I can. Then, I go on a piecing kick, and I deplete the contents of the boxes. I haven't actually depleted my basted ones just yet. At one point, I had 1,750 in the boxes, though.
When I tote part of the project with me to have something to work on elsewhere, I use this particular pencil case. I wrote about using pencil cases and pouches for needlework-toting a while ago. This particular case is my favorite.
It's roomy, it holds lots of little tools, extra needles, thimbles, magnets, glue pens, and so forth – plus my little travel pincushion, a spool of thread, and tiny scissors.
It's also sturdy, and I prefer the fact that it's made from canvas instead of nylon, as many of these pencil cases are.
I can stuff all my immediately needed tools therein, plus back-up supplies, and a good-size hexie strip (this one is three wide and 48 long) into the capacious little case, and toss the whole case in my purse.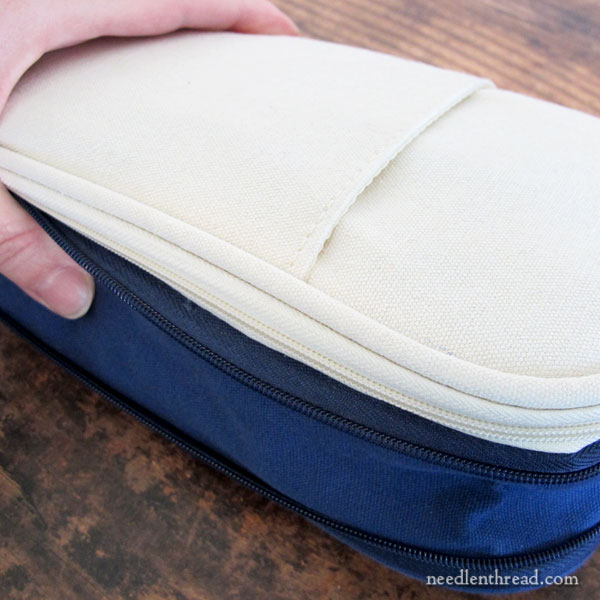 This has become my standard kit, and it's always in my purse when I have to go anywhere.
Not that I've been going that many places, mind you – but even between work and home, I tote this case with me.
I use some decorative boxes that I had on hand (these are Punch Paper Studio boxes, with magnetic lids) to store other components of the quilt.
In one box, I've got 2″ fabric squares. In the other box are hexies that are ready to baste with thread. They've been glued on two sides. I prefer thread-basted hexies rather than glue prepped, but I've found that glueing two sides temporarily in place before basting with thread helps keep the placement of the paper more stable and keeps things even.
As far as actual sewing progress on the whole quilt, I have several strips that are 3 and 4 hexies deep sewn and ready to attach to each other, and I've got one larger chunk of fabric – probably 16 hexies deep by the width (which is 62 hexies). Altogether, a rough estimate would be about 1500 hexies sewn at least in strips.
I have about 1200 hexies currently basted and ready to piece.
And many, many hexies still to go!
Where to Find Stuff
If you're looking for the canvas pouch that I mentioned above, you'll find it listed under "Tools & Accessories" on my Amazon Recommendations page here.
The storage boxes are made by Really Useful Boxes (out of the UK). The one I'm using is the 0.55 litre pencil / craft box. I've not had the best of luck finding them in stores, though I did come across one or two here and there at different craft stores. You can buy them from the Really Useful Boxes US distributor website here. Quite a while ago, I was able to pick up a package of ten of the boxes for $30 with free shipping from the UK (on Amazon), but they're not available there anymore in that quantity, and individuals are being sold for $8+ each, which is crazy. The originals that I picked up at a craft store were $4-something, but organizational boxes were on sale, so I got them for 30 or 40% off.
More on This Project
If you want to read more of the backstory on this project, here are the previous articles I've written about it, in chronological order.
Initial Project Organization – the first boxes I set up to store the hexies as I prepared them
Preparing to Travel with Hexies – I went into more detail about the pouch in this article. As you can see, my organization for this project keeps morphing and refining.
Home with my Hexies & a quick Tutorial – here, I give a quick tutorial on how I prepare my paper-pieced hexies (glue & baste).
This article contains an affiliate link to my Amazon Recommendations page, which means Needle 'n Thread receives a small commission for purchases made through that link. Every little bit helps! Thanks!