Good morning, and Happy Monday!
I spent most of the weekend working on all kinds of Needle 'n Thread Things, good and bad. It always fees great to tie up loose ends!
This morning, we're having a sale on a few things in the shop! I rarely run sales on tangible goods, but it's time to make a little room.
We'll also chat about hoops and books coming in and embroidery kits and other bits and sundries.
Books on Sale!
With the influx of new books coming in right now, we need some space on the shelves.
To that end, the following books on sale in my shop:
Design Collective: Pincushions – you can find my review of this exciting first in a new series here.
Willing Hands by Betsy Morgan – you can find my review of this gorgeous book here.
Where Meadows & Gardens Grow by Jo Butcher – you can find my review of this popular book here.
Books Coming In
Elisabetta Sforza's new book has arrived, and it's gorgeous! I'll tell you all about it this week. I will also have her other books (Sea to Stitch, In a Wheat Field, and A Flower Alphabet) back in stock.
Giuliana Buonpadre's extensive and beautiful collection of books on reticello have also arrived. Because I'm stocking several of them, I'll list them this week. Then, later this week or early next week, I'll give you an inside look at each of the books. If you're already familiar with her books and you've been hoping to add then to your library, feel free to pick them up once they're listed in the shop. All of her books have English translations in them, along with Italian (and sometimes French). They're also loaded with photos and diagrams for reticello. Don't worry – I'll show them to you soon!
Square-Round Hoops are Back!
Now, let's talk with hoops.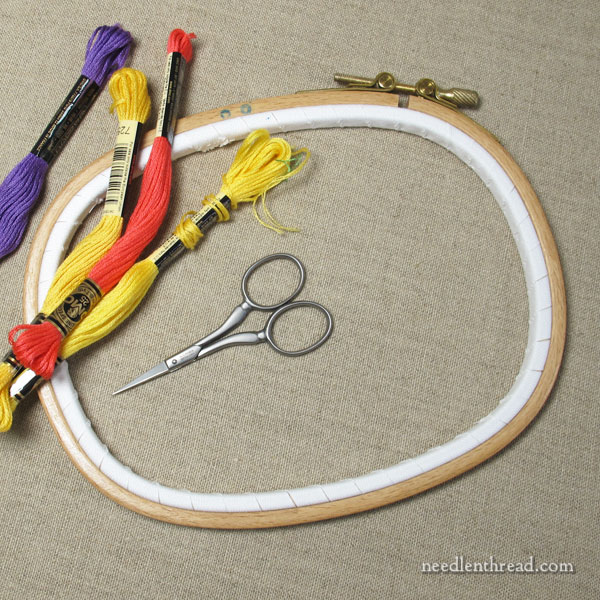 Finally (yay!) the square-round hoops that many of us have been waiting for have arrived! I've let the advanced notice list know, and I've got the rest listed in the shop right now.
I reviewed these hoops in depth last year, here, so feel free to pop over there see what they're all about. They fit the stitch-along projects that we worked in 2021 perfectly.
But they also fit all kinds of other needlework projects! I find I reach for my "Sqround" first now, before any other hoop. It just gives you that extra room on a project, without requiring you to use a larger, full-round hoop. And the hardware is fabulous – very sturdy and secure.
You'll find those available here.
Bunny Thread Drops on Sale
If you like using thread drops to organize your threads for projects, I've got a supply of Bunny Thread Drops on sale at the moment.
They're a fun and useful way to prepare your threads. I like them especially for grab and go projects!
You'll find them here.
Cotton Quartet Kit News
As backordered supplies have trickled in, we've been preparing the Cotton Quartet kits in small batches at a time and notifying the Advanced Notice List in order of inquiry received.
If you haven't received your notice yet, never fear! We have more supplies coming in this week and another batch to prepare.
After that, there will be a gap while we await another backorder. If it looks like the backorder won't materialize, I'll find a suitable substitute, so don't worry!
BeeJeweled Kits
Do you still need a kit for the Bee-Jeweled Pincushion, which was the first project in this year's Stitch Snippets Stitch-Along series?
My plan is to keep some Bee-Jeweled Pincushion kits available off and on this year, for those who are just introduced to Stitch Snippets and may have missed the early installments of the series.
Right now, we have some kits available, and if you want to stitch this project now or even later, it would be a great time to pick one up! They're in the shop.
Whew!
I think that about covers it for now.
I've got a lot more loose ends to tie up – that's the funny thing about ends. They keep loosening.
We'll talk needles soon – I'm trying out some new needles. The jury is out on them at the moment, but I'm giving them the old college try before I draw a definite conclusion. They certainly solve a problem, so they're worth looking at closely.
We've been working on designing a Big Project in the background here at the studio. I'll share the nitty gritty on that soon.
Lots of things coming up this summer! It looks like it will be a busy, productive, and exciting summer!