Following up on Anne's article yesterday on tips & techniques for using flat silk, here's a photo of her embroidery set up, with the flat silk hitched onto her awl, which is stuck in a hole in her embroidery frame! I received lots of questions via e-mail about this method of securing the silk, so Anne snapped a photo!
I'll also answer a few other questions about flat silk, and share a couple tips.
Here, you can see the flat silk hitched onto the awl, which is stuck in one of the holes of the embroidery frame. Anne is using a Japanese embroidery frame, which is slightly different from a slate frame. You can see some good examples of the components of Japanese embroidery frames John Stinton's website. He makes beautiful wood products (frames, stands, komas, etc.) for Japanese embroidery.
What Anne was describing yesterday is how to smooth out individual strands of flat silk. She hitches the flat silk around the awl, which is stuck in a hole at the top of the frame. Then she runs the silk over her hands (palm up) alternating each hand, moving her hands quickly down the length of the silk towards her, not holding onto the silk, but just lightly kind of "lifting" it. This quick movement of the hands, dropping the silk from one hand to the other separates the strands of the flat silk.
Some other flat silk questions that came up:
Where can you buy flat silk?
There are different types of flat silk. The type of silk that Anne is talking about is Japanese silk, and it can be purchased through the Japanese Embroidery Center (Atlanta, GA) or through any Japanese Embroidery Center in your own country.
Is this the same type of silk that Helen Stevens uses?
Yes and No. Helen Stevens uses Pipers Silk (their floss silk), which she sells as True Embroideries Sleave Silk. It is flat silk, but, strand-wise, it is finer than Japanese embroidery thread. There aren't as many suga in a strand. It's about 1/3 the thickness of one strand of DMC cotton floss.
Is there a special hand treatment you can buy for working with silk?
Well… the answer varies. There are lotions out there that are supposed to be stitcher / silk friendly. One of the best ones on the market is a hand cream made by Au Ver a Soie. Why do I say it's better than most? I suppose I have more confidence in it because it's made by / for silk embroidery specialists. It's not made by a lotion company trying to sell to any stitchers in general, but it is made under the direction of a silk company, wanting a lotion made specifically for working with silk. I do use the cream now and then, but I think the best option for hand preparation is prevention. Scrubbing your hands a couple times a day with a simple mixture of olive oil and sugar will remove rough spots and help prepare them for working with silk. Then, between stitching sessions, lube up with your favorite lotion. Always wash your hands before stitching, to remove excess oil.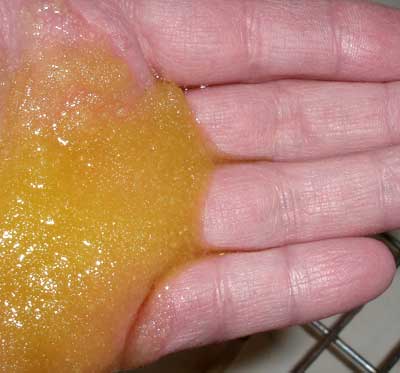 I don't do this type of hand treatment all the time – I'm not too obsessive about the state of my hands – but if I know I'm going to be working with flat silk (or if I'm going to be filming videos!), a couple days ahead of time, I'll make up a little bowl (only takes a little bit) of olive oil and sugar, and off and on throughout the day, I'll give my hands a good scrub.
Lisette e-mailed me with her tip for covering up roughened finger tips: she buys medical gloves and cuts the fingertips off, and uses just the tips to cover up any rough edges around the tips and nails, which is where most flat silk will catch on your hands.
Have you ever stitched with Japanese silk. Do you like it?
I have used it, but not using strictly Japanese embroidery techniques. I used it in a silk sampler I did several years ago. Here's the element:
Do I like it? Oh, of course I do! It's silk! What not to like? It's difficult to get used to working with, if you've not worked with it before. But with a little care and the right tools (a laying tool is essential), it's manageable!
Recently, I've only used flat silk for backgrounds on other silk and gold embroidery projects. I lay the flat silk then couch over it with gold thread, as in this photo below:
This kind of "vermicelli" work over flat silk makes for a really pretty background! I'll be doing quite a bit of this type of embroidery over the next several months, on a commissioned project.
You can see the same technique, only with straight lines of gold, in the Agnus Dei project I completed several years ago: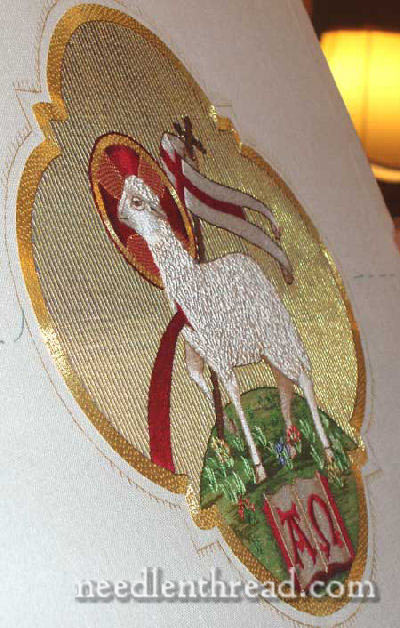 So that's a bit more about flat silk. I hope it answered some of your questions! And many thanks again to Anne Gomes for her article on using flat silk!
Have a terrific day! (Can't believe it's already Wednesday, can you?!)