Just thought I'd give you all a quick run-down on updated embroidery stitch videos here on Needle 'n Thread, in case you're looking for some Sunday afternoon entertainment. Ok, ok. My stitch videos are not exactly entertaining, I admit it! (Maybe I should post the bloopers. But then you'd hear me cussing….)
If you're planning on dabbling with needle and thread today – you might, for example, be inside avoiding the heat – maybe some of these will be helpful.
I also have a question for you, posed at the very end of the article. You can skip down to it, if you want. I won't be insulted. In fact, I'll never know!
Here's a list of the all-new videos on Needle 'n Thread, with photos of what the stitches look like. There's a link below each photo to the video tutorials. On each video page, you'll also find photos of what the stitches look like, plus explanatory information that's been updated, with links to other articles related to the given stitch, or just general information about the stitch, threads, or what-have-you.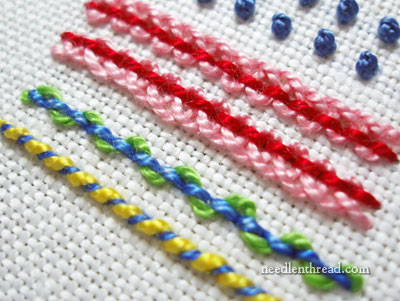 Backstitch
Laced Backstitch
Whipped Backstitch
All three of these are pretty basic. The backstitch video goes into the difference between stabbing a stitch and sewing a stitch.
Basque Stitch – I have ideas brewing for this particular stitch. They haven't all come to Stitch Fruition yet, but it's a cool stitch, and I like it. I plan to do some playing with it in the future.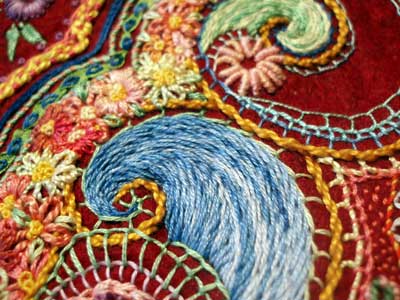 Buttonhole (aka Blanket) Stitch – The open, square-like looking netting in the above photo is all done with buttonhole stitch. "Buttonhole" and "blanket" stitch have become synonymous terms for the blanket stitch, though the blanket stitch is usually worked spaced apart, if you want to get really technical. Anyway – you say potato, I say potahto, you say blanket, I say buttonhole, a rose by another name would smell as sweet, and all that kind of stuff!
Chevron Stitch – You can do more with this stitch than meets the eye. Someday, I will!
Colonial Knot – This can be substituted for the French knot, if you find it easier to do, though – as some readers noted – it usually creates a slightly larger knot than the French knot.
Coral Stitch – Also called the coral knot stitch, this one is used extensively in Schwalm embroidery.
Double Chain Stitch – The green stitched line, with the open zig-zag like pattern, is the double chain stitch in the photo above. It makes an interesting open filling for long slender shapes.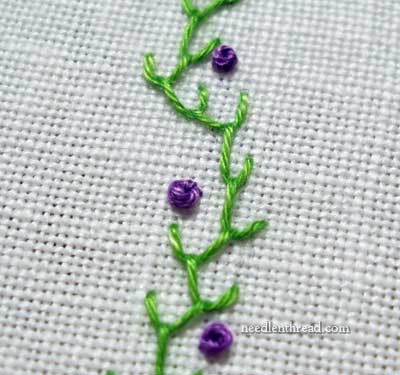 Feather Stitch – I don't know why the feather stitch is called the feather stitch, because it doesn't really look like a feather. I think the fly stitch worked vertically and close together looks more like a feather. But I suppose it's called the feather stitch because… actually, I have no idea why. But it's a great stitch for vines and stuff, and it makes great "sprays" of greenery behind ribbon embroidery and the like.
Herringbone Stitch – Love this stitch for edges and stuff! It's also the base of other stitches, and it works as an insertion stitch as well.
Double Herringbone Stitch – Trickier than you think, though not a difficult stitch. It isn't just two layers of herringbone stitch, and the way you overlap the stitches makes a difference in the outcome. Plus, there's some information here about stitch dictionaries – yes, some of them do get the double herringbone wrong!
Open Chain Stitch – Great for making lines of squares, and it can be closed up to make more solid lines, too.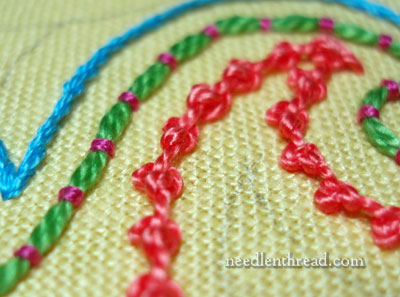 Palestrina Stitch (aka Twilling) – Palestrina stitch is also known as "twilling," which is a somewhat popular embroidery style used here in the Midwest (I think it's spreading, but not sure!) to embroidery quilt squares.
Pekinese Stitch – Love, love, love this stitch, especially when worked with wool. Two strands of Fine D'Aubusson wool thread looped through perle cotton backstitch makes a really pretty Pekinese stitch.
Portuguese Knotted Stem Stitch – Another stitch I'm absolutely in love with. What do I love about it? Hmmm. It would be easier to say what I don't love about it: nothing! Another one to be careful with, when looking at various stitch dictionaries. Lefties, especially, will want to take care with stitch direction and direction of wrapping the stitches. (More info on that on the video page…)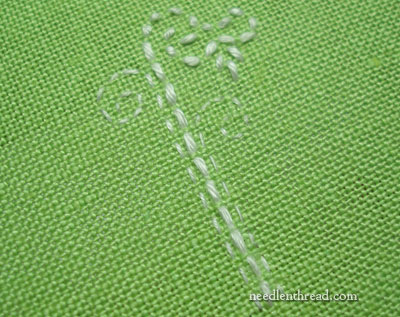 Running Stitch – Yeah. I know. You wouldn't think running stitch needs a whole video to itself. But there are different ways to achieve a good looking running stitch, and I cover them in the video.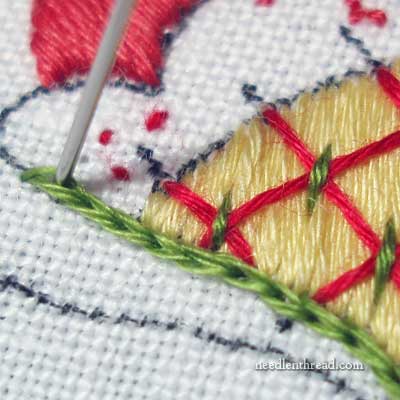 Split Stitch – A basic stitch, and it really is split from below the stitch. If you come up into the fabric with your needle and split the stitch from underneath, you're working the split stitch. If you go down into the stitch and into the fabric from the top of the stitch, you're working the split backstitch. There's a difference between the split stitch and the split backstitch. But you're definitely allowed to work either one, if one is easier for you than the other.
Up & Down Buttonhole Stitch – It's a pretty stitch. What more can I say?
Embroidery Stitches: Alphabetical Index
So here's my question:
Would you find it helpful if I include an alphabetical listing of embroidery stitches on the site, linking up to the different tutorials? Right now, on the How-To Videos page, I have the stitches categorized by type, with no organization within each type. I just tacked on the new videos into their respective categories as I developed them.
I think an alphabetical listing might be helpful for those looking for a specific stitch by name. What do you think? Feel free to leave a comment below with your suggestions or input. I'm open to any stitch requests, too, and of course, any information on what you would find helpful. I do have a couple improvements and additions to the stitch instructions in the works, but I'm always open to further input and suggestions.
Hope you're weekend is going along in a jolly fashion. We are sweltering in Kansas, but hey! It's summer!
See you tomorrow with an announcement of a rather fruity nature…