If you're just popping in here on Needle 'n Thread for the first time, we're working our way through a hand embroidery project called "Mission Rose," worked in silk (and eventually gold threads) on a silk ground. You can find all the articles relating to this project in the Mission Rose Index, if you'd like to follow along or catch up on the project.
Well, after a distressing series of mishaps with the little leaves around the rose, they're finally finished. And I've moved on to the rose, which is a refreshing change from greens.
Let's look at what happened with the leaves at last, and then see some progress on the rose.
For the leaves inset around the rose, I skipped any outline underneath the stitching altogether, to keep them as flat as possible. The majority of the fill is the lightest green in long and short stitch, working the stitches relatively long down the middle of the leaf and fanning out the sides.
Then I worked three stitches in the medium green down towards the inside tip, and then a couple tiny dark green stitches just at the very tip.
So here we are, with the leaves finished and the rose underway.
The outline around the rose petals that you see in the photo above is worked in split stitch, in Soie de Paris 4624 (the second darkest red).
Then, I started the long and short stitch over the outline, in the same red.
The inside of the petal is worked with the brighter red (945) in long and short stitch.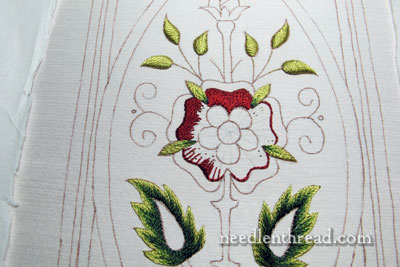 I liked the result pretty well and went forward. First I filled in the darker red all around.
When working the long and short stitch, it helps to stitch in occasional directional stitches. I normal stitch in the directional stitches, and then fill in between them.
Almost there, all around the rose…
…and then the brighter red working in…
…and here's the last shot I took until working on the inside petals.
So, that's the rose so far!
The inside petals are lighter than these. The pinks will come into play there.
If you have any questions, comments, or suggestions, feel free to have your say below!
You can find the rest of the articles relating to the Mission Rose project listed here.