Lat time we looked at progress on the Secret Garden embroidery project, we chatted about the order of stitching the many leaf clusters in the design.
Here's the outcome of stitching two similar leaf clusters following a different order of stitching for each, placing the leaves in a different overlapping arrangement.
The leaf cluster on the left is arranged so that the leaves "fan out" over each other. For the leaf cluster on the right, there are two overlapping leaves in the back of the cluster and the two front leaves overlap the two back leaves pretty much equally.
In the scheme of things, you can tell that the clusters are different, but they're not all that different. I think I prefer the cluster on the left – but that's because I prefer the shading on the farthest left leaf on the left cluster, compared to the same leaf on the right. The shading is softer on the left cluster.
I doubt I will unpick the left leaf on the right cluster. But, then again… I just might. But I'll leave it for a while to see how it grows on me!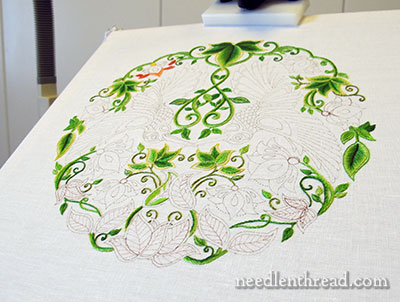 This is the last full shot I took of the project so far. I've done a little more stitching since then, but not much – lots of little interruptions the last ten days, plus developing some new content for you, including a wee side project.
Good thing it's Monday! I love starting the new week!
If you're following along with the Secret Garden project, where are you and how's it going? Have you gone beyond the vines and leaves yet? Remember that you can always simplify the embroidery, which would move it along at a much quicker pace!
Questions? Comments? Suggestions? Have your say below!
If you'd like to follow along with the Secret Garden Embroidery Project, you can find all the information pertaining to this project, including resources, materials, and stitching tips, in the Secret Garden Project Index.