Today I'm going to make a confession. I'm going to tell you something deep, dark, and secret about myself – something that many of us probably have in common, but we just don't like to talk about it.
So, this is between you and me. Don't spread it around. We'll just keep it between us, ok?
When it comes to embroidery, I am an over-optimist – and my optimism gets me into trouble. I am an optimist about time; I am an optimist about workload; I am an optimist about perseverance; I am an optimist about capabilities.
And so, with my usual optimism, I often take on more than I can reasonably accomplish in a given amount of time, or I make plans that take me much longer to deliver on.
Take, for example, the Secret Garden embroidery project that I'm still slogging through, slowly but surely.
I imagined this project would take about two months – despite writing articles every day for the website, doing regular website maintenance, keeping up with the daily round of email, working on other pressing projects for you (like this stitch sampler alphabet e-book), preparing online class materials… and so forth.
I call it SOS – Stitching Optimism Syndrome – and it strikes more often than I like to admit.
I knew shortly after beginning the Secret Garden project that I had fallen victim to the SOS lure once again. Not only had I undertaken the cotton version of the project, but I had mentioned doing a whitework version and a silk version, too!
(Do you see where this is going?)
Right before embarking on a 2,500-mile road trip around the mid-section of my country a couple weeks, I set up the next Secret Garden undertaking – the same project done in various whitework techniques.
And as I drove those 2,500 miles, I had a lot of thinking time. And I found myself dissecting the project – breaking it down into excerpts in my head.
Then I started thinking about the silk version of the same project. And I started picturing other designs in the Secret Garden book.
And by the time I got home, I had a whole new approach in mind. Something a little more… reasonable, shall we say?
With the whitework version, I could work excerpts of the hummingbird project, to give folks a taste of what could be done with whitework on the same project.
With the silk version, an excerpt of a different design in the book seems more appealing at this point. The techniques used with silk thread and with cotton thread are not necessarily that much different, so, to make a marked difference between the approaches, I envision using a similar design, and incorporating some real metal threads.
So that's the direction I'm contemplating at this point.
You'll still get a good idea of what can be done with the project – or similar projects – using whitework techniques and using silk threads (with some metal threads, too), and yet, there will be enough of a difference to keep interest alive, and the projects will pared down enough that they will be manageable for me and will extricate me from the deadly grip of the SOS monster.
The Silk Version
Speaking of the silk version… remember when I showed you my silk thread organization for Silk Mill threads?
The reason I plan to use predominantly Silk Mill threads is that they are filament silks, and they come in a huge range of colors. And now they come in more colors! They've added 100 new colors to the Silk Mill thread line recently.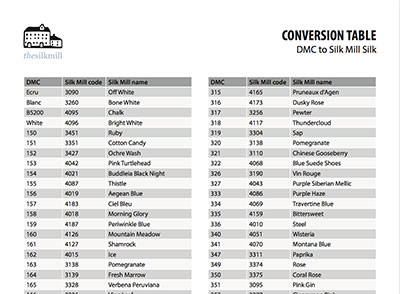 And to make selecting colors a little easier, they've added this Silk Mill – DMC Thread Conversion Chart to their website. It's a handy PDF and worth printing out, if you're considering using Silk Mill threads for any projects.
No thread conversion chart is 100%, absolutely accurate, but it's nice to have one available that can at least act as a guide for color selection.
That's Where I Am
A long road trip gives a person ample thinking time. One thing I concluded at the end of this last driving venture was that I need to be a little more realistic in my goals for website projects this year, if I want to accomplish anything else along the way!
So, I hope you'll continue following along with the current Secret Garden project – I'll be moving onto the birds soon – and that you'll still enjoy (and learn from) the reduced approaches for the whitework and silk versions.
Questions? Comments? Suggestions? Have your say below!