A frequently asked question here on Needle 'n Thread is what fabric to choose for hand embroidery projects.
We've talked about testing specific ground fabrics for hand embroidery before (here and here, for example), we've discussed linen for embroidery numerous times (here and here are two articles with a lot of information in them), and we've discussed building a swatch collection of fabrics that are suitable for embroidery, but in all the years we've been chatting about embroidery together, I've never itemized what I look for in a ground fabric specifically for hand embroidery.
I thought I'd do that today and open up the topic for discussion. Most embroiderers have their favorite fabrics that they gravitate towards, so I'd love to hear about the fabrics you like to use for surface embroidery, the fabrics you avoid for surface embroidery projects, and the whys and wherefores behind your thoughts.
Here are my thoughts on the subject – I hope you join in with yours!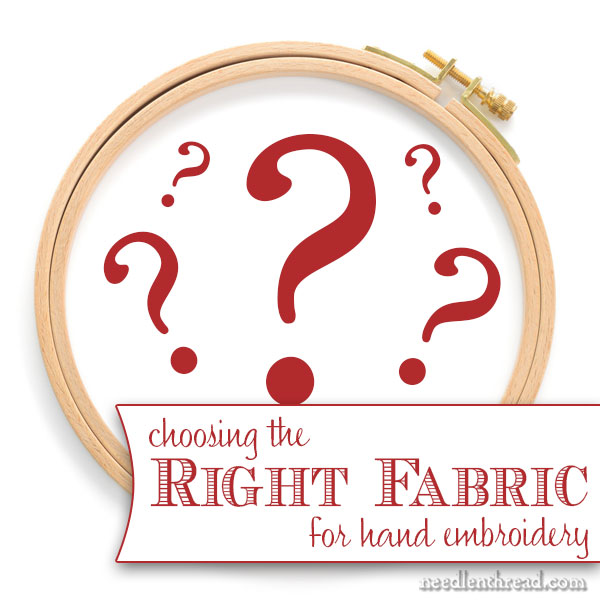 Before choosing a specific fabric for a hand embroidery project, I always ask myself certain questions.
What's the purpose of your embroidery project?
Are you stitching something purely decorative, to hang on a wall? Are you embroidering a table cloth, sheets, a pillow case? Are you embellishing a wedding gown? A winter skirt? A coat? Are you stitching upholstery for a chair or a footstool? Or a cushion for your sofa?
Understanding how you intend to use your finished project will go a long way towards helping you decide what ground fabric to use.
What type of embroidery are you doing?
The type of embroidery that you're doing will influence the type of fabric you choose for your project.
Because surface embroidery often features curved and flowing lines, it makes sense to choose a fabric that will allow you to embroider smooth curves.
Besides curved lines, surface embroidery often involves filled spaces which require closely worked stitches. Think: satin stitch, long and short stitch filling.
To accommodate this type of stitching, fabric that has a full weave is best. By full weave, I mean that the warp and weft threads of the fabric fill the surface, without leaving noticeable gaps between them. Exceptions are made for very delicate stitching that might be done on open, airy, gauzy fabric, but for most surface embroidery styles, a surface with a full weave will serve best.
While counted work (counted cross stitch, blackwork, Hardanger and the like) benefits from even-weave fabric that features little holes at the intersections of the warp and weft threads, with surface embroidery, this spacing isn't as desirable.
How dense and heavy will your stitching be?
Will your project be heavily stitched, with a lot of dense fillings? If so, you need to keep this in mind when choosing a ground fabric.
Dense filling stitches demand a hearty fabric that can support the stitches. A light, flimsy fabric is rarely suitable, for example, for crewel embroidery, which often incorporates heavily filled areas stitched in wool threads.
At the same time, a very heavy fabric for fine, light, delicate stitching might be overkill.
Once I've answered the questions above, narrowing the purpose of my project and its characteristics, I consider fabric options.
Characteristics I look for in embroidery fabric
These are the basic characteristics I look for in fabric for surface embroidery:
The weave
I prefer a fabric that has a full weave – that is, the warp and weft threads fill the fabric surface without leaving in noticeable gaps or irregular spaces between the warp and weft threads.
For surface work, I generally avoid fabrics made specifically for counted needlework (cross stitch, blackwork, Hardanger, and the like). These fabrics have their place in needlework, but they aren't conducive to creating the smooth, flowing lines that are often typical in surface embroidery, and the spacing of the warp and weft threads make it difficult to place a stitch exactly where you want it to go.
I also pay attention to the structure of the weave. Twills (like linen twill), satin weaves and the like are great for embroidery, especially when a heavier ground fabric is desired. Some types of embroidery (drawn thread work, for example), though, won't work on certain weaves.
A smooth hand
"Hand" refers to the feel of the surface of a fabric when you run your hand over it.
For surface embroidery, I prefer a fabric that has a smooth hand, without a lot of bumpiness, slubs, or too much texture.
There are definitely times when texture is called for, but I find that too much texture, too many slubs, too many surface irregularities can interfere with the embroidery stitches.
Fiber content
I'm a huge fan of fabrics made from natural fibers. My fabrics of choice include 100% linen, silk, wool, cotton, and, occasionally, blends made from these fibers (i.e. wool / silk blends, linen / cotton blends, silk / cotton blends).
I tend to avoid fabrics that are synthetics or synthetic blends. In general, I find them spongy, hard on the threads (synthetics tend to be abrasive on fine threads), and I don't like the feel of them.
This is a matter of personal preference, I think. There are many synthetic blends out there that are used in handwork. Lugana and Jobelan, for example, are used in counted work. They're both rayon / cotton blends. Trigger cloth used in Brazilian embroidery is a polyester / cotton blend. While they might not be my fabrics of choice, they are still highly favored and frequently used by experienced stitchers.
Thread count
When it comes to linen and cotton, especially, I look at the thread count of the fabric, too.
Low thread-count fabrics (especially even-weaves made from linen) are not always the best choice for surface embroidery. However, if the weave fills the whole surface – if the threads of the fabric are plump and full – then a low count linen can suit fine.
For cotton, a higher thread count cotton (plain weave) like muslin, some quilter's cottons and the like make a good ground for certain types of projects or a good supporting fabric.
Weight
Again, the project itself will influence what type of fabric weight I look for.
If I'm setting out on a crewel adventure, I don't want a flimsy fabric. I'd look for a good linen twill or a medium to heavy regular linen.
If I'm stitching some very delicate, light whitework project, I'd probably not go for a heavy fabric. It would be overkill.
Essentially, you want a fabric weight that will support the type of stitching you intend to do. Sometimes, if the fabric is "just perfect" – but you question whether it's going to be hefty enough for your project – then you can back the ground fabric with cotton or linen for extra stability.
Color
Sometimes, you know exactly what color fabric you want, but you might not be able to find that color in a suitable fabric. Or sometimes, you might know exactly what fabric you want, but it only comes in colors you don't want to work with!
In any case, color is a consideration. For most of my embroidery, I'm pretty darned dull when it comes to color choices. I like white, off-white, oatmeal and other "natural" colors for linens, and with silks and the like, I tend to go with lighter colors.
Occasionally, though, I might choose a deep, dark, or vibrant background for a project, but I don't normally like stitching on very dark fabrics. Part of the reason for this is the whole blogging thing. It's more difficult to photograph projects on dark backgrounds, and when demonstrating techniques, it's much easier to see what's going on, on white backgrounds.
What About You?
I'm sure I've overlooked some considerations here, but this is pretty much where I start when I'm thinking about fabric. The more you work with fabric and threads, the more you get a feel for what works well together. The process of choosing, then, becomes less difficult.
Over time, you'll definitely end up with favorite fabrics, but I think it's important to experiment with other ground fabrics now and then. Different fabrics are a great way to add a little spice to your needlework life!
What characteristics do you look for in ground fabrics for surface embroidery? What types of fabric do you like best? What do you tend to avoid when choosing a fabric? I'd love your input on the subject! And I think the discussion will come in quite handy for those who are still finding their way through the wide world of fabric choices.
If you'd like to join in, feel free to chime in below!
Like what you see?
If you enjoyed this article and you're looking for more inspiration, information, and instruction on hand embroidery, why not sign up for my daily newsletter?
There are all kinds of reasons to have Needle 'n Thread delivered to your inbox – check them out and sign up today!
Tags