Good morning and a Happy Monday all around!
Just a wee update this morning to discuss some weekend stitching. Initially, I called this an experiment, but it worked, so I'm keeping it.
When it comes to surface embroidery, beads are not usually part of my planning process. I like beads. But they're rarely an integral part of my design process. If they happen, they tend to happen as an afterthought.
But my vision for the design I'm working on right now included a little bit of sparkle and dimension that beads can add to a piece. So I ventured into testing different beads this past weekend.
Since I don't use beads too often in my designing process, I don't have a wide array of the little things to choose from. But I knew I had this incredibly rich, deep blue delica bead in my small collection, and I had an inkling that I wanted to at least try it.
The beads on the right in the photo above have not been run through yet with a stabilizing thread, so they're a bit wobbly still. The ones on the left are stabilized and the line looks a bit smoother.
They do what I wanted them to do. On the outer petal lines, I wanted some texture and interest, a bold definition, but not something Knotty. These particular beads, because of their squared tubular shape, keep the line from being too knotty or bumpy looking, while at the same time adding sparkle, interest, color and a little texture.
Delica beads, especially when worked close together like this, hint at a mosaic look in my mind, and that notion plays well with my thoughts behind what I want to deliver with this design.
Favorite Types of Beads?
There are a couple other areas on this project where I plan to incorporate a lighter use of beads. When I go forth to play with those, I'll be testing different types of beads besides delicas.
Do you have a favorite type of bead you like to use on your surface embroidery? Or a particular shape? Round seed beads? Delicas? Bugle beads?
What about a favorite bead manufacturer?
So far, I've found that Miyuki beads from Japan are fairly uniform and consistent. They strike me as particularly well-made beads. But perhaps you have a certain bead manufacturer you know of, that you'd like to recommend? Since I'm not too hip on the bead scene, I'd love some recommendations! I'm always game to try the different options out there.
If you want to share your bead experiences and tell us what you've used, had success with, like particularly well, or want to try but haven't tried yet, feel free to chime in on the conversation below! I'm all ears!
More Bead Embroidery
If you want to dabble with beads in your embroidery, you might find the following articles useful:
A Wee Tiny Bird in Bead Embroidery
Late Harvest Embroidery Project – an index of articles on a Hazel Blomkamp design that incorporates a massive amount of beads
Embroidering Flat Back Crystals onto a Project
My Guilty Pleasure – Tiny Kits
Daisy Stitch Petals with Beads – Tutorial of sorts
Fully Beaded Drizzle Stitch Tutorial
Embroidery with Beads – various tutorials on incorporating beads into embroidery
Coming Up…
I'll share an embroidery pattern with you later this week. I'm also gearing up for a Big Overhaul in the workroom, once school is out. And I'm testing fabrics for constructing embroidered items, so I'll share my explorations there, too!
Favorite Kaleidoscopes Pattern Collection
If you'd like to stitch up your own version of Party in Provence, you'll find the pattern available in my Favorite Kaleidoscopes collection – over 30 kaleidoscope designs for hand embroidery and other crafts.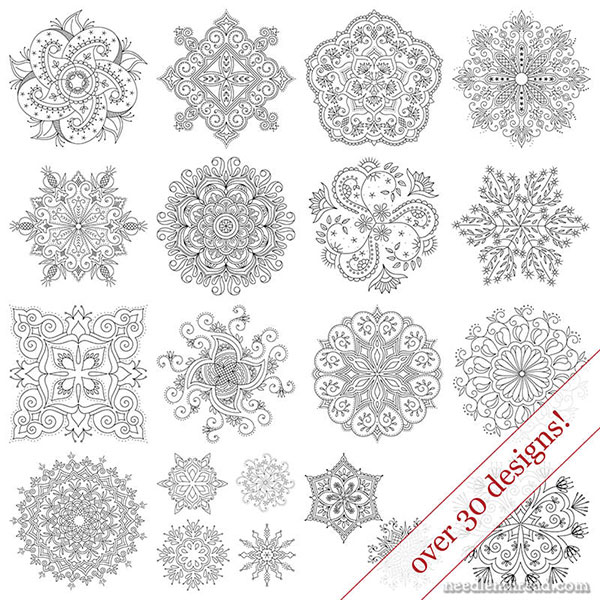 You'll also find the pattern for Birthday Bash and Tulip Festival in the same collection!
The kaleidoscope designs range from small 4″ designs to large 8″ designs, from simple to complex. You can read about the collection in detail here, or jump straight over to my shop to grab your own copy!