I use a lot of stem stitch when I embroider – primarily, because it's a pretty stitch, but also because it's so versatile.
I can use it as a filling, and even as a shaded filling. I can use it for fine lines or heavy lines. I can use it as a foundation for other composite stitches. There are heaps of ways to use the stem stitch!
One of my favorite ways to use the stem stitch is for delicate lines that curl at the tips. Sometimes, though, it can be tricky to get the stem stitch to curl around a tight curve correctly.
So today's stitch tip is a simple one, and pretty quick! Here's how to stitch tight little curls with stem stitch. The same principle can be applied to hairpin turns, too, and any tight curves in stem stitch.
On this particular piece of embroidery, I'm using a single strand (from the six) of regular DMC floss, so the lines are quite fine.
In principle, with the stem stitch, the longer you make your stitches, the finer the line will normally end up. Short stitches will create a more rope-like effect, where each stitch is distinguishable, hugging in an "s" curve around the previous stitch.
This rope-like look is quite pretty, and it's generally the look you want when stitching lines of stem stitch.
When you want to go super-fine on your lines, you might elongate your stitches slightly.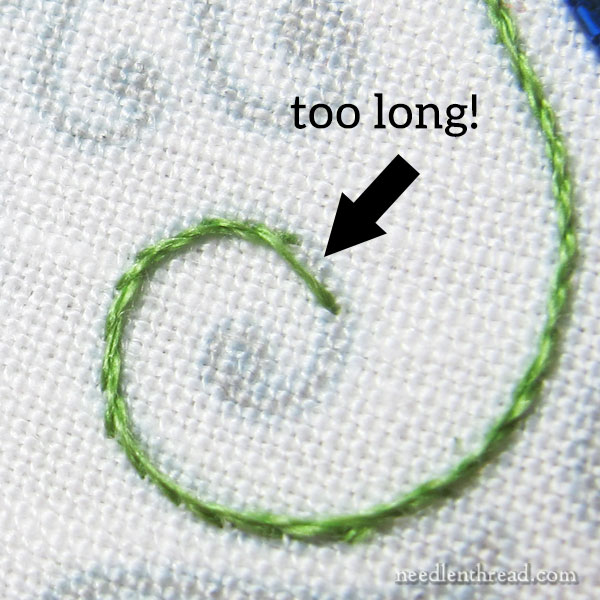 However, if your stitches are too long when heading around a tighter curve, the straight line of the stitch will cut across the curve and cause your stem stitch to look separated and a little hairy.
The trick to keeping the line neat, with the stitches hugging together for that rope-like look, is really simple!
Just shorten the stitch!
The shorter stitch will adhere more closely to your design line, and the subsequent stitch will twist around it as it's supposed to do.
And that, my friends, is how you stitch tight, fine curly lines with the stem stitch! Shorten your stitches as you head into the curve, and keep them shorter until you reach the end of the curl.
Now, go add some pretty little stem stitch curls and tendrils to your own embroidery projects – and do it with confidence!
More Stem Stitch Tips
If you're looking for more tips on how to use the stem stitch effectively, try these articles:
How to Stitch Sharp Corners with Stem Stitch
Stem Stitch Filling Tips
How to Stitch a Closed Circle with Stem Stitch
12 Tips for a Better Stem Stitch
Unfamiliar with the stem stitch? Here's a video tutorial to help you learn it!