Good morning and a happy Monday all around!
Time to look at some embroidery project progress! Thanks heaps for all the input on color selections the last time we discussed this particular embroidered kaleidoscope, which I am officially naming today.
I've mentioned before that I have a problem coming up with names for my embroidery projects. But this one fell in my lap. I'll tell you all about it.
We'll also discuss color vs stitches. Not that the two things are diametrically opposed when working an embroidery project, but in this case, in my mind, they've separated from each other.
When working my way through an embroidery project like this – one that is open to a million interpretations and that I don't have a solid plan for – I start by just stitching different elements, to see how I want to interpret them.
If it becomes glaringly evident that something I've stitched isn't going to work, I'll pick it out and approach that element again. And if I try another approach, and it isn't going to work either, I'll pick it out and approach it yet again. It's all a matter of playing around with ideas.
This is one of the reasons I love good embroidery linen – it takes a picking and keeps on stitching! That is, if you're using good linen, you can pick out stitches, leaving nary a blemish on the fabric, restitch, and, if you have to, pick it out again. The fabric holds up. The same can't be said for most other fabrics, but linen is a superstar in this regard!
Once I've tried all the different elements with stitches that I think will work and I'm mildly satisfied with them, it's just a matter of filling out the whole design from there.
On these kaleidoscope designs, this may seem like a lot of repetition, but in fact, with the number of design elements in them and the variety of stitches used, it's never boring! You can always move on to another element and another stitch, and then come back to previous areas.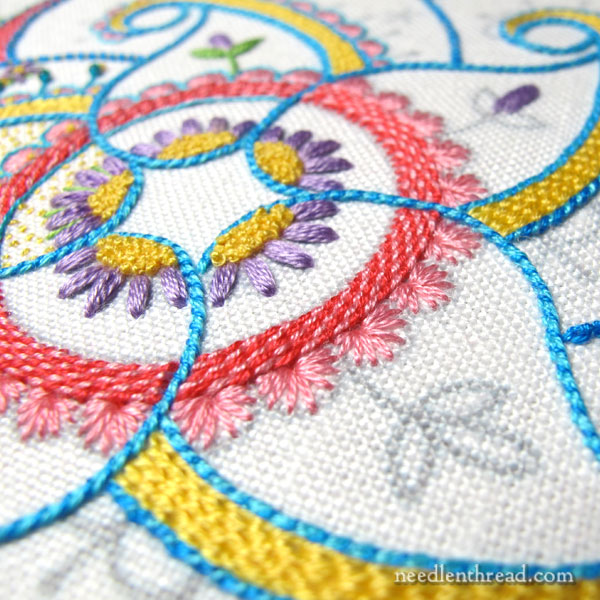 This weekend, I stitched in a lot of scallop fillings, using the "cheater" scallop approach that I talked about in this article on buttonhole scallops, only without the picots.
The scallops on this particular project will be outlined with a different color.
The majority of this design is worked with two strands of DMC floss, but there are a few details that require just one strand. I'll list the colors I've used as soon as I get to the point of certainty in a couple areas that I'm still mulling over.
I also added some of the leaves, in green, to pull some of the green accents from the middle out to the edge. Besides, it's a leaf. My paltry imagination couldn't go beyond leaf = green.
I also wanted to echo the seed stitching again.
The jury's still out on the leaf.
We've already talked about the color scheme on this wild thing. It's a bit all over the place.
But I'm sticking with it. I'm actually having fun with it. Sure, it might be a bit garish, but it's fun, and I'm just testing stitches, so I've somehow separated the whole color question from the stitch question in my mind. It seems to have worked!
And that brings me to the name of this one. I've officially named it Birthday Bash. My six-year-old niece took one look at it and said, "It's like the sprinkles on my birthday cake."
I probably shouldn't mention that she made the remark with zero enthusiasm. Her birthday cake didn't settle well, so she saw those sprinkles twice, poor kid.
In any case! Birthday Bash it is!
It fits with my Celebration themed kaleidoscopes. So far, we have Tulip Festival (that's a shout-out to a local festival we like to go to every spring), Party in Provence (which I finished earlier this year), Octoberfest! (which is available as a pattern and stitch guide), and this one, Birthday Bash.
This week, I have to tackle some other projects, so I've packed Birthday Bash into its pillow case and zipped away all the threads into a pouch, to languish until I can revisit the project at the end of the week.
For now, other big stuff to tackle, including…some stitch tutorials, preparations for a massive video session at the end of the month (more on that later), setting up a small project to demo the notion of "what stitch where and why," some embroidery archeology, and other delectable pursuits.
You know how it is – if you have a needle and some thread, the fun never ends!
Hope your week's off to a great start!
Favorite Kaleidoscopes Pattern Collection
If you'd like to stitch up your own version of Birthday Bash, you'll find the pattern available in my Favorite Kaleidoscopes collection – over 30 kaleidoscope designs for hand embroidery and other crafts.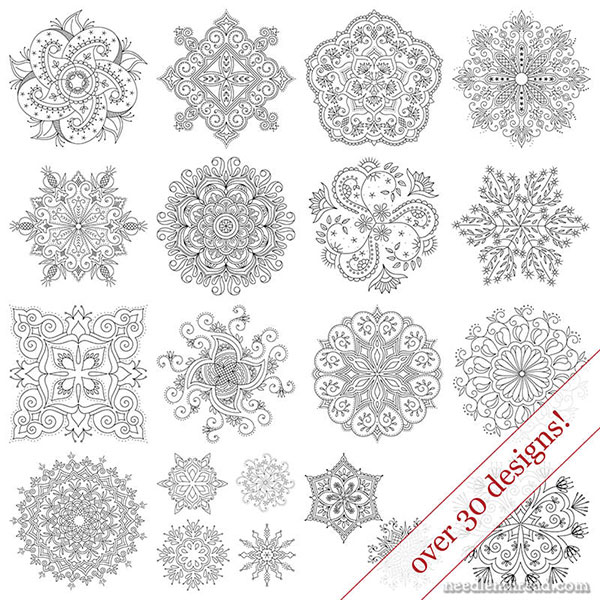 You'll also find the patterns for Party in Provence and Tulip Festival) in the same collection!
The kaleidoscope designs range from small 4″ designs to large 8″ designs, from simple to complex. You can read about the collection in detail here, or jump straight over to my shop to grab your own copy!