There's nothing quite as convenient as an all-inclusive reference book for embroidery, that you can pull out when you need inspiration, instruction, answers to questions, or solutions to stitching problems.
Beyond a simple stitch dictionary, a technique book can walk you through the basics (and beyond) of a particular embroidery technique. Individual technique books for different types of hand embroidery are fairly common, but imagine having a technique book that covers many of the major genres of hand embroidery all in one spot!
Well, Search Press (in collaboration with the Royal School of Needlework) has recently released just such a book.
It's called The RSN Book of Embroidery: A Guide to Essential Stitches, Techniques, and Projects, and it covers eight major categories of needlework.
Today, I'll tell you what this tome is all about, and share inside details, pros and cons, and where you can find it!
Right off the bat, there are a couple notable points you need to know about the RSN Book of Embroidery:
1. It is huge. It's a large, hard-cover book. But it's huge in scope, as well. It covers a lot!
2. It is essentially a compilation of eight books previously published by Search Press as the RSN Essential Stitch Guides series. I've reviewed most of those books individually here on Needle 'n Thread, and I'll link to those reviews below, so that you can see in detail what content is included in this one book.
If you already own the series of RSN Essential Stitch Guides, then you may find the content of this book redundant, unless you want all the content in one major reference book.
The book is definitely large! It's a thick, heavy book, and quite impressive in scope.
The different sections for each technique are color coded, so it's very easy to find your way through the book and keep track of where you are.
The extensive table of contents should give you a clear idea of the scope of the book!
The table of contents covers two massive spreads (that's 4 pages…!)
In the first part of the Book of Embroidery, you'll find all the necessary information for getting started with embroidery, from overviews of materials, tools, threads, and so forth to instruction on preparing fabrics, using embroidery hoops and frames, transferring designs, and all the background necessities to get you started.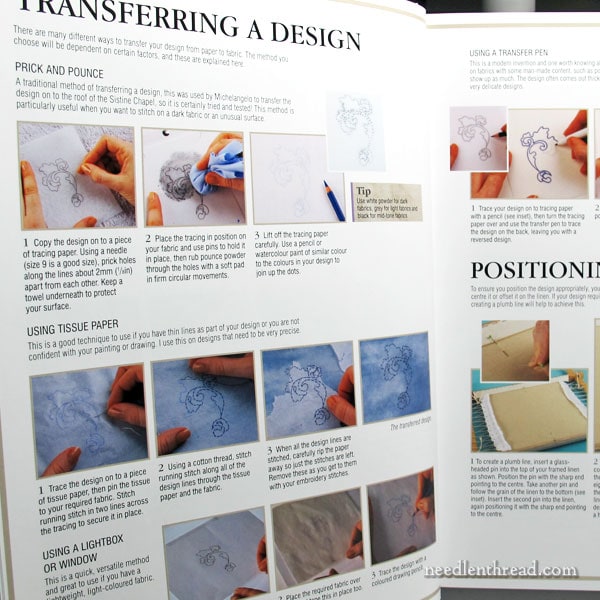 In the original series of Essential Stitch Guides, this information is included in each stitch guide, taking up a good bit of space at the start of each guide.
With this compilation, all the start-up information for needlework is included at the beginning, leaving the rest of the book to concentrate on techniques.
After the basic background content is covered, the book launches into the techniques.
Here's a list of the eight major techniques covered. I've also linked to the Essential Stitch Guide reviews I've already written, so that you can see, in detail, what's covered under each technique:
Crewelwork
Blackwork
Whitework
Silk Shading
Stumpwork
Bead Embroidery
Canvas Work
Goldwork
In the Book of Embroidery, you'll find all the basics for each technique, along with large, clear photos and written instructions for the stitches and methods involved in the techniques.
In fact, here's where this compilation really shines when compared to the individual stitch guides. The photos are large and clear, the layout is much more open and seems decidedly less crowded. It's very easy on the eyes and it's very user-friendly when it comes to navigating through the instructional content.
Pros & Cons
On the pros side, there's a lot going for this book:
1. It's really a great way to own all the stitch guides, rolled into one large book!
2. It makes an excellent reference book.
3. It's easy to navigate through, from technique to technique.
4. Overall, it doesn't seem as crowded as each individual stitch guide. Photos are larger and easier to see and the layout is very nice and user-friendly.
5. It covers all the basics for getting into what I'd call some "serious" embroidery. If you've been dabbling with hand embroidery but you want to pursue it a little more seriously and learn various techniques, this book offers a great way to do that.
On the cons side, there are a few points to consider, too:
1. The book is large and pretty heavy. It is a regularly bound hard cover book that, if you want to use as an instructional guide, will need a table to rest on. It's not a book you would comfortably tote from spot to spot. It opens easily enough to the various sections, but it's not quite as handy as each individual stitch guide (they are much lighter, spiral bound, and smaller, so easier to tuck into a project bag).
2. The subtitle can seem a little misleading. A Guide to Essential Stitches, Techniques and Projects seems to imply that it's at least partially a project book. Most of the techniques do not include any kind of project to stitch. The section on Silk Shading includes some decent exercises with small line drawings that can be used for practice. But in the other technique sections, "projects" really are just an overview of projects worked by the author to show you the techniques in application, rather than projects for you to stitch.
In a Nutshell
The RSN Book of Embroidery is an extensive, multi-technique-encompassing reference book that would make a good addition to any needleworker's bookshelf.
If you've wanted the content of the Essential Stitch Guides but were hesitant to collect each individual book, now you can have them all in one more affordable package – and that's pretty neat! Plus, it leaves more room on your bookshelf for other great needlework books!
However, if you're looking for a book that you can easily tote around to help you out as you explore various techniques, I'd probably stick with the individual stitch guides, as this thing is hefty, hefty, hefty!
Where to Find It
You can find the RSN Book of Embroidery available through the following:
In the US, you can find it available through Amazon, listed right here at the top of my Amazon page.
Here's a direct link to the RSN Book of Embroidery on Amazon, if you want to see the full listing.
Worldwide with free shipping, you'll find the book available here through Book Depository.
Needle 'n Thread uses affiliate links for book sources, which means that Needle 'n Thread receives a small commission when you purchase through those links, without any extra cost to you. Every little bit helps, so thanks for using my links when you purchase books online!