Howdy-ho and a happy Monday from the (very warm and sticky) cornfields of Kansas! Summer is upon us in full force in the Midwest!
During the summer, I love embroidering with bright and sunny colors, and last weekend's project fit the bill perfectly. If you've been hanging out with me at Needle 'n Thread for a while, the project should look familiar, because I've done it before. Well… something similar, anyway.
I'm working on a voided monogram, much like this one. There are a few differences, though, and I'll tell you about them below…
Voided embroidery is embroidery that consists of a filled background, while leaving the focal element blank. The main element is clearly visible because everything else around it ends up solidly embroidered.
Assisi embroidery is a form of voided embroidery, as is Colbert embroidery. Assisi embroidery relies on a background solidly filled with long-armed cross stitch, while Colbert embroidery relies on a background filled with more open, geometric patterns. In both Assisi embroidery and Colbert embroidery, the main voided elements are often outlined.
With this particular style of voided monogram, I like to leave the main element – in this case, the letter M – without an outline, relying on the densely stitched background to frame the letter.
I'm working up the M as a class sample, since we'll be using the voided monogram for the older youth classes this summer. The students will stitch their own version and then finish it in the hoop, for a little piece of hoop art.
I chose the voided monogram because, of all the small things I've stitched, I think this was the most fun! It doesn't require a lot of planning or thinking while stitching, and the freedom of color choice and stitch placement makes each letter unique.
Still, to give the kids a springboard for stitching their letters, I've worked up a background design for each letter, scattering the larger elements – vines, flowers, ribbed spider web rounds, and so forth – in a somewhat balanced way. Having a starting point will make it easier for them to get into the project.
Then, around the larger elements, they can randomly fill in with smaller floral and leaf elements, knots, seed stitches, and the like.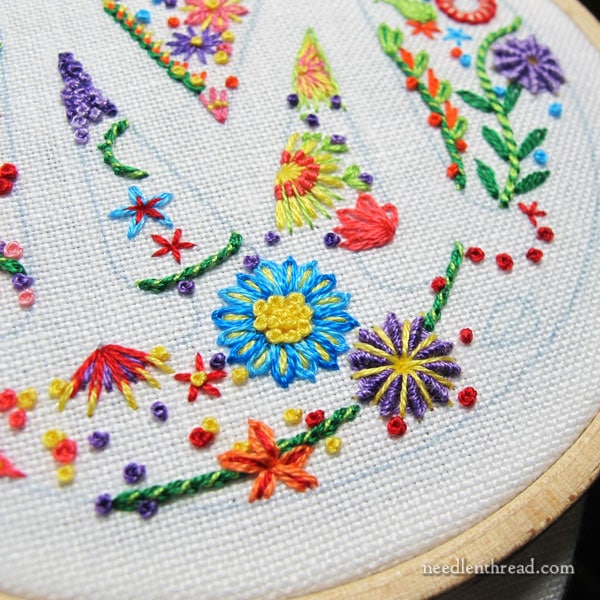 Besides starting with a loose design of sorts for the background, there are other ways this voided monogram sample differs from the first one I stitched a couple years ago.
For one thing, the thread is different. On these, we're using regular stranded cotton (2 strands in the needle) instead of cotton floche.
And for another thing, we're limiting the stitch choice on the sample to the stitches they'll be learning in class. On the original A from a couple years ago, I threw in any old stitch that occurred to me. On this one, I'm sticking to a smaller assortment of basic stitches.
One thing I love about voided work like this is seeing the letter come into focus more clearly as the background fills up!
Another fun thing about voided work is that it certainly isn't limited to monograms! You can "void" anything that has a clear outline. Oh, imagine the possibilities!
I'll be finishing this piece up today, and then I have one more stitch sample to work for the classes. And then all the materials kits must be prepared. If that's finished this week, then I'll be in good form. The classes don't start until mid-July, but once the prep work is finished, I'll be free to tackle other exciting thing on the to-do list.
Hope you had a fantastic weekend, and that the week ahead is shaping up beautifully!
If you have any questions, comments, or suggestions, please feel free to chat them up in the comments below!
The letter M (without the background) comes from the Bold Letters alphabet in my e-book, Favorite Monograms, available here. If you like monograms and are looking for monogram patterns to stitch, you'll find 16 full alphabets there, just waiting for your interpretation in needle and thread!