A project that we've been working on for a while here in the studio is putting together some glorious thread packs of cotton floche.
Cotton floche is one of my favorite hand embroidery threads, and I want to do my bit to give people the opportunity to stitch with it. To that end, we've gathered together a collection of what I call Garden-Bright Colors into a new offering available now in my shop.
If you have always wanted to try floche, or if you are already a tried-and-true lover of floche thread but hesitant to invest in full hanks, these floche packs are a great way to start a collection of the thread for use in multiple projects.
If you're not familiar with floche, in a nutshell, it's a non-divisible cotton embroidery thread with a soft twist and a high sheen. It's perfect for all kinds of embroidery.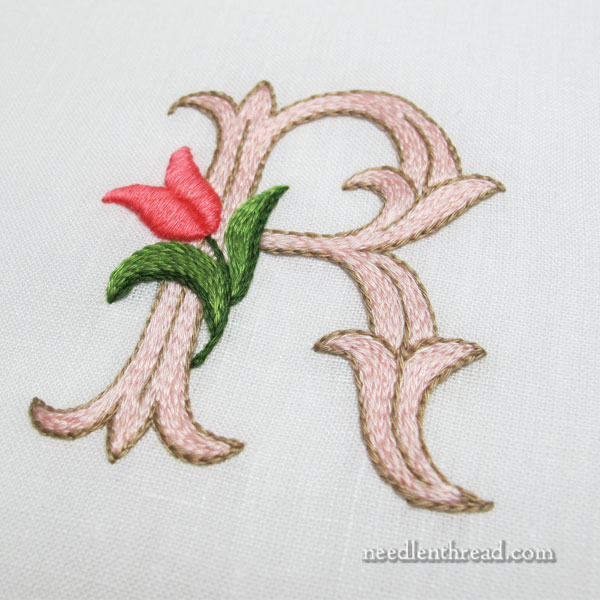 It's a lovely thread for monogramming. I used it for this shadow work M, for this tulip monogram, and for this very simple, pretty monogram.
It can be used for long-and-short stitch shading.
It makes a gorgeous satin stitch.
And it's a great thread for free-style surface embroidery of all kinds.
Unlike floss (stranded cotton), you don't divide floche. It comes off the skein in its one little strand, and that's what you use to stitch with. Floche equals, in weight, about 1.5 strands of floss. So, it's not quite as fine as one strand of floss, nor as heavy has two strands. It falls somewhere in between.
Normally, floche is sold in gargantuan hanks of about 150 yards for $7.25+ a hank. That's a lot of thread, and a big investment if you want a variety of colors!
I've written pretty extensively about floche already, so I won't go on and on about the details here. Instead, I'll add some links below, so you can read more about the thread if you want.
Over the years, many of my projects here on the blog have involved floche. Two of my favorites show up in this article here. One is a floral heart design (the photo above is a close-up) and the other is a voided monogram design.
The colors in the floche pack are the same that I used in Key to My Heart, and each thread pack includes an antique-style key charm like the one I used on that project.
I'll be publishing a stitch guide for Key to My Heart and a design collection for the voided monograms in the future, but in the meantime, I'm releasing my Garden-Bright Floche Packs so that you can have an opportunity to play with cotton floche and revel in its beauty yourself.
The Garden-Bright Floche Pack features 20 colors of floche, in twists of approximately 50 yards each (except the black, which is approximately 25 yards).
With the twists, you'll get a lot of thread at almost one-third the price of hanks, which makes it an affordable way to work with many colors of floche.
These twists are not easy (or fast) to put together, but I think it's a service worth offering. Anything I can do to get this lovely cotton thread into the hands of more stitchers is worth it!
Where to Find It!
If you're interested in the Garden-Bright Floche collection, you can find it available here in my shop. I'm shipping it via priority mail to the US and Canada at this time.
If the thread packs sell out, never fear. We'll restock as fast as we can!
More Information about Floche
If you'd like to read more about cotton floche, you can find lots of helpful articles about it here on Needle 'n Thread:
Three Good Reasons to Try Cotton Floche
Cotton Floche: What's Not to Love?
How to Tame a Huge Hank of Floche
Thread Comparison: Floss, Perle, Floche
A Brief Guide to Cotton Embroidery Threads
Cotton Floche vs Coton a Broder: Up Close
Coming Up
On Friday, we will finish Cotton Quartet here on the blog. Can't wait to give you the final set of instructions for finishing the edge!
Hope your week is trucking along beautifully!