Today, by way of housekeeping, here's the index for Autumn Fire, the third project in the Stitch Snippets 2022 series.
This little embroidered fall tree is a small project that provides a quick and satisfying finish.
In this project, we've learned how to work with spun stranded silk; how to combine colors for a nice gradual color change; and how to prepare a project for framing.
The entire project is worked in very simple stitches. It is straightforward and suitable for beginners and beyond.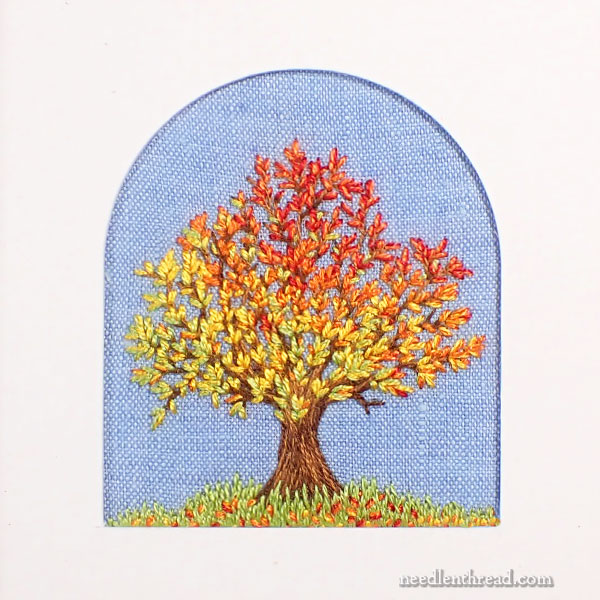 As a stitch-along, the instructions for Autumn Fire are available on Needle 'n Thread through the articles listed below.
There's also a materials kit available in my shop (more coming soon!).
For members of the Needle 'n Thread community on Patreon, all the instructions are available as handy PDF downloads that you can save to your own computer and print for your own personal use.
Autumn Fire Instructions
The preliminary information, design, and instructions below are arranged in chronological order. If you want to follow through the entire project, work from the top of the list down.
Autumn Fire 1: Preliminaries & Design
Autumn Fire 2: Transfer & the Trunk
Autumn Fire 4: Grass & Blocking
Autumn Fire 5: Finishing for Framing
Other Stitch Snippets from 2022
By the end of 2022, we will have worked through four Stitch Snippet projects together.
The two previous to Autumn Fire can be found through the links below:
The Bee-Jeweled Pincushion – a bead-embroidered project finished as a pin cushion
Cotton Quartet – a small white-on-natural sampler with bead accents, finished as a tool wallet
Coming Up
The final installment of Autumn Fire will show up a little later this week! I'm very excited to take you through the quick finish, so that you can have your own autumn tree ready to frame before autumn is officially over (here in the northern hemisphere, anyway!).
If you're with me on Patreon, you received the final instructions last Friday, so I'm betting many of you already have your autumn tree ready to hang. Yay!
Once we finish Autumn Fire here on Needle 'n Thread, we'll take a short break from the Stitch Snippets series, before we launch into our last one, which involves creating a holiday ornament from a kitted project. More on that, soon!
In the meantime, here in the studio, we're plugging away at packing for an anticipated move to our new space (tentatively scheduled for the beginning of November now). We're also preparing a bunch of goodies for you, for pre-holiday shopping. And we're hoping everything falls into place without too much of a hullabaloo (which my mother always called a "hubbabaloo"!). Fingers crossed.
We're also plugging away on goldwork. I'll share some project progress with you later, too, and talk a little bit about a Very Big Lesson Learned concerning ordering materials for big projects. I'll also make an index for this large project soon, so that those who want to keep track of chronological progress can do so easily.
It's a busy time of year… and I love it! See you soon!