Sometimes, there's nothing better on a piece of embroidery than a bold, textured line!
A bold line draws the eye, and texture keeps the eye glued. Often, in embroidery, you want the eye drawn to a specific area. And once it's drawn there, the texture of a nice, chunky braid-like line can engross the viewer.
Braid-like lines – bold or delicate – can be used effectively in hand embroidery in a number of ways. They make great outlines, they're terrific for stems and tendrils, they can stand on their own for lettering. On samplers and such, they add texture and interest. So it's always good to have a nice arsenal of braid-like line stitches in your stitching repertoire.
Here are my five favorites, with links to tutorials so that you can try them on your own stitching projects!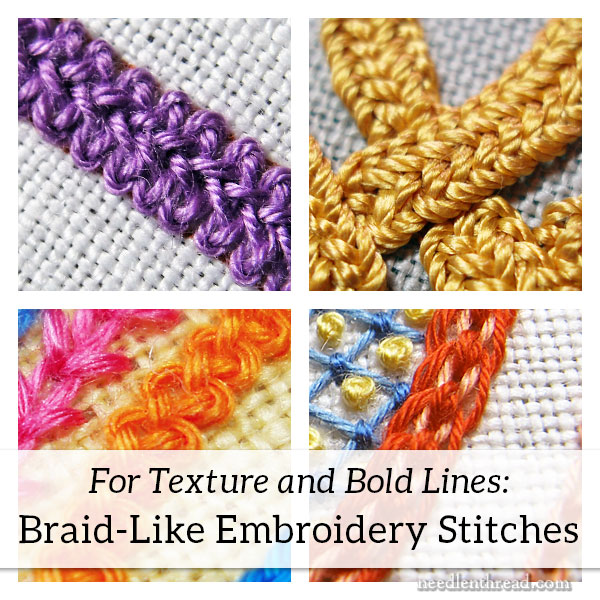 5 Tutorials for Braid-Like Line Stitches
If you're hankering to try adding some bold textured lines to your embroidery, try these stitches! They're fun!
Incidentally, if you're engaged in the "Year of Stitches" challenge that I mentioned in this article, these additions to your stitch year would not go amiss!
1. Spanish Knotted Feather Stitch – this is the stitch in the top left of the photo above, in purple. It's an easy stitch to learn (it's a combination of twisted chain and feather stitch), it works up with a nice rhythm, and it looks great in compact form!
You'll find the video tutorial for Spanish Knotted Feather Stitch here. And here's the Stitch Fun! article that shows you how to make the stitch compact, so that it looks braided. You might also find this article on starting a new thread with Spanish Knotted Feather Stitch useful.
2. Plaited Braid Stitch – this is the stitch in the top right corner of the photo above.
It's a slightly more complex stitch, but my how-to video for plaited braid stitch will walk you through all the steps. You might also find this instruction guide for plaited braid stitch invaluable for conquering the stitch. It has several practice projects in it and a lot of trouble-shooting tips.
Plaited Braid Stitch is an excellent stitch to master, and once you have it, it's yours! Once you get the stitch down, you'll realize it only looks complicated.
3. Cable Plait Stitch (or Braid Stitch) – shown in the lower left corner of the photo above, Cable Plait Stitch (also called simply "braid stitch") is an easy stitch to learn. It works great on more delicate, narrower lines. You can find my how-to video for Cable Plait Stitch here.
4. Interlaced Chain Stitch – this is the stitch in the lower right in the photo above. It's braid-like look depends more on color choices than anything else. If you use contrasting colors to create the line, the stitch might not look like a cohesive braid, but it certainly produces a nice, textured, interwoven line!
You can find a step-by-step tutorial for interlaced chain stitch here.
5. Hungarian Braided Chain Stitch – Easy and fun, Hungarian Braided Chain Stitch works up quickly and makes a beautiful, compact braided chain stitch.
Here's my how-to video for Hungarian Braided Chain Stitch, and here's a little "stitch glitch" article that discusses joining Hungarian Braided Chain in a circle. You can also see this stitch effectively used in this Redwork Runner project.
Other Stitches to Consider
When you're looking for braided line stitches, there are many stitches you can consider! The ones above are my five favorites, but you might also take a look at these:
Raised chain stitch: it creates a braid-like raised band
Heavy chain stitch: it can be used to create very delicate braid-like lines, depending on the weight of your thread
Raised buttonhole stitch: though it doesn't braid together, it can look like a very textured, interwoven band
Chinese knot stitch: when worked in a compact line, it can look somewhat interwoven and textured
Basket stitch: it creates a braided looking, flatter line, and can be used effectively for filling
Ladder stitch: if you work the sides of the ladder close together (with narrow rungs), it creates a kind of connected, double braided line. (Sorry about the old video on that one – wow! Ancient!)
What About You?
What's your favorite stitch for creating bold, braid-like lines? Feel free to chime in below, to help other folks who are looking for stitch ideas!
Like What You See?
If you like what you see on Needle 'n Thread, if you want to help keep the website thriving and free of annoying network advertising, why not become a patron on Patreon? Check out my Patreon page here, where I'll occasionally add special needlework bonuses for patrons.
If you shop on Amazon, you can support Needle 'n Thread without any extra expense to you by visiting my Amazon Recommendations page here, where you'll find books and sundries for the needleworker available on Amazon.