Here's a little update on my whitework embroidery sampler. I haven't gotten tooooo far, but I did manage some stitching last weekend. I'm still working on my 15 minute sessions, and I haven't forgotten the goldwork iris, either! Juggling two projects at a time has its drawbacks – but more on that later!
The last time we visited this project, I was doing some drawn thread embroidery in the scrolls, in a 15-minute session. I haven't finished the scrolls. Come to think of it, I haven't finished the Schwalm pomegranate motif, either. Don't worry! I will. That's part of the fun, perhaps, of a sporadic embroidery sampler – you can pick up and leave off different parts, moving around hither and thither as the creative spirit moves you, reinvigorating your interest in the piece if need be.
So, this past weekend, I placed a monogram:
It's a large monogram. I chose the "M" for unusual reasons, actually! It has nothing to do with the letter itself – I would have chosen any letter that fit my plan. See the last downward stroke on the "M" on the right? It's perfect for demonstrating a satin stitch technique called trailing. Hence, the "M."
I like this monogram style, by the way. I think it's really pretty. It's from an early 20th century ladies' magazine, too, so eventually, I'll clean up this set and share them with you. (First, I will finish the Celtic monograms, though!!)
To transfer the design, I'm using tacking stitches and tissue paper, as I demonstrated before with a photo tutorial. I would like to have used regular tissue paper – the kind you use for wrapping gifts – but I didn't have any on hand, so I stuck with this yellowish stuff.
After using large stitches around the monogram to hold the tracing paper in place, I turned the frame around to work the tacking stitches.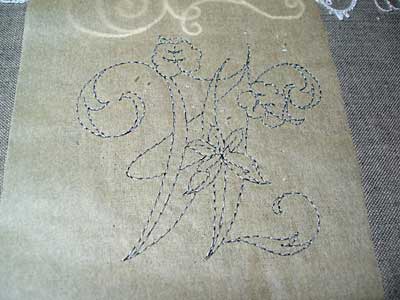 It was easier to reach the top of the design that way. I suppose I could have re-adjusted my frame and stand, but I didn't. I just turned the frame… After stitching the tacking stitches all over the design, I took a sharp needle and ran it over all the stitches to split the paper and make it easier to remove. It came off great!
So, here's the transfer. It's nice and clear. This time, I worked the stitches in white (rather than green, as in the tutorial on transferring patterns this way.) MUCH better in white, methinks. Whatever possessed me to use the green, I shall not know. Anyway, the white worked great, and I don't have any worries, in case I can't remove some of the tacking stitches. They'll work right in to the embroidery.
Farther away, you can't see it so well, but you can get a hint of the size of the monogram placed on the sampler. You can also see all the little bits I haven't finished!!
I've found a nice cutwork design from another early 20th century magazine, too. It's a fairly complex design, but complete in itself (not the edge of a tablecloth or runner or anything). It's not too big – perhaps 4.5 inches tall and about 3.5 inches wide. I'll be transferring that on, right above the Schwalm pomegranate somewhere. Those will be the last two "large" motifs on the sampler, and everything else I do will fit between and around everything that's there, I think… though there is that upper left corner that could accommodate something a bit larger. Hmmmm…
So, that's where I am. Keep your fingers crossed that I can squeeze in some 15(0)-minute sessions and make some progress on this thing, will you?
Have a terrific Wednesday! (Halfway there!)
Here's my "further information" blurb:
More Drawn Thread and Whitework Embroidery
Drawn Thread – Securing Edges with Re-Weaving
Drawn Thread – Securing Edges with Satin Stitch
Drawn Thread – Hemstitch Tutorial
Drawn Thread – Chain Loop Bunches
Sampler Update with Schwalm Embroidery
Online Book on Drawn Thread Techniques
Diamond Stitch in Drawn Thread Work
Coral Knot Bunches in Drawn Thread Embroidery
Zig-Zags in Drawn Thread Embroidery
All Whitework Articles on Needle 'n Thread
You can find more tips and tricks for hand embroidery – including all the above tutorials – indexed on my Tips and Tricks for Hand Embroidery page.