Just a short little update this morning to show you some progress on the miniature "Lady & Unicorn" piece that I've been stitching on. Nope, I haven't abandoned it for other things – even though there are about sixty gazillion embroidery projects floating around here right now!
Still, this little piece has been a pretty good carrot, so I have to keep it going! And, though the progress is slow, with literally just a few minutes here and there now and then being devoted to it – still, it's getting somewhere!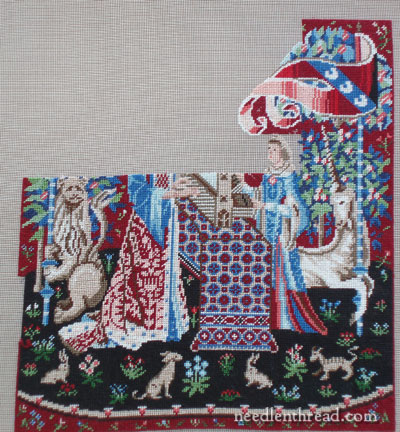 Most exciting of all – we have a head!! The tiny head on the lady's maid is in, and it cracks me up. From afar, it looks ok – when you're dealing with needlework that's this small, it's not as if you can pack in a whole lot of detail!
Just to give you an idea, there's the tip of a regular sized wooden pencil next to the gal's little face. I really wanted to get some background in before showing her to you, but that's another 15 minutes-or-so session down the road, I'm afraid!
If you'd like more information on this project, or you'd like to see the progress of it, you can check out the following links:
Beginning of the project & 15 Minute Stitching Philosophy
Update 2 on Miniature Stitching – finishing the base of the design
Update 3 on Miniature Stitching – the lion is in, and compensating for a mistake!
Update 4 on Miniature Stitching – base of the organ and compensating for a counting mistake
Update 5 on Miniature Stitching – the problems of compensating on the top of the organ
Update 6 on Miniature Stitching – starting the second figure
Update 7 on Miniature Stitching – the Unicorn goes in
Update 8 on Miniature Stitching – moving up to the next panel, with the first flag
Update 9 on Miniature Stitching – background around the flag
I'm feeling a bit like the turtle in the Turtle & Hare stories. Slow…. slow…. really slow. But – I just may get there! You know the saying "slow and steady wins the race"? I've never quite agreed with it. Fast and steady wins the race. But at least slow and steady finishes it… eventually!
Have a great weekend!