Over the past month, some of the questions I've been repeatedly sorting out of ye olde inbox concern embroidery hoops and frames.
I figure that if five or six people are asking the same questions, then there are plenty of others out there who are wondering, but not asking. So today, here's a little Hoop Talk for you!
For beginners who are just getting into embroidery, I want to emphasize that here's nothing at all wrong with starting out with the Susan Bates plastic hoops that you can find at most craft and hobby stores. These are great for beginners, and I use them all the time when teaching kids and adults alike, because they are affordable and they do the initial job.
But after a while, you'll probably hit a point where you want a Really Good Hoop.
I've already written an article about what makes an embroidery hoop good, so if you're wondering about good hoops, you might check that out.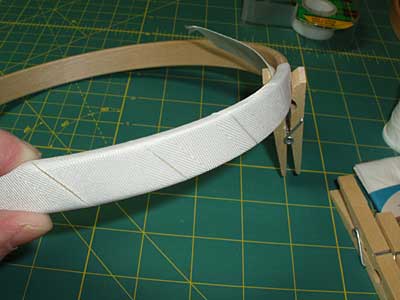 Once you have a good hoop, it is really helpful to bind at least the inner ring of the embroidery hoop. So here's a tutorial for binding an embroidery hoop, along with a discussion on the advantages of binding a hoop.
If you want to bind both rings, here's a tutorial for binding both rings of an embroidery hoop.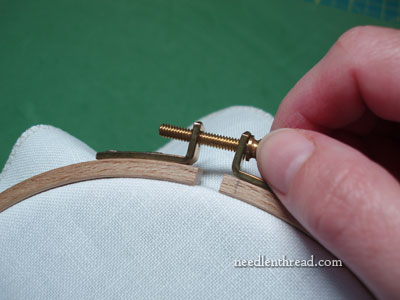 Once you've bound a ring, you'll want to set up your hoop with your fabric and start stitching! So here's a tutorial on setting up an embroidery hoop. Be sure to check out the comments below that article – there are some good tips in there from experienced stitchers.
When I first started Needle 'n Thread back in June of 2006, I wrote an article on embroidery hoops and frames, which has since been updated, so you can find a little more reading material there about different hoops and frames and their advantages and disadvantages. It's not exhaustive, but it covers quite a few different options and in it, I discuss the question of when to use a hoop vs. when to use a frame.
Throughout all those articles linked to above, you'll also find recommendations for different types of frames, as well as resources on where to find good hoops and different types of good frames.
I was really excited that, of the six emails I received asking about hoops, all of them were from embroiderers who are playing with monograms! So, six different people, from scattered parts of the globe, all working on monograms…I just think that's dandy! I'm glad I'm not the only one currently immersed in them!
Don't forget the give-away that's going on this week for a spot and kit for Tanja Berlin's Pansy Needlepainting class. If you haven't signed up yet, you have until early next Monday morning to get in on it!
Time to fly to the workroom – I have an old book to photograph for you, and some serious stitching to make headway on today. More on that later this week.
If you have any questions, input, or suggestions about hoops, frames, and the like, feel free to leave a comment below!