Time to look back at 2013 on Needle 'n Thread!
So grab a cup of coffee and come join me on my journey as Inveterate, Ever-Positive, Slightly Unrealistic, Goal-Breaker Extraordinaire!
I set goals last year – with two specific goals relating to the website – so let's start there, and then take stock of what actually did materialize on Needle 'n Thread!
The two specific needlework-related resolutions I made last year were these: 1. to keep a sketchbook and sketch at least once a week; and 2. To create five tutorials per month (totaling 60 tutorials for the year).
Welllll… I did keep a sketchbook. But did I sketch once a week? Not quite – there are 38 sketches from last year in my sketchbook.
As far as tutorials are concerned, I fared a little better there.
In 2013, a total of 294 new articles were added to Needle 'n Thread.
108 of those articles involved tips, tricks, and techniques related to hand embroidery, and 32 of them were new Stitch Fun tutorials.
So, while I didn't necessarily manage 60 specific step-by-step tutorials, we did get in a lot of discussion involving tips, techniques, and how-to's.
Embroidery Projects in 2013
The Mission Rose is looming in my head as the Only Project of 2013 – mainly because I haven't finished it yet!
I mentioned yesterday that it is tantalizingly close, and today, I'll make some progress on it. Realistically, though, it won't be finished before the clock chimes the New Year.
But, realistically speaking again, the Mission Rose was not the only project of last year!
I managed to break four Easter eggs last year, but I also managed to embroider and finish six Easter eggs.
Embroidery on Eggs was a first for me, and I suspect it won't be a last. I liked it, and I hope to create a few more embroidered eggs this coming year. We'll see – it's a lot more time consuming than embroidery on fabric!
The Lattice Jumble Sampler was begun and finished in 2013, and the Lattice Jumble Sampler Guide e-book was made available.
This started out as a Stitch Fun project to introduce you to various types of lattice fillings, and it turned out to be a really fun project, indeed!
It's an exploratory project, great for becoming familiar with a variety of stitches and fillings and for getting comfortable with free-style surface embroidery.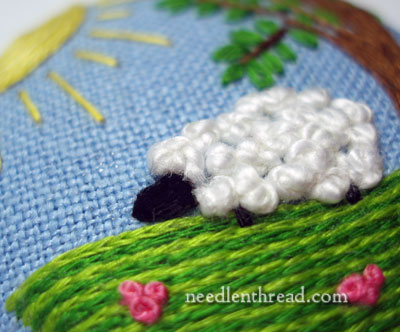 Lavender Honey & Other Little Things came to be!
This is a project e-book that includes instructions for 20 possible little embroidered things – needlebooks, scissor pulls, ornaments, fobs, and so forth – suited for beginners and beyond.
The creation of the e-book began in the summer of 2012, with over 30 individual little finished samples completed before the book could be written.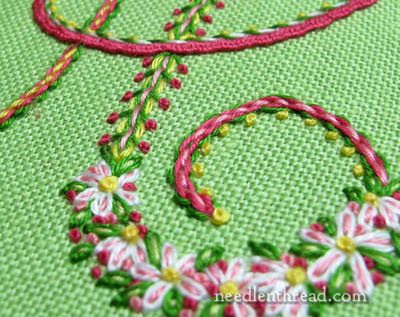 I began and finished this floral sampler alphabet of individual decorative initials – 26 letters in all, with 3 extras – that involves over 30 stitches and stitch combinations.
I haven't finished the e-book yet, but it's coming in 2014, or I'll eat the whole embroidered alphabet.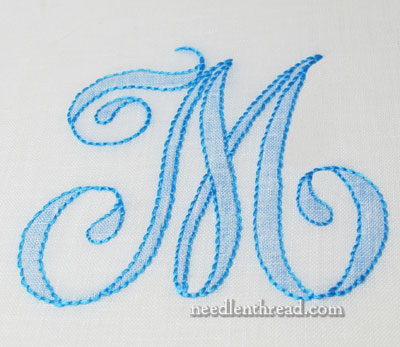 This shadow work alphabet was a more obscure project, with a few tips on shadow work offered along the way. You'll see more of this in 2014, too.
Speaking of alphabets – behind the scenes, patterns for thirteen complete monogram alphabets were cleaned up, reformatted, in most cases completed (old monogram alphabets rarely feature the entire alphabet), and you'll see the fruits of that effort in 2014 as well.
We explored tambour embroidery in 2013.
This was my first serious foray into the world of tambour stitching, and after establishing a practice regime and keeping to it daily for over a month, I was finally comfortable sharing the technique with you and creating a video tutorial for the basic tambour stitch.
You'll see a bit more of this in 2014!
So, though I did finish some things in 2013, there's quite a bit of baggage – the good kind of baggage! – that I'll be carrying with me into the New Year.
Besides Embroidery Projects…
Besides embroidery projects, some other items of interest added to Needle 'n Thread in 2013 include:
Reviews of 19 embroidery / needlework-related books
A series on Deconstructing Goldwork
25 free hand embroidery patterns
What this can't itemize is all the fun interaction with you – the comments, the chit-chat, the emails – throughout the year. And that's the stuff that makes Needle 'n Thread what it is, more than anything else!
I'll share some of my goals and plans for Needle 'n Thread in 2014 with you soon. I'm looking forward to the year – it will be adventuresome
What About You?
Was 2013 a productive needlework year for you? Did you learn anything new? Finish any projects? Start any new and exciting needlework adventures? I'd love to hear about them! Feel free to leave a comment below and inspire us!
And if you have a blog or website that you share your needlework adventures on, feel free to add your link so we can visit! I'll be updating my blog list later on this month, and would love to see a few new faces!
Enjoy the last day of 2013!
See you next year!