We're revisiting the topic of the 'umble needle today – that little tiny, but mighty, little tool.
Truly, it's the only tool that those of us into needlework really couldn't do without.
Imagine if needles disappeared. Poof! No more needles!
It would be hard to indulge in this art that means so much to us, wouldn't it? Sure, we could figure out how to make one to get by, but … it wouldn't quite be the same. I want to be embroiderer, anyway – I don't want to be a needle manufacturer!
So now and then, I like to talk about needles. I have a healthy respect for them, for many reasons. Today, I'll recap some information on different types of needles and how to identify them, give some suggestions for organization, and to top it off, I'll share a little morality tale with you.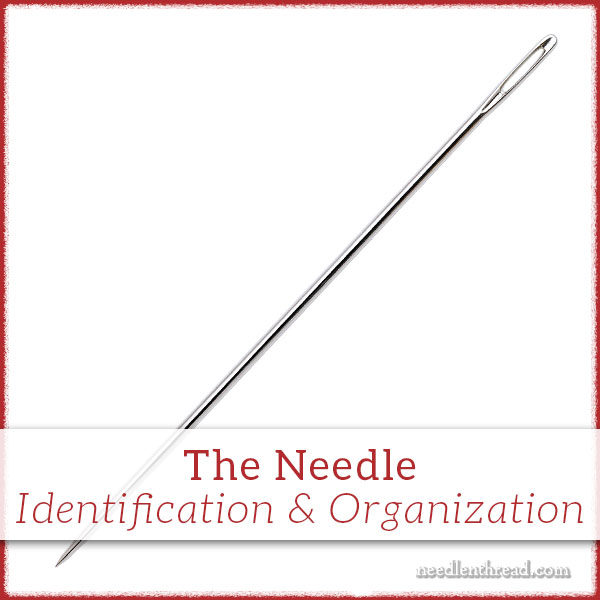 When it comes to handwork, there are many types of needles made to accommodate different techniques. Choosing a needle can be really confusing, especially for a beginner, but even for accomplished stitchers.
Before launching into detailed information about needles, here are my general recommendations for the beginner.
A Simple Approach to Embroidery Needles
If you're just starting out, your best bet for equipping yourself with serviceable hand embroidery needles is to purchase what's called a "blister pack" of assorted sizes of good quality embroidery (also called crewel) needles.
These have a somewhat elongated eye (not as long as a tapestry or chenille needle, but not a small, round eye) and they have a sharp tip for piercing the fabric. The picture on this article is an embroidery (also called "crewel") needle.
My recommendation is that you purchase a pack of assorted sizes, 3-9, in a reliable, good quality brand, such as John James or Bohin. John James are English needles and Bohin are French needles, so they will be slightly different in size, but the assortment will pretty much give you everything you need, needle-wise, to get started.
Hobby stores (Michael's, Hobby Lobby, JoAnn's, and the like) sell other brands of needles in their needlework aisle, but usually these needles are kind of crappy (even the DMC brand), so it's worth investing the whole $2-$3 in an assorted pack of better quality needles.
You can often find John James needles and sometimes Bohin needles in higher end sewing stores, at local quilting stores, and the like. (Never underestimate the notion wall of a local quilting store! I usually find the best needles available there, plus a variety of very useful gadgets and tools.)
For my go-to needle size, I normally use a #7 or a #8 crewel needle in either John James or Bohin – and sometimes, maybe a 6 in Bohin. For most of the hand embroidery you see here on Needle 'n Thread, that's what I use. If I only ever had #7 and #8 crewel needles, I'd be ok for most embroidery that I do.
If you're unsure how to "read" the needles available in a pack of assorted sizes, here's an article that explains the sizing of needles in a multi-pack.
Identifying Needle Types and Sizes
As you progress on your embroidery journey, you'll most likely become well-acquainted with the needle types that you use for various techniques, so that you can identify them at a glance.
You'll also develop a "feel" for the size of the needle you need, based on the weight of the thread and type of fabric you're using. Trust me – the more you stitch, the less you'll need to categorize the needles you use by their type and exact size. You'll know what you need, and that's what you'll reach for. And if it doesn't work, you'll know right away and make a new choice accordingly.
But if you do want to identify and organize your needles by type and size, there are a couple tools on the market that will help you do this.
The first are these handy Needle ID cards that I wrote about here. They're excellent to have on hand especially if you want to keep your needles organized by specific types and sizes, but you tend to mix them up a lot when you're working.
The next is this Needle Index book that I wrote about here, put out by the Valley Quail chapter of the EGA.
You can find both of these tools available at Needle in a Haystack, on their needle page. Just scroll to the end of the page! Handy!
Storage
To store needles, I'll be perfectly frank: I use a pin cushion, or two, or five, and they are pretty much all a-mess with needles. In fact, I've written a couple articles about my pincushions, because they are such a ubiquitous part of my life. I use them all the time. And they aren't fancy.
This particular article is about my pincushion of despair, from back in the days when I thought it would somehow make a difference in my life if I organized my needles with diligence, and was embarrassed because I didn't.
I've gotten over the embarrassment. You have to pick your time-sink obsessions, and I just can't sink time into obsessing over organizing my needles. And I'm ok with that!
This article is about what I found lurking within a pincushion in my studio. I've since given up the tomato pincushions. I never really got over that, and I found that I could make my own small pincushions for practically nothing whenever I feel the need for a new one.
A pin cushion does not have to be extravagant. It just has to be a cushion where you can stick needles or pins.
Needle Books
I do make Huge – almost obscenely excessive – use of needle books, too. I like needle books because they are so very transportable.
For example, I have a gazillion little needle books from my e-book, Lavender Honey & Other Little Things, wherein you can learn to make a very simple small needle book – and then, if you want bigger ones, you can just apply the concept to any size.
This stitch sampler needle book is made basically with the same concepts as the needle books in Lavender Honey.
And then there's this slightly fancier needle book, and the floral needle book at the end of this article.
If you want to organize needles by types and sizes, and you want to do it in a fancy way, you could always make either a very large needlebook with multiple pages, or you could make a collection of smaller needle books, one for each type of needle you want to store.
If I were going to organize my needles (and there's a part of me that often wants to), I think that's how I'd do it – with several small needle books, each dedicated to a specific type of needle.
And then, of course, I'd have to have lots of small needle books that I'd put various needles in for projects… and, of course, pin cushions on my table next to where I'm stitching, where I could quickly stick a needle when I need to… and they'd all get mixed up again. And then I'd have to sort them all back into their respective needle books.
I'm not quite sure I want to spend my time that way!
More on Needles
If you want to learn more about different needles used for handwork, you'll find many helpful articles here on Needle 'n Thread.
Specifically, these two articles will provide you with plenty of information:
Embroidery Needles: How to Choose Them & Use Them – This article talks about different types of needles and what they're used for.
All About Embroidery Needles – This article is an index with descriptions of most of the articles on Needle 'n Thread that have to do with needles. You can scan through to look for specific information about needles that you might be curious about.
The Morality Tale
Finally, a morality tale:
Lately, I've developed the unfortunate – though admittedly quite comfortable – habit of going barefoot in my studio. The main room where I work, and where I conduct local classes occasionally, is carpeted.
When needles fall into the carpet, they can be hard to find, and if you don't keep track of them, they can be dangerous! Needles are small, but they are mighty!
Normally, I keep close track of the needles I use. I notice if I drop one, and I have the Policy (and habit) to pick it up right away. A telescoping magnet (like the one I reviewed here) is a Very Helpful Tool that can find and retrieve a dropped needle easily.
But, because I teach occasionally, I'm not the only person in my studio, and a dropped needle can remain dropped.
Last November, I stepped on a needle.
The needle – a #9 Cruel Needle – broke in half. The eye-half remained embedded in the carpet. The tip-half could not be found. I went in for an X-ray, where it was found cozily embedded between two toe bones, scratching against one of them. The whole ordeal involved three trips to the doctor, x-rays, outpatient surgery with general anesthesia, and about two weeks of foot pain and recovery.
On one hand, I can laugh at the irony. Needle 'n Thread took on a whole new meaning.
On the other hand, I am still miffed at myself for the situation. Had I been more careful about wearing shoes at work, I would have avoided great expense, inconvenience to others, a lot of pain, and taking up doctors' valuable time over such a silly little thing.
Invest in a telescoping magnet! Or a magnetic sweeper! And insist that others who sew in your space adopt the "find it immediately" practice if a needle is dropped. Develop the habit of always placing pins and needles in a receptacle (like a pin cushion or on a needle minder or in an appropriate dish or something) rather than leaving them loose on tables, where they can be easily swept off onto the floor. Wear shoes or at least slippers in highly-trafficked-with-pins-and-needles areas.
If you have children and / or pets, you are probably already pretty careful with your pins and needles. But even if you're alone most of the time that you stitch, you never know when one might be lurking on your floor, just waiting for your tender little toes. Develop good needle habits, and it will hopefully save you (and others) a lot of pain, expense, and inconvenience.
(I like to make mistakes so that you don't have to!)
The End.
Have a wonderful weekend!