I'm never quite sure if I should ply you with the mundane details of everyday life in the studio.
Lately, though, since I'm surrounded by one of my favorite cotton embroidery threads, I thought I'd show you what's up these days.
You see, in my world, everything gets done in small pieces. When it comes to kitting things up – whether it's a full blown embroidery kit with everything in it, or thread packs, or sets of ready-to-stitch towels – it's all done in increments, one small step at a time.
The floche thread packs that are coming together right now are a good example of the step-by-step process.
Floche is a soft cotton fine embroidery thread with a lovely sheen that is a dream to stitch with. I love the stuff. And I've written about it pretty extensively on Needle 'n Thread. If you'd like to know more about it, I've included links at the end of this article to other articles and projects worked with floche.
Floche comes in a massive put up, for an embroidery thread. It comes in hanks of 150 yards. That's 450 feet of thread!
So when I decided to put together a thread pack for a project here on Needle 'n Thread, I figured the best way to go about it would be to break the thread hanks down into twists. This keeps the cost of the thread packs significantly lower, and yet it still gives the stitcher plenty of thread to work with.
Breaking down the hanks into manageable twists takes a little bit of time, and it's done in baby steps.
First, you have to open up the hanks.
There's a way to do this without turning the hank into an uncontrollable tangle of snarling threads that would drive the most serene person wild with frustration. (Have you been there? I have!)
I wrote about how to tame a large hank of floche here. It's a method that applies to other threads, too – like the DMC perle cottons that come twisted.
Then – yep – you have to divide the tamed hank into portions, and to do this, you really do have to count each thread.
Fortunately, the counting becomes quicker the more frequently you do it, and when you separate the counted portions, you don't have to do that one at a time! By running a finger straight down the large bundle where you've separated out a portion, the portion is easily divided from the rest of the pack.
Then the separated portions are twisted into these beautiful twists of floche.
Of course, when I look at that photo, the one thing that stands out is that one tiny thread that peeks out from the twist.
There's one in every crowd, isn't there?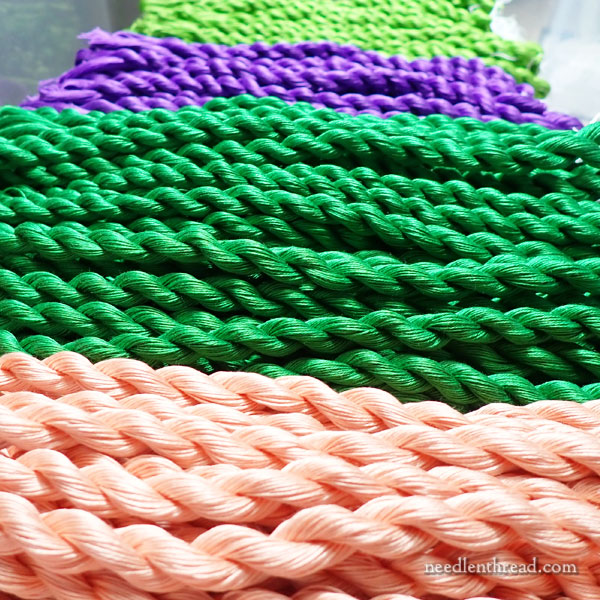 Each twist has to be tagged with a color number.
And all the twists are eventually piled in color groups in a tub.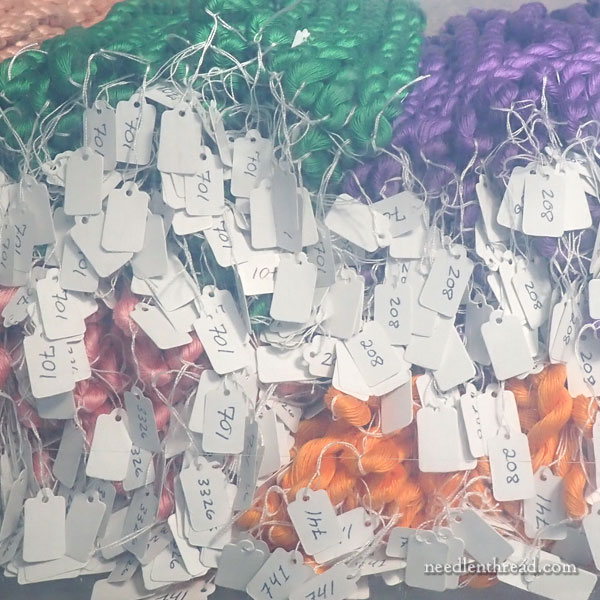 It's a lot of twists, with a lot of hand-written little tags!
And that's only about 8 colors so far!
Eventually, all the threads in the color pack are rolled into a tidy tissue-wrapped bundle, secured with a sticker and a string, which is placed in a tub.
The tub is marked with the number of thread packs and put on the shelf.
And as soon as the rest of the thread packs are finished and everything's ready to go for this project – that is, as soon as the project instructions that go with this thread pack are finished, and as soon as I have enough thread packs together to be able to launch them and ship them to you – I will post them on the website in my shop.
It all happens one step at a time.
But gosh.
It seems to take forever!
Part of that is due to lots of interruptions, from daily life and from other projects. For example, tomorrow, threads arrive for a different kit, and those will have to be sorted and packaged immediately – which means the floche will be on hold again.
One step at a time!
More about Floche
You can read more about cotton floche in these articles on Needle 'n Thread:
Cotton Floche: What's Not to Love? – find out what floche is and how it's used.
Comparison of Floche, Perle, and Stranded Cotton
Cotton Floche vs Danish Flower Thread
Cotton Floche vs Coton a Broder – Up Close
Shadow Work Embroidery with Floche
Long & Short Stitch with Floche
Three Good Reasons to Try Floche
Two Embroidery Finishes and a Key
And you can find these articles – and more! – tagged with "floche" here on Needle 'n Thread.