If you're a hand embroiderer, a quilter, a textile artist, or a crafter, you've probably run into situations where you could add words, text, and lettering to your projects.
Hand embroidery is an excellent way to personalize gifts, household objects, momentos, quilts, journal covers – just about anything! Writing with your needle and thread can also be a lot of fun! And while I wouldn't necessarily advise you to take class notes this way, just think of all the instances in our lives when hand embroidered words could be the perfect form of expression.
There are so many ways you can include a signature, a special quote, or just a simple word on your latest project by using hand embroidery. To help you out, I've put together a series of lessons on adding lettering and text to projects with embroidery stitches.
Here's a list of the 15 tutorials that will take you through the ins and outs of stitching beautiful hand embroidered words!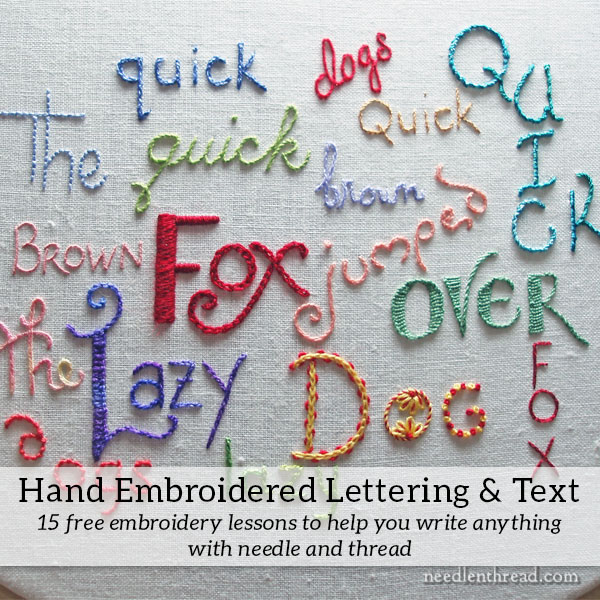 Hand Embroidery: Lettering and Text 1 – This tutorial covers setting up the lettering sampler. In this particular article, you won't learn much about stitching your letters, but there are a few tips and tricks for design transfer discussed, if you want to take a look! You can also get a good look at the text sample that I'll be using in this series.
Hand Embroidery: Lettering and Text 2 – This tutorial features lettering in backstitch, but it focuses mostly on how to "travel" your threads in order to achieve a clean, finished look from the front. I discuss the path of the embroidery, noting that the path you would follow for hand writing is not necessarily the same path you would follow for hand embroidery.
Hand Embroidery: Lettering and Text 3: Dot Your I's. In this tutorial, I focus on one method of dotting I's. You know how the dot floats so far away from the text? Well, how can you dot, without carrying your threads? I'll show you how, and then the technique can apply for a variety of different dotting stitches.
Hand Embroidery: Lettering and Text 4: In this tutorial, the focus is on stem stitch, especially how to travel in the right direction to keep the stem stitch looking like stem stitch, and to keep the working thread in the right place in relation to the needle. This sample is in cursive, so we will also look at how to travel the threads to achieve a nice cursive text, without bulky double lines. Finally, this tutorial also addresses the question of crossing over previously stitched lines.
Hand Embroidery: Lettering and Text 5: This tutorial will focus on a suitable stitch for very small text – whipped backstitch – and how to keep the whipped backstitch smooth and consistent in its twist. We'll look at the difference between whipping the stitch while traveling in different directions, and discuss how to avoid changing the direction of the stitching. Also, check out this article on stitch direction for whipped backstitch – it'll show you the difference in the look of your stitching depending on the direction.
Hand Embroidery: Lettering and Text 6: Did you know that you can combine your stitches on the same lettering for very nice results? Well, you can, and this tutorial is going to look at using a combination of stitches on the same lettering, specifically buttonhole stitch and stem stitch.
Hand Embroidery: Lettering and Text 7: Working the initial letter in padded satin stitch makes it really stand out! The rest of the lettering in this tutorial is stitched in chain stitch. I used embroidery wool for this, in a beautiful red, and I've written up a little review of the thread (Simply Wool) within this tutorial.
Hand Embroidery: Lettering and Text 8: The split stitch works great for embroidered writing, especially when worked with a non-stranded thread, like floche or perle cotton. This tutorial shows you how to embroidery letters using split stitch and it talks a bit about threads, too.
Hand Embroidery: Lettering and Text 9: Combining herringbone stitch and split stitch works well with Stef Francis silk.
Hand Embroidery: Lettering and Text 10: In this tutorial, I've used different stitches for each letter of the word, including the French knot for one letter… Yes, it's true. You can write with French knots!
Hand Embroidery: Lettering and Text 11: This little "lesson" is short – it covers the heavy chain stitch worked with a fine thread. This one's not heavy on instruction – all the tips and tricks already discussed in previous tutorials apply to working the heavy chain on these letters.
Hand Embroidery: Lettering and Text 12: In this tutorial, I'm using coral stitch on smaller letters. I like the nubby texture of coral stitch! I found it somewhat difficult to stitch small letters (these are 1/2″) with coral stitch in a hoop. If you decide to use coral stitch on your letters, I recommend working in hand, without a hoop, for the coral stitch – it's much easier to manipulate the fabric! Still, I like the way this word came out!
Hand Embroidery: Lettering and Text 13: Treenway Silk makes beautiful whipped backstitch letters. In this article, I'm working on larger letters with this heavier thread. The twist in the silk and the twist in the stitch play well off each other!
Hand Embroidery: Lettering and Text 14: In this post, I show you a small word (1/2″) written in half-cursive, and stitched in stem stitch. It would be helpful to review Lesson 4 above, which focuses on stem stitch, for more information on working with stem stitch on curves, etc.
Hand Embroidery: Lettering and Text 15: The Finish. In this post, you'll see some of the "filler" words worked in different threads, but using stitches we've already covered in the previous tutorials. You can also see the finished lettering sampler!
Looking for inspiration & information on hand embroidery?
There are all kinds of reasons to sign up for the Needle 'n Thread daily newsletter! Check them out and sign up today!