Just to keep you up to date on the embroidery stitch videos that have been updated recently on Needle 'n Thread, here's the list from the past week. On each video page, I've done my best to show you a picture of the completed stitch, sometimes in context on a finished piece, where possible.
The woven picot is a dimensional embroidery stitch, often used in Brazilian embroidery and stumpwork.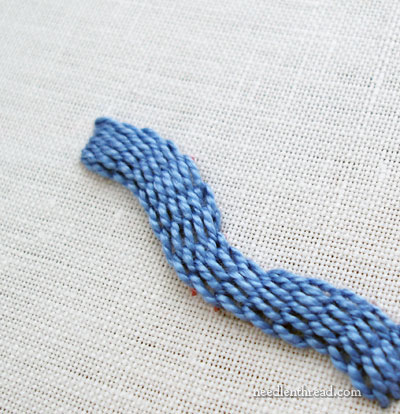 The raised stem stitch band is also a dimensional stitch, involving the stem stitch worked over a foundation of parallel stitches.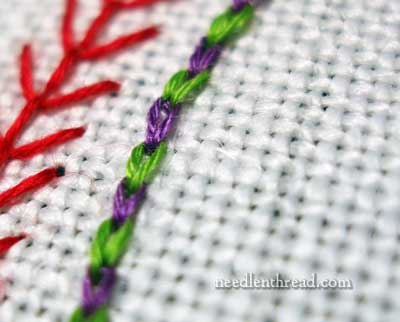 The checkered or alternating chain stitch is a simple chain stitch, using two colors of thread. The key is working with both threads in the needle at one time. It looks complicated, but it's really very simple!
The fly stitch, worked vertically, can be used for a filling stitch (the large green leaves in the photo above, for example), or used to create decorative lines, branches, and twiggy things.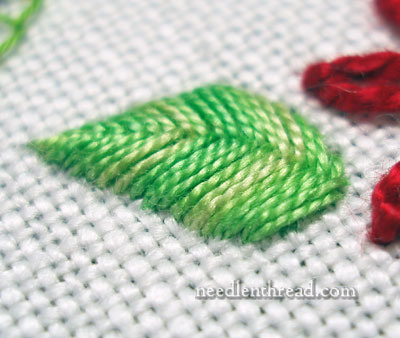 The raised fishbone stitch works great for leaf or petal shapes, when you want a bit of lift to them.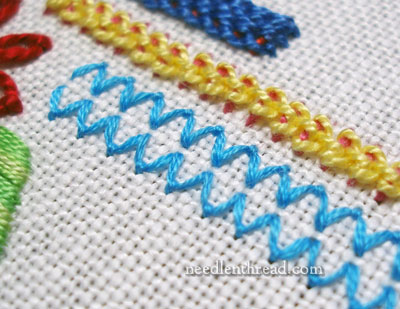 The fly stitch worked horizontally creates a scalloped-like line that can be used for borders or decorative lines. It can also be mirrored and worked in multiple rows, as an open filling in larger areas.
The raised buttonhole band is another dimensional stitch that can be worked as a decorative band or even as a filling.
What Stitches do You Want?
Since the last update on the embroidery videos, I've added your stitch requests to my list for the upcoming bout of video-making, but if you've thought of any other stitches you'd like to see and haven't mentioned them yet, feel free to leave a comment below with your suggestion. I only have a handful of stitches left, to finish updating the old videos on Needle 'n Thread, and in between the updates, I'll be adding new stitches, so now's your chance to send in requests. Of course, with over 400+ embroidery stitches in existence, and with the constantly-changing technological world, this whole video thing could be a life-long endeavor…!
If you're looking for particular stitches by name, you can check out my alphabetical index of embroidery stitches, with links to the video pages.
I hope you have a terrific weekend, with lots of time to spend with your needle and thread!